Neuroprotective effects of pterostilbene against isoflurane-induced apoptosis through regulating the JNK and PI3K/Akt pathway in neonatal rats
Tian-Dan Liu

Department of Medical Neurology, Nanyang City Center Hospital, 473000

Ke Yang

Department of Medical Neurology, Nanyang City Center Hospital, 473000

Fu-Kui Li

Department of Medical Neurology, Nanyang City Center Hospital, 473000
Keywords:
Anesthesia, Isoflurane, JNK pathways, Neuroprotective, Pterostilbene, PI3K/Akt pathway
Abstract
Increasing numbers of children undergo surgery and are exposed to anesthesia that raises concerns regarding the safety of frequently employed anesthetics. Isoflurane, often used in pediatric anesthesia, has been reported to cause neurodegeneration in animal models. The study investigates the effectiveness of pterostilbene on neurodegeneration caused by isoflurane. Separate groups of neonatal mice were administered with pterostilbene at 10, 20 or 40 mg/kg from post natal day 1 (P1) to P15. On P7, rats received isoflurane at 0.75% for 6 hours. Control rats received no anesthesia or pterostilbene. Neuroapoptosis following isoflurane exposure were markedly reduced by pterostilbene , further pterostilbene  down-regulated the expre-ssions of caspase-3, Bad, phospho-JNK and phospho-c-Jun and as well improved the expressions of Bcl-xL, JNK, phospho-Bad and phospho-Akt. Pterostilbene enhanced the performance of rats in Morris water maze tests. The observations suggest that pterostilbene was able to effectively reduce isoflurane-induced neurodegeneration.
Downloads
Download data is not yet available.
Abstract
1591
Download
569 Read
384
References
Baddeley A. Working memory. Science 1992; 255: 556-59.
Bai T, Dong DS, Pei L. Resveratrol mitigates isoflurane-induced neuroapoptosis by inhibiting the activation of the Akt-regulated mitochondrial apoptotic signaling pathway. Int J Mol Med. 2013; 32: 819-26.
Brambrink AM, Evers AS, Avidan MS, Farber NB, Smith DJ, Zhang X, Dissen GA, Creeley CE, Olney JW. Isoflurane-induced neuroapoptosis in the neonatal rhesus macaque brain. Anesthesiology 2010; 112: 834-41.
Chang J, Rimando A, Pallas M, Camins A, Porquet D, Reeves J, Shukitt-Hale B, Smith MA, Joseph JA, Casadesus G. Low-dose pterostilbene, but not resveratrol, is a potent neuromodulator in aging and Alzheimer's disease. Neurobiol Aging 2012; 33: 2062-71.
Chu R, Upreti M, Ding WX, Yin XM, Chambers TC. Regulation of Bax by c-Jun NH2-terminal kinase and Bcl-xL in vinblastine-induced apoptosis. Biochem Pharmacol. 2009; 78: 241-48.
D'Hooge R, De Deyn PP. Applications of the Morris water maze in the study of learning and memory. Brain Res Brain Res Rev. 2001; 36: 60-90.
DiMaggio C, Sun LS, Li G. Early childhood exposure to anesthesia and risk of developmental and behavioral disorders in a sibling birth cohort. Anesth Analg. 2011; 113: 1143-51.
Fan J, Xu G, Nagel DJ, Hua Z, Zhang N, Yin G. A model of ischemia and reperfusion increases JNK activity, inhibits the association of BAD and 14-3-3, and induces apoptosis of rabbit spinal neurocytes, Neurosci Lett. 2010; 473: 196-201.
Fornoni A, Pileggi A, Molano RD, Sanabria NY, Tejada T, Gonzalez-Quintana J, Ichii H, Inverardi L, Ricordi C, Pastori RL. Inhibition of c-jun N terminal kinase (JNK) improves functional beta cell mass in human islets and leads to AKT and glycogen synthase kinase-3 (GSK-3) phosphorylation. Diabetologia 2008; 51: 298-308.
Guan QH, Pei DS, Zong YY, Xu TL, Zhang GY. Neuroprotection against ischemic brain injury by a small peptide inhibitor of c-Jun N-terminal kinase (JNK) via nuclear and non-nuclear pathways. Neuroscience 2006; 139: 609-27.
Han JY, Jeong EY, Kim YS, Roh GS, Kim HJ, Kang SS, Cho GJ, Choi WS. C-jun N-terminal kinase regulates the interaction between 14-3-3 and Bad in ethanol-induced cell death. J Neurosci Res. 2008; 86: 3221-29.
Ing C, DiMaggio C, Whitehouse A, Hegarty MK, Brady J, von Ungern Sternberg BS, Davidson A, Wood AJ, Li G, Sun LS. Long-term differences in language and cognitive function after childhood exposure to anesthesia. Pediatrics 2012; 130: e476-85.
Istaphanous GK, Loepke AW. General anesthetics and the developing brain. Curr Opin Anesthesiol. 2009; 22: 368-73.
Istaphanous GK, Howard J, Nan X, Hughes EA, McCann JC, McAuliffe JJ, Danzer SC, Loepke AW. Comparison of the neuroapoptotic properties of equipotent anesthetic concentrations of desflurane, isoflurane or sevoflurane in neonatal mice. Anesthesiology 2011; 114: 578-87.
Jeong HS, Choi HY, Choi TW, Kim BW, Kim JH, Lee ER, Cho SG. Differential regulation of the antiapoptotic action of B-cell lymphoma 2 (Bcl-2) and B-cell lymphoma extra-long (Bcl-xL) by c-Jun N-terminal protein kinase (JNK) 1-involved pathway in neuroglioma cells. Biol Pharm Bull. 2008; 31: 1686-90.
Jevtovic-Todorovic V, Hartman RE, Izumi Y, Benshoff ND, Dikranian K, Zorumski CF, Olney JW, Wozniak DF. Early exposure to common anesthetic agents causes widespread neurodegeneration in the developing rat brain and persistent learning deficits. J Neurosci. 2003; 23: 876-82.
Joseph JA, Fisher DR, Cheng V, Rimando AM, Shukitt-Hale B. Cellular and behavioral effects of stilbene resveratrol analogues: Implications for reducing the deleterious effects of aging. J Agric Food Chem. 2008; 56: 10544-51.
Kodama M, Satoh Y, Otsubo Y, Araki Y, Yonamine R, Masui K, Kazama T. Neonatal desflurane exposure induces more robust neuroapoptosis than do isoflurane and sevoflurane and impairs working memory. Anesthesiology 2011; 115: 979-91.
Kong F, Xu L, He D, Zhang X, Lu H. Effects of gestational isoflurane exposure on postnatal memory and learning in rats. Eur J Pharmacol. 2011; 670: 168-74.
Li Y, Liang G, Wang S, Meng Q, Wang Q, Wei H. Effect of fetal exposure to isoflurane on postnatal memory and learning in rats. Neuropharmacology 2007; 53: 942-50.
Li Y, Liu C, Zhao Y, Hu K, Zhang J, Zeng M, Luo T, Jiang W, Wang H. Sevoflurane induces short-term changes in proteins in the cerebral cortices of developing rats. Acta Anaesthesiol Scand. 2013a; 57: 380-90.
Li Y, Wang F, Liu C, Zeng M, Han X, Luo T, Jiang W, Xu J, Wang H. JNK pathway may be involved in isoflurane-induced apoptosis in the hippocampi of neonatal rats. Neurosci Lett. 2013b; 545: 17-22.
Li Y, Zeng M, Chen W, Liu C, Wang F, Han X, Zuo Z, Peng S. Dexmedetomidine reduces isoflurane-induced neuroapoptosis partly by pre-serving PI3K/Akt pathway in the hippocampus of neonatal rats. PLOS ONE 2014; 9: e936-39.
Liang G, Wang Q, Li Y, Kang B, Eckenhoff MF, Eckenhoff RG, Wei H. A presenilin-1 mutation renders neurons vulnerable to isoflurane toxicity. Anesth Analg. 2008; 106: 492-500.
Lin HS, Yue BD, Ho PC. Determination of pterostilbene in rat plasma by a simple HPLC-UV method and its application in pre-clinical pharmacokinetic study. Biomed Chromatogr. 2009; 23: 1308-15.
Loepke AW, McCann JC, Kurth C, McAuliffe JJ. The physi­ologic effects of isoflurane anesthesia in neonatal mice. Anesth Analg. 2006; 102: 75?80.
Luo HR, Hattori H, Hossain MA, Hester L, Huang Y, Lee-Kwon W, Donowitz M, Nagata E, Snyder SH. Akt as a mediator of cell death. Proc Natl Acad Sci USA 2003; 100: 11712-17.
McCormack D, McFadden D. Pterostilbene and cancer: Current review. J Surg Res. 2012; 173: e53-61.
Olney JW, Young C, Wozniak DF, Jevtovic-Todorovic V, Ikonomidou C. Do pediatric drugs cause developing neurons to commit suicide? Trends Pharmacol Sci. 2004; 25: 135-39.
Orliaguet G, Vivien B, Langeron O, Bouhemad B, Coriat P, Riou B. Minimum alveolar concentration of volatile anesthetics in rats during postnatal maturation. Anesthesiology 2001; 95: 34-39.
Paule MG, Li M, Allen RR, Liu F, Zou X, Hotchkiss C, Hanig JP, Patterson TA, Slikker WJ, Wang C. Ketamine anesthesia during the first week of life can cause long-lasting cognitive deficits in rhesus monkeys. Neurotoxicol Teratol. 2011; 33: 220-30.
Remsberg CM, Yanez JA, Ohgami Y, Vega-Villa KR, Rimando AM, Davies NM. Pharmacometrics of pterostilbene: Preclinical pharmacokinetics and metabolism, anticancer, anti-inflammatory, antioxidant and analgesic activity. Phytother Res. 2008; 22: 169-79.
Rizzi S, Carter LB, Ori C, Jevtovic-Todorovic V. Clinical anesthesia causes permanent damage to the fetal guinea pig brain. Brain Pathol. 2008; 18: 198-210.
Roupe KA, Remsberg CM, Yanez JA, Davies NM. Pharmacometrics of stilbenes: Seguing towards the clinic. Curr Clin Pharmacol. 2006; 1: 81-101.
Sanders RD, Xu J, Shu Y, Januszewski A, Halder S, Fidalgo A, Sun P, Hossain M, Ma D, Maze M. Dexmedetomidine attenuates isoflurane-induced neurocognitive impairment in neonatal rats. Anesthesiology 2009; 110: 1077-85.
Satomoto M, Satoh Y, Terui K, Miyao H, Takishima K, Ito M, Imaki J. Neonatal exposure to sevoflurane induces abnormal social behaviors and deficits in fear conditioning in mice. Anesthesiology 2009; 110: 628-37.
Song G, Ouyang G, Bao S. The activation of Akt/PKB signaling pathway and cell survival. J Cell Mol Med. 2005; 9: 59-71.
Sovak M. Grape extract, resveratrol, and its analogs: A review. J Med Food 2001; 4: 93-105.
Stratmann G, Sall JW, May LD, Bell JS, Magnusson KR, Rau V, Visrodia KH, Alvi RS, Ku B, Lee MT, Dai R. Isoflurane differentially affects neurogenesis and long-term neurocognitive function in 60-day-old and 7-day-old rats. Anes-thesiology 2009; 110: 834-48.
Wei H, Kang B, Wei W, Liang G, Meng QC, Li Y, Eckenhoff RG. Isoflurane and sevoflurane affect cell survival and BCL-2/BAX ratio differently. Brain Res. 2005; 1037: 139-47.
Yang H, Liang G, Hawkins BJ, Madesh M, Pierwola A, Wei HF. Inhalational anesthetics induce cell damage by disruption of intracellular calcium homeostasis with different potencies. Anesthesiology 2008; 109: 243-50.
Yeste-Velasco M, Folch J, Casadesus G, Smith MA, Pallas M, Camins A. Neuroprotection by c-Jun NH2-terminal kinase inhibitor SP600125 against potassium deprivation-induced apoptosis involves the Akt pathway and inhibition of cell cycle re-entry. Neuroscience 2009; 159: 1135-47.
Yin G, Li LY, Qu M, Luo HB, Wang JZ, Zhou WX. Upregulation of AKT attenuates amyloid-beta-induced cell apoptosis. J Alzheimers Dis. 2011; 25: 337-45.
Yon JH, Daniel-Johnson J, Carter LB, Jevtovic-Todorovic V. Anesthesia induces neuronal cell death in the developing rat brain via the intrinsic and extrinsic apoptotic pathways. Neuroscience 2005; 135: 815-27.
Zhao H, Yenari MA, Cheng D, Sapolsky RM, Steinberg GK. Bcl-2 overexpression protects against neuron loss within the ischemic margin following experimental stroke and inhibits cytochrome C translocation and caspase-3 activity. J Neurochem. 2003; 85: 1026-36.
Zhao YL, Xiang Q, Shi QY, Li SY, Tan L, Wang JT, Jin XG, Luo AL. GABAergic excitotoxicity injury of the immature hippocampal pyramidal neurons exposure to isoflurane. Anesth Analg. 2011; 113: 1152-60.
Zhao X, Yang Z, Liang G, Wu Z, Peng Y, Joseph DJ, Inan S, Wei H. Dual effects of isoflurane on proliferation, differentiation, and survival in human neuroprogenitor cells. Anesthesiology 2013; 118: 537-49.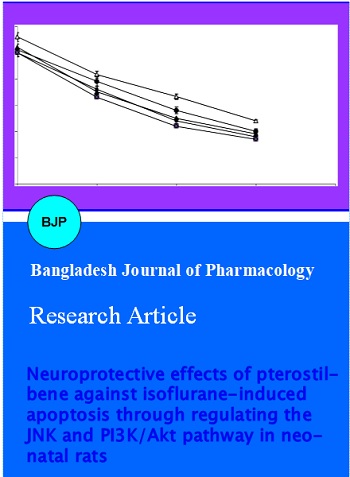 How to Cite
Liu, T.-D., K. Yang, and F.-K. Li. "Neuroprotective Effects of Pterostilbene Against Isoflurane-Induced Apoptosis through Regulating the JNK and PI3K/Akt Pathway in Neonatal Rats". Bangladesh Journal of Pharmacology, Vol. 10, no. 1, Mar. 2015, pp. 173-82, doi:10.3329/bjp.v10i1.21642.
Section
Research Articles
Copyright (c) 2015 Tian-Dan Liu, Ke Yang, Fu-Kui Li
This work is licensed under a Creative Commons Attribution 4.0 International License.
Authors who publish with this journal agree to the following terms:
Authors retain copyright and grant the journal right of first publication with the work simultaneously licensed under a

Creative Commons Attribution License

that allows others to share the work with an acknowledgement of the work's authorship and initial publication in this journal.
Authors are able to enter into separate, additional contractual arrangements for the non-exclusive distribution of the journal's published version of the work (e.g., post it to an institutional repository or publish it in a book), with an acknowledgement of its initial publication in this journal.
Authors are permitted and encouraged to post their work online (e.g., in institutional repositories or on their website) prior to and during the submission process, as it can lead to productive exchanges, as well as earlier and greater citation of published work (See

The Effect of Open Access

).