Targeting breast cancer using retinoic acid trifloromethyl chalcone: A promising therapeutic strategy in the treatment of breast cancer
Hao Ding

Department of Plastic Surgery, The First Affiliated Hospital of Anhui Medical University, Hefei 230022

Ben-Zhong Wang

Department of Breast Surgery, The First Affiliated Hospital of Anhui Medical University, Hefei 230022

Hua-Qing Zhu

Department of Biochemistry, Anhui Medical University, Hefei 230022

Liu-Yi Dong

Department of Pharmacology, Anhui Medical University, Hefei 230022

Yu-Fang Gu

Department of Plastic Surgery, The First Affiliated Hospital of Anhui Medical University, Hefei 230022

Yu Zhao

Department of Plastic Surgery, The First Affiliated Hospital of Anhui Medical University, Hefei 230022
Keywords:
Breast cancer, Retinoic acid trifloromethyl chalcone, Therapeutic strategy
Abstract
The study was devised to investigate the effect of retinoic acid trifloromethyl chalcone (RAFC) on mammary carcinogenesis in female rats. The data revealed a significant decrease in number of rats with mammary tumor, number of tumors per rat and tumor volume by 54, 72 and 75% respectively in RAFC group compared to control group. The ibuprofen treated rats also showed a significant decrease in number of rats with tumor, number of tumors per rat and tumor volumes by 43%, 55%, and 59%, respectively. Treatment of rats with RAFC also increased the latency period of tumor induction significantly. Median detection period (50% of tumors) was 92, 83 and 56 days respectively in the rats from RAFC, ibuprofen and control groups respectively after DMBA induction. These results demonstrate that RAFC possesses strong chemopreventive activity against mammary carcinogenesis. 
Downloads
Download data is not yet available.
Abstract
1416
Download
534 Read
329
References
Alshafie GA, Harris RE, Abou-Issa H, Robertson FM, Parrett ML, Ross M. Chemopreventive effects of ibuprofen and 4-HPR in the DMBA rat mammary tumor model. Anticancer Res. 1999; 19: 1-6.
Chung KD. Jeong Young-Il, Chung CW, Kim DH, Kang DH. Anti-tumor activity of all-trans retinoic acid-incorporated glycol chitosan nanoparticles against HuCC-T1 human cholangiocarcinoma cells. Int J Pharmaceut. 2012; 422: 454-61.
Crocetti E, Trama A, Stiller C, Caldarella A, et al. Epide­miology of glial and non-glial brain tumors in Europe. Eur J Cancer 2012; 48: 1532-42.
Defer GL, Adle-Biassette H, Ricolfi F, Martin L, Authier FJ, Chomienne C, Degos L, Degos J. All-trans retinoic acid in relapsing malignant gliomas: Clinical and radiological stabilization associated with the appearance of intratumoral calcifications. J Neurooncol. 1997; 34: 169-77.
Elston RC, Johnson WD. Essentials of biostatistics. 2nd ed. Philadelphia, FA, Davis Company, 1994.
Harris RE, Kasbari S, Farrar WB. Prospective study of non-steroidal drugs and breast cancer. Oncol Rep. 1999; 6: 71-73.
Harris RE, Namboodiri KK, Farrar WB. Epidemiologic study of non-steroidal anti-inflammatory drugs and breast cancer. Oncol Rep. 1995; 2: 591-92.
Harris RE, Namboodiri KK, Farrar WB. Non-steroidal anti-inflammatory drugs and breast cancer. Epidemiology 1996; 7: 203-05.
Huang EJ, Ye YC, Chen SR, Chai JR, Lu, JX, Zhoa L, Gu LJ, Wang ZY. Use of all-trans retinoic acid in the treatment of acute promyelocytic leukemia. Blood 1988; 72: 567-72.
Jeong YI, Kim SH, Jung TY, Kim IY, et al. Polyion complex micelles composed of all-trans retinoic acid and poly(ethylene glycol)-grafted chitosan. J Pharm Sci. 2006; 95: 2348-60.
Joarder FS, Abou-Issa H, Robertson FM, Parrett ML, Alshafie GA, Harris RE. Growth arrest of DMBA-induced mammary carcinogenesis with ibuprofen treatment in female Sprague-Dawley rats. Oncol Rep. 1997; 4: 1271-73.
Krupitza G, Hulla W, Harant H, Dittrich E, Kallay E, Huber H. Retinoic acid induced death of ovarian carcinoma cells correlates with c-myc stimulation. Int J Cancer 1995; 61: 649-59.
Lehman PA, Slattery JT, Franz TJ. Percutaneous absorption of retinoids: Influence of vehicle, light exposure, and dose. J Invest Dermatol. 1988; 91: 56-61.
Lee PP, Ip MM. Regulation of proliferation of rat mammary tumor cells by inhibitors of cyclooxygenase and lipoxygenase. Prostaglandins Leukotrienes Essent Fatty Acids. 1992; 45: 21-31.
McCormick DL, Madigan MJ, Moon RC. Modulation of rat mammary carcinogenesis by indomethacin. Cancer Res. 1985; 45: 1803-08.
Norden AD, Wen PY. Glioma therapy in adults. Neurologist 2006; 12: 279-92.
Robertson FM, Parrett ML, Joarder FS, Ross M, Abou-Issa HM, Alshafie G, Harris, RE. Ibuprofen-induced inhibition of cyclooxygenase isoform gene expression and regression of rat mammary carcinomas. Cancer Lett. 1998; 122: 165-75.
Siegel R, Naishadham D, Jemal A. Cancer statistics. CA Cancer J Clin. 2013; 63: 11-30.
Singletary ES, Bevers T, Dempsey P, Farrar WB, Garber J, Harris RE, Helvie M, Jacobs M, Pass H, Patterson-Smith ML, Tarantolo S, Venta LA. Screening for and evaluation of suspicious breast lesions. Oncology (Basel). 1998; 12: 89-138.
Stummer W, Kamp MA.The importance of surgical resection in malignant glioma. Curr Opin Neurol. 2009; 22: 645-49.
Szuts EZ, Harosi FI. Solubility of retinoids in water. Arch Biochem Biophys.1991; 287: 297-304.
Tanaka S, Louis DN, Curry WT, Batchelor TT, Dietrich J. Diagnostic and therapeutic avenues for glioblastoma: No longer a dead end? Nat Rev Clin Oncol. 2013; 10: 14-26.
Weigelt B, Peterse JL, vant Veer LJ. Breast cancer metastasis: Markers and models. Nat Rev Cancer. 2005; 5: 591-602.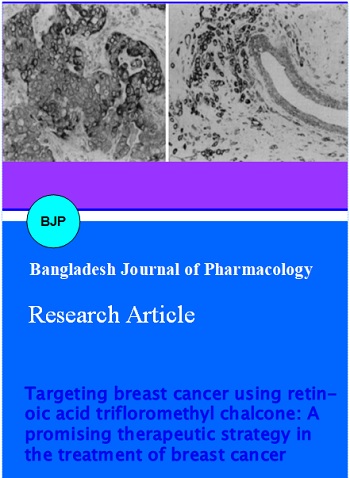 How to Cite
Ding, H., B.-Z. Wang, H.-Q. Zhu, L.-Y. Dong, Y.-F. Gu, and Y. Zhao. "Targeting Breast Cancer Using Retinoic Acid Trifloromethyl Chalcone: A Promising Therapeutic Strategy in the Treatment of Breast Cancer". Bangladesh Journal of Pharmacology, Vol. 10, no. 1, Mar. 2015, pp. 209-13, doi:10.3329/bjp.v10i1.21599.
Section
Research Articles
Copyright (c) 2015 Hao Ding, Ben-Zhong Wang, Hua-Qing Zhu, Liu-Yi Dong, Yu-Fang Gu, Yu Zhao
This work is licensed under a Creative Commons Attribution 4.0 International License.
Authors who publish with this journal agree to the following terms:
Authors retain copyright and grant the journal right of first publication with the work simultaneously licensed under a

Creative Commons Attribution License

that allows others to share the work with an acknowledgement of the work's authorship and initial publication in this journal.
Authors are able to enter into separate, additional contractual arrangements for the non-exclusive distribution of the journal's published version of the work (e.g., post it to an institutional repository or publish it in a book), with an acknowledgement of its initial publication in this journal.
Authors are permitted and encouraged to post their work online (e.g., in institutional repositories or on their website) prior to and during the submission process, as it can lead to productive exchanges, as well as earlier and greater citation of published work (See

The Effect of Open Access

).