In vivo hypoglycemic study of Manilkara zapota leave and seed extracts
Saikat Ranjan Paul

Department of Pharmacy, Southeast University, Dhaka

Md. Lukman Hakim

Department of Pharmacy, Southeast University, Dhaka
Keywords:
Alloxan, Diabetes mellitus, Hypoglycemia, Manilkara zapota
Abstract
The hypoglycemic activity of pet-ether extracts of leaves and methanol extracts of seeds of Manilkara zapota was evaluated in the study. The oral glucose tolerance test was performed in mice treated with 2 mg/kg glucose solution and the blood glucose level was determined after 15, 30, 60, 90 and 120 min of administration. Alloxan (70 mg/kg) was injected intravenously to induce diabetes in mice. The hypoglycemic study was carried out 7 days. In glucose tolerance test all extracts achieved significant p values (p<0.0001) at 60, 90 and 120 minutes compared to the glucose control. In hypoglycemic study all extracts started to reduce the blood glucose level rapidly even starting from the 2nd day of treatment and significant p values (p<0.0001) were achieved. So, the study evinced the hypoglycemic potency of the leave and seed extracts of M. zapota.
Downloads
Download data is not yet available.
Abstract
1331
Download
2145 Read
1513
References
Awasare S, Bhujbal S, Nanda R. In vitro cytotoxic activity of novel oleanane type of triterpenoid saponin from stem bark of Manilkara zapota Linn. Asian J Pharm Clin Res. 2012; 5: 183-88.
Belhekar SN, Chaudhari PD, Saryawanshi JS, Mail KK, Pandhare RB. Antidiabetic and antihyperlipidemic effects of Thespesia populnea fruit pulp extracts on alloxan-induced diabetic rats. Indian J Pharm Sci. 2013; 75: 217-21.
Bhargavi S, Kanakaiah B, Dantu K, Sowmya B, Ravi S, Nama. An evaluation of the antibacterial activity of root extracts of Manilkara zapota against Satphylococcus aureus and Eschericha coli. IJP 2013; 4: 171-73.
Ecobichon DJ. The basis of toxicology testing. New York, CRC Press, 1997, p 43.
Gomathy K, Baskar R, Kumaresan K. Comparison of anti-oxidant potential in pulp and peel extracts of Manilkara zapota (L.) P. Royen. Afr J Biotechnol. 2013; 12: 4936-43.
Ganguly A, Mahmud ZA, Uddin MMN, Rahman SMA. In vivo anti-inflammatory and anti-pyretic acticities of Manilkara zapota leaves in albino Wistar rats. APJTD. 2013; 3: 301-07.
Harrigan RA, Nathan MS, Beattie P. Oral agents for the treatment of type 2 diabetes mellitus: Pharmacology, toxicity, and treatment. Ann Emerg Med. 2011; 38: 68-78.
Islam MR, Parvin MS, Banu MR, Jahan N, Das N, Islam ME. Antibacterial and phytochemical screening of ethanol extracts of Manilkara zapota leaves and bark. Int J Pharma Sci. 2013; 3: 394-97.
Jamuna KS, Ramesh CK, Srinivasa TR, Raghu KL. In vitro antioxidant studies in some common fruits. Int J Pharm Pharm Sci. 2011; 31: 60-63.
Jahan S, Saeed N, Ijlal F, Khan MA, Ahmad M, Zafar M, et al. Histomorphological study to evaluate antifertility effect of Abrus precatories L. in adult male mice. J Med Plants Res. 2009; 3: 1029-33.
Jain PK, Soni P, Upmanyu N, Shivhare. Evaluation of analgesic activity of Manilkara zapota (Leaves). Eur J Exp Biol. 2011; 1: 14-17.
Kaneria M, Chanda S. Evaluation of antioxidant and antimicrobial properties of Manilkara zapota L. (chiku) leaves by sequential soxhlet extraction method. APJTB. 2012; 1526-33.
Kumar YDR, Hema V, Agrawal M, Sruthy PC, Vedamurthy AB, Krishna V, et al. Manilkara zapota seed embryo extract: A potent anthelminthic agent. Asian J Pharm Clin Res. 2012; 5: 159-61.
Kameswara RB, Kesavulu MM, Giri R, Apparao CH. Hypoglycemic and hypolipidemic effects of Momordica cymbalaria Hook. Fruit powder in alloxan induced diabetes rats. J Ethnopharmacol. 1997; 58: 149-55.
Kumavat UC, Shimpi SN, Jagdale SP. Evaluation of hypoglycaemic activity of Cassia nodosa leaves in normal and streptozotocin-induced diabetic rats. Int J Green Pharm. 2012; 6: 9-13.
Mohanapriya C, Uma S, Modilal RD, Nithyalakshmi V. Phytochemical screening and in vitro antioxidant studies on acetone extract of Manilkara zapota L. seeds. IJPSR. 2014; 5: 2354-61.
Nair R, Chanda S. Antimicrobial activity of Terminalia catappa, Manilkara zapota and Piper betel leaf extract. Indian J Pharm Sci. 2008; 70: 390-93.
Osman MA, Aziz MA, Habib MR, Karim MR. Antimicrobial Investigation on Manilkara zapota (L.) P. Royen. Int J Drug Dev Res. 2011; 3: 185-90.
Osman MA, Aziz MA, Habib MR, Karim MR. Pesticidal evaluation of Manilkara zapota (L.) against Tribolium castaneum (Herbest). Agric Conspec Sci. 2011; 76: 143-46.
Priya P, Shoba FG, Parimala M, Sathya J. Antioxidant and antibacterial properties of Manilkara zapota (L.) Royen flower. IJPCR. 2014; 6: 174-78.
Singh S, Bothara SB. Manilkara zapota (Linn.) seeds: A potent source of natural gum. ISRN Pharmaceutics. 2014; Vol. 2014 Article ID 647174, 10 pages.
Saba AB, Oyagbemi AA, Azeez OI. Antidiabetic and haematinic effects of Paraquetina nigrescens on alloxan induced type-1 diabetes and normocytic normochromic anaemia in Wistar rats. Afr Health Sci. 2010; 10: 276-82.
Singh M, Soni P, Upmanyu N, Shivhare Y. In vitro anti-arthritic activity of Manilkara zapota Linn. Asian J Pharm Tech. 2011; 1: 123-24.
Tiwari S. Plant: A rich source of herbal medicine. J Nat Prod. 2008; 1: 27-35.
Woo PF, Yim HS, Khoo HE, Sia CM, Ang YK. Effects of extraction conditions on antioxidant properties of sapodilla fruit (Manilkara zapota). IFRJ. 2013; 20: 2065-72.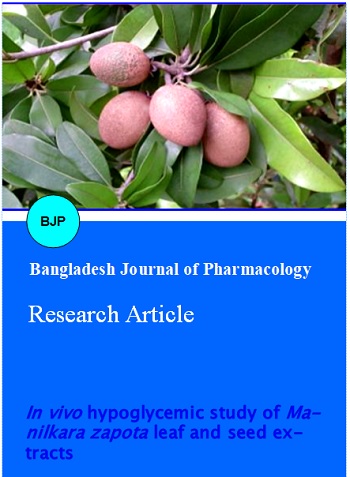 How to Cite
Paul, S., and M. Hakim. "In Vivo Hypoglycemic Study of Manilkara Zapota Leave and Seed Extracts". Bangladesh Journal of Pharmacology, Vol. 10, no. 1, Mar. 2015, pp. 246-50, doi:10.3329/bjp.v10i1.21475.
Section
Research Articles
Copyright (c) 2015 Saikat Ranjan Paul, Md. Lukman Hakim
This work is licensed under a Creative Commons Attribution 4.0 International License.
Authors who publish with this journal agree to the following terms:
Authors retain copyright and grant the journal right of first publication with the work simultaneously licensed under a

Creative Commons Attribution License

that allows others to share the work with an acknowledgement of the work's authorship and initial publication in this journal.
Authors are able to enter into separate, additional contractual arrangements for the non-exclusive distribution of the journal's published version of the work (e.g., post it to an institutional repository or publish it in a book), with an acknowledgement of its initial publication in this journal.
Authors are permitted and encouraged to post their work online (e.g., in institutional repositories or on their website) prior to and during the submission process, as it can lead to productive exchanges, as well as earlier and greater citation of published work (See

The Effect of Open Access

).