Phytochemical, antimicrobial and cytotoxic evaluation of Indigofera serpentinicola
Charmaine Kahiya

University of Zimbabwe, Biological Sciences Department, P.O. Box MP 167, Mt Pleasant, Harare

Clemence Zimudzi

University of Zimbabwe, Biological Sciences Department, P.O. Box MP 167, Mt Pleasant, Harare
Keywords:
Antimicrobial, Cytotoxicity, Indigofera serpentinicola, Phytochemical
Abstract
Methanol and aqueous root extracts of Indigofera serpentinicola were investigated for their phytochemical, antimicrobial and cytotoxic properties. Phytochemical analysis showed the presence of alkaloids, saponins, tanins, terpenoids, cardiac glycosides, phenols, reducing sugars oils and fats in both extracts. Flavanoids were only detected in the methanolic extract. Antimicrobial activity was evaluated using the Kirby-Bauer disk diffusion method. The extracts showed low activity against Staphylococus aureus, Cornybacterium diptheriae, Pseudomonas aeruginosa and Salmonella enterica and no activity against Escherichia coli. The diameters zones of inhibition ranged between 3-10 mm. The aqueous extract had higher activity showing zones of inhibition of 10 mm against S. enterica. Brine shrimp lethality test showed LC50 values which ranged from 0.079-0.158 mg/mL, showing that the extracts were highly toxic. 
Downloads
Download data is not yet available.
Abstract
1442
Download
697 Read
900
References
Bronstein AC, Spyker DA, Cantilena Jr LR. Annual report of the American Association of Poison Control Centres. Clin Toxicol. 2007; 45: 815-917.
Ceylan E, Fung DYC. Antimicrobial activity of spices. J Rap Meth Auto Microbiol. 2004; 12: 1-55.
Cowan MM. Plant products as antimicrobial agents. Clin Microbiol Rev. 1999; 12: 564-82.
Dahot MU. Antibacterial and antifungal activity of small protein of Indifogera oblongifolia leaves. J Ethnopharmacol. 1999; 64: 27782.
Da Silva MCHTP, Sobrinho TJSP, Saraiva AM, Pisciottano MNC, de Amorim ELC. Phytochemical profile and antibacterial activity of bark and leaves of Caesalpinia pyramidalis Tul. and Sapium glandulosum (L.). J Med Pl Res. 2012; 6: 4766-71.
Esimone CO, Adikwu MU, Muko KN. Antimicrobial properties of Indigofera dendroides leaves. Fitoterapia 1999; 70: 51720.
Gelfand M, Mavi S, Drummond RB, Ndemera B. The traditional medical practitioner in Zimbabwe: His principles of practice and Pharmacopoeia. 1st ed. Gweru, Zimbabwe, Mambo Press, 1985, pp 148-50.
Kambizi L, Afolayan AJ. Extracts from Aloe ferox and Withania somnifera inhibit Candida albicans and Neisseria gonorrhoea. Afr J Biotech. 2008; 7: 12-15.
Leite SP, Vieira JRC, Lima ED. Anitmicrobial activity of Indigofera suffruticosa. Evid Based Complement Alternat Med. 2006; 3: 261-65.
Maroyi A. Traditional use of medicinal plants in South-Central Zimbabwe: Review and perspective. J Ethnobiol Ethnomed. 2011; 9: 31-43.
Mavi S, Shava S. Traditional methods of conserving medicinal plants in Zimbabwe. BCGI. 1997; 2: 8.
Meyer BN, Ferrigni NR, Putnam JE, Jacobsen LB, Nichols DE, McLaughlin, JL. Brine shrimp: A convenient general bioassay for active plant constituents. Planta Medica. 1982; 45: 31-34.
Musa AA. Cytotoxicity activity and phytochemical screening of Cochlospermum tinctorium Perr Ex A. Rich Rhizome. J Appl Pharm Sci. 2012; 2: 155-59.
Olaleye MT. Cytotoxicity and antibacterial activity of methanolic extract of Hibiscus sabdariffa. J Med Plants Res. 2007; 1: 9-13.
Prabakaran M, Chandrakala N, Panneerselvam A. Antimicrobial activity of Indigofera glandulosa (wild). Asian J Plant Sci Res. 2011; 1: 18-25.
Rabe T, Staden J. Antibacterial activity of South African plants used for medicinal purposes. J Ethnopharmacol. 1997; 56: 81-87.
Rojas A, Hernandez L, Pereda-Miranda R, Mata R. Screening for antimicrobial activity of crude drug extracts and pure natural products from Mexican medicinal plant. J Ethnopharmacol. 1992; 35: 275-83.
Sasidharan S, Chen Y, Saravanan D, Sundrarn KM, Latha, LY. Extraction isolation and characterization of bioactive compounds from plants extracts. Afr J Tradit Comp Altern Med. 2010; 8: 1-10.
Wilker MA, Cockerill FR, Craig WA, Dudley MN, Eliopoulos GM, Hecht WD, Hindler JF, Low DE, Sheehan DJ, Tenovar FC, Turnridge JD, Weinstein MP, Zimmer BL, Ferraro, JM, Swenson JN. Performance standards for antimicrobial susceptibility testing. Clinical and Laboratory Standards Institutes document M100-S117. Vol. 27, Pennysylvannia, USA, 2007, pp 32-71.
Yadav RNS, Agarwala M. Phytochemical analysis of some medicinal plants. J Phytol. 2011; 3: 10-14.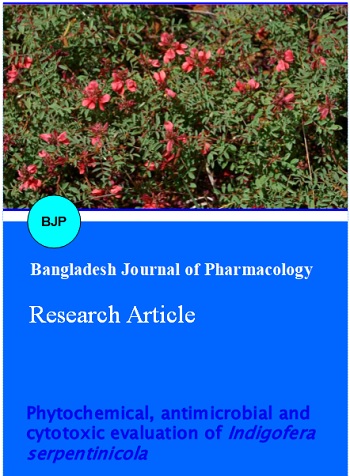 How to Cite
Kahiya, C., and C. Zimudzi. "Phytochemical, Antimicrobial and Cytotoxic Evaluation of Indigofera Serpentinicola". Bangladesh Journal of Pharmacology, Vol. 10, no. 1, Mar. 2015, pp. 166-72, doi:10.3329/bjp.v10i1.21467.
Section
Research Articles
Copyright (c) 2015 Charmaine Kahiya, Clemence Zimudzi
This work is licensed under a Creative Commons Attribution 4.0 International License.
Authors who publish with this journal agree to the following terms:
Authors retain copyright and grant the journal right of first publication with the work simultaneously licensed under a

Creative Commons Attribution License

that allows others to share the work with an acknowledgement of the work's authorship and initial publication in this journal.
Authors are able to enter into separate, additional contractual arrangements for the non-exclusive distribution of the journal's published version of the work (e.g., post it to an institutional repository or publish it in a book), with an acknowledgement of its initial publication in this journal.
Authors are permitted and encouraged to post their work online (e.g., in institutional repositories or on their website) prior to and during the submission process, as it can lead to productive exchanges, as well as earlier and greater citation of published work (See

The Effect of Open Access

).