Prescribing pattern of psychotropic drugs used in non-psychiatric patients among outpatient department of two teaching hospitals in Bangladesh
Nazmun Nahar Alam

Department of Pharmacology, Sir Salimullah Medical College Hospital, Mitford, Dhaka

Ferdous Ara

Department of Pharmacology, Sir Salimullah Medical College Hospital, Mitford, Dhaka

Md. Jalal Uddin Iqbal

Department of Pharmacology, Sir Salimullah Medical College Hospital, Mitford, Dhaka
Keywords:
Prescribing pattern, Psychotropic drug, Non-psychiatric
Abstract
The objectives were to evaluate the prevalence, pattern and rational of psychotropic drugs prescribing by general physicians in two teaching hospitals in Bangladesh in non-psychiatric patient. 320 patients from Sir Salimullah Medical College Hospitals and 240 patients from Holy Family Red Crescent Medical College Hospitals who visited other than psychiatry ward, received psychotropic drugs between July 2012 to June 2013 were analyzed. The rate of psychotropic drugs prescribing was 8.3% and 11.2% in SSMC and HFRCMCH respectively which was found to increase with increasing age and female patient. Benzodiazepines were the most commonly prescribed drugs followed by antidepressant and psychotropic drugs. The psychotropic drugs use was found more in different physical disorder.
Downloads
Download data is not yet available.
Abstract
1331
Download
911 Read
1172
References
Anderson RJ, Freed land KE, Clouse RE, Lustman PJ. The prevalence of comorbid depression in adults with diabetes. Diabetes Care. 2001; 24: 1069-78.
Balter MB, Levine J, Manheimer DI. Cross national study of the extent of anxiety/sedative drug use. New Engl J Med. 1974; 290: 769-74.
Davidson JRT, Reft D,Lewis BF, Gebhardt M. Sychotropic drugs on general medical and surgical wards of a teaching hospital. Arch Gen Psychiatry. 1975; 32: 507-11.
Green Blatt DJ, Allen MD, Shader RI. Toxicity of high dose flurazepam in the elderly. Clin Pharmacol Ther. 1977; 21: 355-61.
Jonas BS, Franks P, Ingram DD. Are symptoms of anxiety and depression risk factors for hypertension? Longitudinal evidence from the National Health and Nutrition Examina-tion Survey 1 Epidemiologic follow-up study. Arch Fam Med. 1997; 6: 43-49.
Jones MP, Sharp LK, Crowell MD. Psychosocial correlates of symptoms in functionl dyspepsia. Clin Gastroenteral Hepatol. 2005; 3: 521-28.
Linden M. Y. Lecrubier, C Bellantuono, O. Benkert, S. Kisley, G. Simon. Psychotropic drug prescription in primary care. J Eur Psychiatry. 1996; 11: 179.
Miller AL, Craig CS. Combination antipsychotics: Pros, cons and question. Schizopher Bull. 2002; 28: 105-09.
Moore S, Jaime LK, Maharajh H, Ramtahal I, Reid S, Ramsewak FS. The prescribing of psychotropic drug in mental health services in Trinidad. Rev Panam Salud Publica. 2002; 12: 207-14.
Prueksaritanond S, Pumkompol T, Sukying C, Tubtimtes S: Psychotropic drug prescribing in the family medicine outpatient clinic, Ramathibodi Hospital. J Med Assoc Thai. 2009; 92 : 266-72.
Solomon F, White CC, Parron DL, Mendelson WB. Sleeping pills, insomnia and medical practice. N Engl J Med. 1979; 300: 803-08.
World Health Organization. Integrating mental health in to primary care: A global perspective. Geneva, WHO, 2008.
Vazquez-Barquero J, Diez Manrique JF, Pena C, Arenal Gonzalez A, Cuesta MJ, Artal JA. Patterns of psychotropic drug use in a Spanish rural community. Bri J Psychiatry. 1989; 155: 633-41.
Wessling A, Bergman U, Westerholm B. On the differences in psychotropic drug use between three major urban areas in Sweden. Eur J Clin Pharmacol. 1991 ; 40: 495-500.
Wolkovc N, E I Kholy O, Baltzan M, Palayew M. Sleep and aging: 2. Management of sleep disorders in older people. CMAJ. 2007; 176: 1449-54.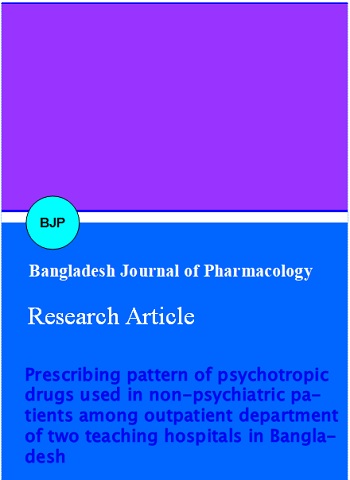 How to Cite
Alam, N., F. Ara, and M. J. Iqbal. "Prescribing Pattern of Psychotropic Drugs Used in Non-Psychiatric Patients Among Outpatient Department of Two Teaching Hospitals in Bangladesh". Bangladesh Journal of Pharmacology, Vol. 10, no. 1, Feb. 2015, pp. 148-51, doi:10.3329/bjp.v10i1.21463.
Section
Research Articles
Authors who publish with this journal agree to the following terms:
Authors retain copyright and grant the journal right of first publication with the work simultaneously licensed under a Creative Commons Attribution License that allows others to share the work with an acknowledgement of the work's authorship and initial publication in this journal.
Authors are able to enter into separate, additional contractual arrangements for the non-exclusive distribution of the journal's published version of the work (e.g., post it to an institutional repository or publish it in a book), with an acknowledgement of its initial publication in this journal.
Authors are permitted and encouraged to post their work online (e.g., in institutional repositories or on their website) prior to and during the submission process, as it can lead to productive exchanges, as well as earlier and greater citation of published work (See The Effect of Open Access).