Effect of crude saponins from Gaultheria trichophylla extract on growth inhibition in human colorectal cancer cells
Fiaz Alam

Department of Pharmacy, COMSATS Institute of Information Technology, Abbottabad

Qazi Najumus Saqib

Department of Pharmacy, COMSATS Institute of Information Technology, Abbottabad

Abdul Waheed

Wolfson Cell Science Centre, Faculty of Health & Medical Sciences, University of Surrey, Guildford
Keywords:
Apoptosis, G. trichophylla, MTT, Saponins
Abstract
The genus Gaultheria also comprised of species with reported cytotoxic activities. Current research work  was carried out to evaluate G. trichophylla crude extract and respective saponins fraction against human colorectal cancer cell line (Caco-2) based on cell viability assays. Caco-2 cells treated with the crude extract showed significant growth  inhibition (p< 0.001) in a dose dependent manner with apparent IC50 value of 200 ?g/mL and 100 ?g/mL in MTT and NRU assays respectively. The fractioned crude saponins showed an enhanced response and inhibited the growth of Caco-2 by 93.6 and 97.4% in MTT and NRU assays respectively, with compared to actinomycin-D (65%). The DAPI staining of cell treated with crude saponins observed under confocal microscope showed shrunken nuclei with apparent nuclear fragmentation and chromatin condensation indicating apoptosis mode of cell death. The study exhibited that the G. Trichophylla saponins induced apoptosis of Caco-2 cell lines. This study provides new evidences to further explore this plant for the novel targets in anticancer drug development.
Downloads
Download data is not yet available.
Abstract
1247
Download
766 Read
648
References
Alauddin M, Bryce T, Clayton E, Martin-Smith M, Subramanian G. Triterpenoids from New Zealand plants: Isolation of ursolic acid from Gaultheria subcorymbosa col. J Chem Soc. 1965: 4611-12.
Borenfreund E, Babich H, Martin-Alguacil N. Comparisons of two in vitro cytotoxicity assays: The neutral red (NR) and tetrazolium MTT tests. Toxicology in vitro. 1988; 2: 1-6.
Borenfreund E, Puerner JA. Toxicity determined in vitro by morphological alterations and neutral red absorption. Toxicol Lett. 1985; 24: 119-24.
Brown JM, Attardi LD. The role of apoptosis in cancer development and treatment response. Nature Rev Cancer. 2005; 5: 231-37.
Cambie R, Cain B, La Roche S. A New Zealand phytochemical survey-Part 2. The Dicolytedons NZJ Sci. 1961; 4: 604-63.
Chen CY, Lin RJ, Huang JC, Wu YH, Cheng MJ, Hung HC, et al. Chemical constituents from the whole plant of Gaultheria itoana Hayata. Chem Biodiversity. 2009; 6: 1737-43.
Cybulska P, Thakur SD, Foster BC, Scott IM, Leduc RI, Arnason JT, et al. Extracts of Canadian first nations medicinal plants, used as natural products, inhibit Neisseria gonorrhoeae isolates with different antibiotic resistance profiles. Sex Transm Dis. 2011;38:667-71.
Dande PR, Talekar VS, Chakraborthy G. Evaluation of crude saponins extract from leaves of Sesbania sesban (L.) Merr. for topical anti-inflammatory activity. Int J Res Pharm Sci. 2010; 1: 296-99.
El-Basyouni SZ, Chen D, Ibrahim R, Neish A, Towers G. The biosynthesis of hydroxybenzoic acids in higher plants. Phytochemistry 1964; 3: 485-92.
Farnsworth NR, Soejarto D. Global importance of medicinal plants. In: Conservation of medicinal plants. 1991, pp 25-51.
Green DR, Kroemer G. The pathophysiology of mitochondrial cell death. Science 2004; 305: 626-29.
Grisebach H, Vollmer K. On the biosynthesis of benzoic acid in Gaultheria procumbens L. II. Zeitschrift fur Naturforschung Teil B: Chemie, Biochemie, Biophysik, Biologie. 1964; 19: 781-83.
Han L-T, Fang Y, Li M-M, Yang H-B, Huang F. The antitumor effects of triterpenoid saponins from the anemone flaccida and the underlying mechanism. J Evid Based Complementary Altern Med. 2013.
Huang TC. Editorial Committee of the flora of Taiwan. Department of Botany, National Taiwan University, Taiwan, 2003.
Ibrahim R, Towers G. The identification, by chromatography, of plant phenolic acids. Arch Biochem Biophys. 1960; 87: 125-28.
Kapuscinski J. DAPI: A DNA-specific fluorescent probe. Biotech Histochem. 1995; 70: 220-33.
Lau C, Ho C, Kim C, Leung K, Fung K, Tse T, et al. Cytotoxic activities of Coriolus versicolor (Yunzhi) extract on human leukemia and lymphoma cells by induction of apoptosis. Life Sci. 2004; 75: 797-808.
Li J, Li F, Lu Y-Y, Su X-J, Huang C-P, Lu X-W. A new dilactone from the seeds of Gaultheria yunnanensis. Fitoterapia 2010; 81: 35-37.
Liu W-R, Qiao W-L, Liu Z-Z, Wang X-H, Jiang R, Li S-Y, et al. Gaultheria: Phytochemical and pharmacological characteristics. Molecules 2013; 18: 12071-108.
MacDonald RS, Guo J, Copeland J, Browning JD, Sleper D, Rottinghaus GE, et al. Environmental influences on isoflavones and saponins in soybeans and their role in colon cancer. J Nutr. 2005; 135: 1239-42.
Royle JF. Illustrations of the botany and other branches of the natural history of the Himalayan Mountains and of the flora of Cashmere, Textband, Allen, 1839.
Saha SK, Sikdar S, Mukherjee A, Bhadra K, Boujedaini N, Khuda-Bukhsh AR. Ethanolic extract of the Goldenseal, Hydrastis canadensis, has demonstrable chemopreventive effects on HeLa cells in vitro: DrugDNA interaction with calf thymus DNA as target. Environ Toxicol Pharmacol. 2013; 36: 202-14.
Siegel R, Naishadham D, Jemal A. Cancer statistics, 2013. CA: A Cancer J Clin. 2013; 63: 11-30.
Simon JE, Chadwick AF, Craker LE. Herbs, an indexed bibliography, 1971-1980. Elsevier, 1984.
Sylvester PW. Optimization of the tetrazolium dye (MTT) colorimetric assay for cellular growth and viability. Drug Design Disc. Springer, 2011, pp 157-68.
Twentyman P, Luscombe M. A study of some variables in a tetrazolium dye (MTT) based assay for cell growth and chemosensitivity. British J Cancer. 1987; 56: 279.
Wong R. Apoptosis in cancer: From pathogenesis to treatment. J Exp Clin Cancer Res. 2011; 30: 87.
Xiong Y, Xiao B, Ma X, Li C, Zheng J, Ye J. Effects of Gaultheria yunnanensis on adjuvant arthritis in rats. Zhongguo Zhong yao za zhi- Zhongguo zhongyao zazhi- China J Chinese Materia Medica. 2009; 34: 2516-19.
Zhang B, He X-L, Ding Y, Du G-H. Gaultherin, a natural salicylate derivative from Gaultheria yunnanensis: Towards a better non-steroidal anti-inflammatory drug. Eur J Pharmacol. 2006; 530: 166-71.
Zhang D, Liu R, Sun L, Huang C, Wang C, Zhang D-M, et al. Anti-inflammatory activity of methyl salicylate glycosides isolated from Gaultheria yunnanensis (Franch.) Rehder. Molecules 2011; 16: 3875-84.
Zhang Z, Guo D, Li C, Zheng J, Koike K, Jia Z, et al. Two diterpenoids from the roots of Gaultheria yunnanensis. J Nat Prod. 1999; 62: 297-98.
Zhang Z, Guoi D, Li C, Zheng J, Jia Z. Studies on the chemical constituents of Yunnan wintergreen root Gaultheria yunnanensis (II). Chinese Traditional Herbal Drugs. 1998; 30: 167-69.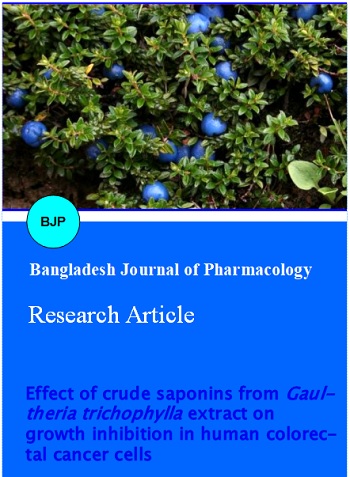 How to Cite
Alam, F., Q. Saqib, and A. Waheed. "Effect of Crude Saponins from Gaultheria Trichophylla Extract on Growth Inhibition in Human Colorectal Cancer Cells". Bangladesh Journal of Pharmacology, Vol. 10, no. 1, Mar. 2015, pp. 160-5, doi:10.3329/bjp.v10i1.21462.
Section
Research Articles
Copyright (c) 2015 Fiaz Alam, Qazi Najumus Saqib, Abdul Waheed
This work is licensed under a Creative Commons Attribution 4.0 International License.
Authors who publish with this journal agree to the following terms:
Authors retain copyright and grant the journal right of first publication with the work simultaneously licensed under a

Creative Commons Attribution License

that allows others to share the work with an acknowledgement of the work's authorship and initial publication in this journal.
Authors are able to enter into separate, additional contractual arrangements for the non-exclusive distribution of the journal's published version of the work (e.g., post it to an institutional repository or publish it in a book), with an acknowledgement of its initial publication in this journal.
Authors are permitted and encouraged to post their work online (e.g., in institutional repositories or on their website) prior to and during the submission process, as it can lead to productive exchanges, as well as earlier and greater citation of published work (See

The Effect of Open Access

).