Scopoletin potentiates the anti-cancer effects of cisplatin against cholangiocarcinoma cell lines
Md. Ali Asgar

Program in Biological Science, Khon Kaen University, Khon Kaen 40002

Gulsiri Senawong

Department of Biochemistry, Faculty of Science, Khon Kaen University, Khon Kaen 40002

Banchob Sripa

Department of Pathology, Faculty of Medicine, Khon Kaen University, Khon Kaen 40002

Thanaset Senawong

Program in Biological Science, Khon Kaen University, Khon Kaen 40002
Keywords:
Cholangiocarcinoma, Cisplatin, Drug combination, Scopoletin
Abstract
Chemotherapy with cisplatin in cholangiocarcinoma produces adverse effects and leads to resistance development by tumors. We aimed to evaluate anti-cancer effects by co-administration of cisplatin and scopoletin in cholangiocarcinoma cells. MTT assay, median effect principle, cell cycle arrest and apoptosis assay were conducted to determine anti-cancer effects. Results revealed that treatment with cisplatin and scopoletin resulted in dose-dependent reduction of cell viability for cholangiocarcinoma cells. Combination of these agents inhibited proliferation of cells significantly more than single agent either. Combination indices reflect additive cytotoxic effect, leading to >2 times dose reduction for each agent. Both the cell cycle arrest (G0/G1) and apoptosis induction underling the enhanced cytotoxicity for the combination. Besides, single agent conferred cell cycle arresting and apoptotic effects in cholangiocarcinoma cells. By contrast, non-cancer cells were less affected with combination. Our observations suggest that cisplatin and scopoletin combination may bring positive significance in cholangiocarcinoma treatment.
Downloads
Download data is not yet available.
Abstract
1968
Download
641 Read
881
References
Aljiffry M, Walsh MJ, Molinari M. Advances in diagnosis, treatment and palliation of cholangiocarcinoma: 1990-2009. World J Gastroenterol. 2009; 15: 4240-62.
Bhattacharyya SS, Mandal SK, Biswas R, Paul S, Pathak S, Boujedaini N, Belon P, Khuda-Bukhsh AR. In vitro studies demonstrate anticancer activity of an alkaloid of the plant Gelsemiumsem pervirens. Exp Biol Med (Maywood). 2008; 233: 1591-601.
Bhattacharyya SS, Paul S, Dutta S, Boujedaini N, Khuda-Bukhsh AR. Antioncogenic potential of a plant coumarin (7-hydroxy-6-methoxy coumarin) against 7,12- dimethylbenzen[a]anthracene-induced skin papilloma in mice: The possible role of several key signal proteins. Chin J Integr Med. 2010; 8: 645-54.
Bhattacharyya SS, Paul S,Mandal SK, Banerjee A, Boujedaini N, Khuda-Bukhsh AR. A synthetic coumarin (4-methyl-7-hydroxycoumarin) has anticancer potentials against DMBA-induced skin cancer in mice. Eur J Pharmacol. 2009; 614: 128-36.
Bigioni M, Benzo A, Irrissuto C, Lopez G, Curatella B, Maggi CA, Manzini S, Crea A, Caroli S, Cubadda F, Binaschi M. Antitumour effect of combination treatment with sabarubicin (MEN 10755) and cisplatin (DDP) in human lung tumourxenograft. Cancer Chemother Pharmacol. 2008; 62: 621-29.
Cai X, Yang J, Zhou J, Lu W, Hu C, Gu Z, Huo J, Wang X, Cao P. Synthesis and biological evaluation of scopoletin derivatives. Bioorg Med Chem. 2013; 21: 84-92.
Chou TC, Talalay P. Quantitative analysis of dose-effect relationships: The combined effects of multiple drugs or enzyme inhibitors. Adv Enzyme Regul. 1984; 22: 27-55.
Chou TC. Theoretical basis, experimental design, and computerized simulation of synergism and antagonism in drug combination studies. Pharmacol Rev. 2006; 58: 621-81.
Chougule M, Patel AR, Sachdeva P, Jackson T, Singh M. Anticancer activity of noscapine, an opioid alkaloid in combination with cisplatin in human non-small cell lung cancer. Lung Cancer. 2011; 71: 271-82.
Chuang J-Y, Huang Y-F, Lu H-F, Ho H-C, Yang J-S, Li T-M, Chang N-W, Chung J-G. Coumarin induces cell cycle arrest and apoptosis in human cervical cancer HeLa cells through a mitochondria- and caspase-3 dependent mechanism and NF-?B down-regulation. In vivo. 2007; 21: 1003-10.
Gores GJ. Cholangiocarcinoma: Current concepts and insights. Hepatology 2003; 37: 961-69.
Haghighitalab A, Matin MM, Bahrami AR, Iranshahi M, Saeinasab M, Haghighi F. In vitro investigation of anti-cancer, cell-cycle-inhibitory, and apoptosis-inducing effects of diversin, a natural prenylated coumarin, on bladder carcinoma cells. Z Naturforsch C. 2014; 69: 99-109.
Hahnvajanawonga C, Ketnimita S, Boonyanugomola W, Pattanapanyasatd K, Chamgramole Y, Sripae B, Namwatf N, Pinmaig K, Tassaneeyakulh W, Reutrakuli V. Inhibition of cell cycle progression and apoptotic activity of resveratrol in human intrahepatic cholangiocarcinoma cell lines. Asian Biomed. 2011; 5: 775-85.
Kang TH, Pae HO, Jeong SJ, Yoo JC, Choi BM, Jun CD, Chung HT, Miyanoto T, Higuchi R, Kim YC. Scopoletin: An inducible nitric oxide synthesis inhibitory active constituent from Artemisia feddei. Planta Med. 1999; 65: 400-03.
Kim E-K, Kwon K-B, Shin B-C, Seo E-A, Lee Y-R, Kim J-S, Park J-W, Park B-H, Ryu D-G. Scopoletin induces apoptosis in human promyeloleukemic cells, accompanied by activation of nuclear factor ?B and caspase-3. Life Sci. 2005; 77: 824-36
Kuhlmann JB. Treatment of advanced cholangiocarcinoma: Current status and future perspectives. EMJ Gastroenterol. 2012; 1: 63-7.
Li C-J, Chu C-Y, Huang L-H, Wang M-H, Sheu L-F, Yeh J-I, Hsu H-Y. Synergistic anticancer activity of triptolide combined with cisplatin enhances apoptosis in gastric cancer in vitro and in vivo. Cancer Lett. 2012; 319: 203-13.
Li Y, Dai Y, Liu M, Pan R, Luo Y, Xia Y, Xia X. Scopoletin induces apoptosis of fibroblast-like synoviocytes from adjuvant arthritis rats by a mitochondrial-dependent pathway. Drug Develop Res. 2009; 70: 378-85.
Liu X-L, Zhang L, Fu X-L, Chen K, Qian B-C. Effect of scopoletin on PC3 cell proliferation and apoptosis. Acta Pharmacol Sin. 2001; 22: 929-33.
Liu W, Hua J, Zhou J, Zhang H, Zhu H, Cheng Y, Gust R. Synthesis and in vitro antitumor activity of novel scopoletin derivatives. Bioorg Med Chem Lett. 2012; 22: 5008-12.
Lopez-Gonzalez JS, Prado-Garcia H, Aguilar-Cazares D, Molina-Guarneros JA, Morales-Fuentes J, Mandoki JJ. Apoptosis and cell cycle disturbances induced by coumarin and 7-hydroxycoumarin on human lung carcinoma cell lines. Lung Cancer. 2004; 43: 275-83.
Moon PD, Lee BH, Jeong HJ, An HJ, Park SJ, Kim HR, Ko SG, Um JY, Hong SH, Kim HM. Use of scopoletin to inhibit the production of inflammmatory cytokines through inhibition of the NF-kappa B signal cascade in the human mast cell line HMC-1. Eur J Pharmcol. 2007; 555: 218-25.
Notarbartoloa M, Pomaa P, Perria D, Dusoncheta L, Cervellob M, DAlessandro N. Antitumor effects of curcumin, alone or in combination with cisplatin or doxorubicin, on human hepatic cancer cells. Analysis of their possible relationship to changes in NF-kB activation levels and in IAP gene expression. Cancer Lett. 2005; 224: 53- 65.
Pan MH, Ho CT. Chemopreventive effects of natural dietary compounds on cancer development. Chem Soc Rev. 2008; 37: 2558-74.
Peczuh MW, Hamilton AD. Peptide and protein recognition by designed molecules. Chem Rev. 2000; 100: 2479-94.
Peterson JK, Harrison HF, Jackson DM. Biological activities and contents of scopolin and scopoletin in sweet potato clones. Hort Sci. 2003; 38: 1129-33.
Prakobwong S, Gupta S C, Kim JH, Sung B, Pinlaor P, Hiraku Y, Wongkham S, Sripa B, Pinlaor S, Aggarwal BB. Curcumin suppresses proliferation and induces apoptosis in human biliary cancer cells through modulation of multiple cell signaling pathways. Carcinogenesis 2011; 32: 1372-80.
Roncoroni L, Elli L, Dolfini E, Erba E, Dogliotti E, Terrani C,Doneda L, Grimoldi MG, Bardella MT. Resveratrol inhibits cell growth in a human cholangiocarcinoma cell line. Liver Int. 2008; 28: 1426-36.
Saha SK, Khuda-Bukhsh AR. Molecular approaches towards development of purified natural products and their structurally known derivatives as efficient anticancer drugs: Current trends. Eur J Pharmcol. 2013; 714: 239-48.
Sato T, Suzuki M, Sato Y, Echigo S, Rikiishi H. Sequence-dependent interaction between cisplatin and histone deacetylase inhibitors in human oral squamous cell carcinoma cells. Int J Oncol. 2006; 28: 1233-41.
SenawongT, Misuna S, Khaopha S, Nuchadomrong S, Sawatsitang P, Phaosiri C, Surapaitoon A, Sripa B. Histone deacetylase (HDAC) inhibitory and antiproliferative activities of phenolic-rich extract derived from The rhizome of Hydnophytumformicarum Jack.: Sinapinic acid acts as HDAC inhibitor. BMC Complement Altern Med. 2013; 13: 232.
Siddik ZH. Cisplatin: Mode of cytotoxic action and molecular basis of resistance. Oncogene. 2003; 22: 7265-79.
Thongprasert S. The role of chemotherapy in cholangiocarcinoma. Ann Oncol. 2005; 16 (Suppl 2): ii9396.
Tikoo K, Shinde, AB, Gupta C, Jena G. Modulation of p53 ?Akt? phosphatase and tensin homolog expression by esculetin potentiates the anticancer activity of cisplatin and prevents its nephrotoxicity. Cancer Sci. 2011; 103: 1-8.
Wang G, Reed E, Li QQ. Molecular basis of cellular response to cisplatin chemotherapy in non-small cell lung cancer (Review). Oncol Rep. 2004; 12: 955-65.
Zhou J, Lei W, Lijuan W, Yu Z, Huibin Z, Yubin W, Peng C, Ao N, Jing W, Yue D. Synthesis and antitumor activity of scopoletin derivatives. Lett Drug Des Discov. 2012; 9: 397-401.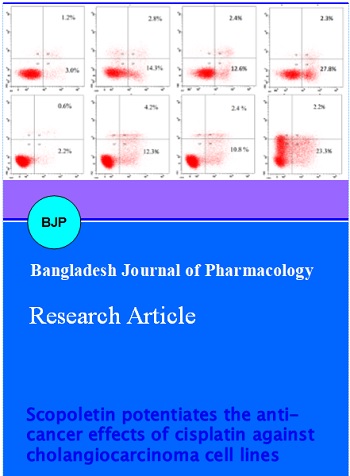 How to Cite
Asgar, M., G. Senawong, B. Sripa, and T. Senawong. "Scopoletin Potentiates the Anti-Cancer Effects of Cisplatin Against Cholangiocarcinoma Cell Lines". Bangladesh Journal of Pharmacology, Vol. 10, no. 1, Jan. 2015, pp. 69-77, doi:10.3329/bjp.v10i1.21202.
Section
Research Articles
Copyright (c) 2015 Md. Ali Asgar, Gulsiri Senawong, Banchob Sripa, Thanaset Senawong
This work is licensed under a Creative Commons Attribution 4.0 International License.
Authors who publish with this journal agree to the following terms:
Authors retain copyright and grant the journal right of first publication with the work simultaneously licensed under a

Creative Commons Attribution License

that allows others to share the work with an acknowledgement of the work's authorship and initial publication in this journal.
Authors are able to enter into separate, additional contractual arrangements for the non-exclusive distribution of the journal's published version of the work (e.g., post it to an institutional repository or publish it in a book), with an acknowledgement of its initial publication in this journal.
Authors are permitted and encouraged to post their work online (e.g., in institutional repositories or on their website) prior to and during the submission process, as it can lead to productive exchanges, as well as earlier and greater citation of published work (See

The Effect of Open Access

).