Overexpression of phosphorylated MARCKS in the nicotine-derived nitrosamine ketone induced lung cancer mice
Zhen Chen

Department of Blood Transfusion, Beijing Military General Hospital, Beijing 100700

Ling-Yun Gu

Department of Traditional Chinese Medicine, Beijing Military General Hospital, Beijing 100700

Jun Zhou

Department of Blood Transfusion, Beijing Military General Hospital, Beijing 100700

Qin Wang

Department of Blood Transfusion, Beijing Military General Hospital, Beijing 100700

Hui Gao

Department of Traditional Chinese Medicine, Beijing Military General Hospital, Beijing 100 700

Zhong-He Yu

Clinical Center of Oncology, Beijing Military General Hospital, Beijing 100700
Keywords:
A/J mice, Lung cancer, NNK, Phosphorylated MARCKS
Abstract
Lung cancer is the most frequently occurring lethal cancers in men and women population. The aim of the present study is to observe the overexpression pattern of phosphorylated MARCKS in the nicotine-derived nitrosamine ketone (NNK) induced lung cancer mice. Pathogen-free female A/J mice were used for the present experiment to induce lung cancer by the carcinogen namely, NNK. At different time intervals namely, 5th, 6th and 7th month after NNK injection, lung tissue samples were collected. Immunohistochemistry in accordance with the immunoblotting techniques were used to confirm the overexpression of phosphorylated MARCKS in the NNK induced lung cancer mice model. The present study concludes that the phosphorylated MARCKS was overexpressed in the NNK induced lung cancer mice during the early stages of lung cancer and it may be used as a tool to detect the lung cancer in the initial stages. 
Downloads
Download data is not yet available.
Abstract
867
Download
302 Read
374
References
Bedard LL, Smith GB, Reid KR, Petsikas D, Massey TE. Investigation of the role of lipoxygenase in bioactivation of 4-(methylnitrosamino)-1-(3-pyridyl)-1-butanone (NNK) in human lung. Chem Res Toxicol. 2002; 15: 1267-73.
Chen C-H, Statt S, Chiu C-L, Thai P, Arif M, Adler KB, Wu R. Targeting myristoylated alanine-rich C Kinase substrate phosphorylation site domain in lung cancer: Mechanisms and therapeutic implications. Am J Respir Crit Care Med. 2014; 190: 1127-38.
Chen X, Rotenberg SA. PhosphoMARCKS drives motility of mouse melanoma cells. Cell Signal. 2010; 22: 1097-103.
Cogliano V, Straif K, Baan R, Grosse Y, Secretan B, Ghissassi FE. Smokeless tobacco and tobacco-related nitrosamines. Lancet Oncol. 2004; 5: 708.
Dedhia HV, Parker JE. A new era for lung cancer detection. Comm Oncol. 2011; 8: 442-44.
Eckert RE, Neuder LE, Park J, Adler KB, Jones SL. Myristoylated alanine-rich C-kinase substrate (MARCKS) protein regulation of human neutrophil migration. Am J Respir Cell Mol Biol. 2010; 42: 586-94.
Erusalimsky J, Brooks S, Herget T, Morris C, Rozengurt E. Molecular cloning and characterization of the acidic 80-kDa protein kinase C substrate from rat brain: Identification as a glycoprotein. J Biol Chem. 1991; 266: 7073-80.
Gambhir A, Hangyás-Mihályné G, Zaitseva I, Cafiso DS, Wang J, Murray D, Pentyala SN, Smith SO, McLaughlin S. Electrostatic sequestration of PIP2 on phospholipid membranes by basic/aromatic regions of proteins. Biophy J. 2004; 86: 2188-207.
Ghoul A, Serova M, Benhadji K, Cvitkovic E, Faivre S, Philips E, Calvo F, Lokiec F, Raymond E. Protein kinase C ? and ? are members of a large kinase family of high potential for novel anticancer targeted therapy. Targeted Oncol. 2006; 1: 42-53.
Green TD, Crews AL, Park J, Fang S, Adler KB. Regulation of mucin secretion and inflammation in asthma: A role for MARCKS protein? Biochimica et Biophysica Acta (BBA)-General Subjects. 2011; 1810: 1110-13.
Harlan DM, Graff J, Stumpo D, Eddy R, Shows T, Boyle JM, Blackshear P. The human myristoylated alanine-rich C kinase substrate (MARCKS) gene (MACS). Analysis of its gene product, promoter, and chromosomal localization. J Biol Chem. 1991; 266: 14399-405.
Li Y, Martin LD, Spizz G, Adler KB. MARCKS protein is a key molecule regulating mucin secretion by human airway epithelial cells in vitro. J Biol Chem. 2001; 276: 40982-90.
McLaughlin S, Murray D. Plasma membrane phosphoinositide organization by protein electrostatics. Nature 2005; 438: 605-11.
Park J-A, Crews AL, Lampe WR, Fang S, Park J, Adler KB. Protein kinase C? regulates airway mucin secretion via phosphorylation of MARCKS protein. Am J Pathol. 2007; 171: 1822-30.
Reddy M, Fernandes M, Salgia R, Levine R, Griffin J, Sattler M. NADPH oxidases regulate cell growth and migration in myeloid cells transformed by oncogenic tyrosine kinases. Leukemia 2010; 25: 281-89.
Seykora JT, Ravetch JV, Aderem A. Cloning and molecular characterization of the murine macrophage" 68-kDa" protein kinase C substrate and its regulation by bacterial lipopolysaccharide. Proc Natl Acad Sci USA. 1991; 88: 2505-09.
Singer M, Martin LD, Vargaftig BB, Park J, Gruber AD, Li Y, Adler KB. A MARCKS-related peptide blocks mucus hypersecretion in a mouse model of asthma. Nature Med. 2004; 10: 193-96.
Song P, Sekhon H, Proskocil B, Blusztajn J, Mark G, Spindel E. Synthesis of acetylcholine by lung cancer. Life Sci. 2003; 72: 2159-68.
Stumpo DJ, Graff JM, Albert KA, Greengard P, Blackshear PJ. Molecular cloning, characterization, and expression of a cDNA encoding the" 80-to 87-kDa" myristoylated alanine-rich C kinase substrate: A major cellular substrate for protein kinase C. Proc Natl Acad Sci USA. 1989; 86: 4012-16.
Techasen A, Loilome W, Namwat N, Takahashi E, Sugihara E, Puapairoj A, Miwa M, Saya H, Yongvanit P. Myristoylated alanine?rich C kinase substrate phosphorylation promotes cholangiocarcinoma cell migration and metastasis via the protein kinase C?dependent pathway. Cancer Sci. 2010; 101: 658-65.
Wang H, Tan W, Hao B, Miao X, Zhou G, He F, Lin D. Substantial reduction in risk of lung adenocarcinoma associated with genetic polymorphism in CYP2A13, the most active cytochrome P450 for the metabolic activation of tobacco-specific carcinogen NNK. Cancer Res. 2003; 63: 8057-61.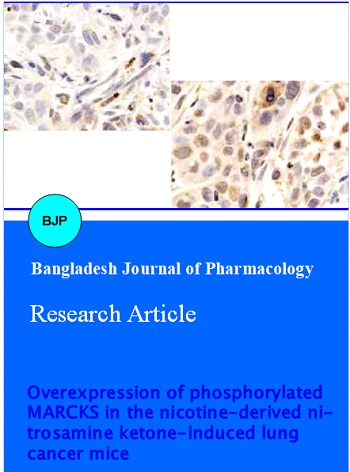 How to Cite
Chen, Z., L.-Y. Gu, J. Zhou, Q. Wang, H. Gao, and Z.-H. Yu. "Overexpression of Phosphorylated MARCKS in the Nicotine-Derived Nitrosamine Ketone Induced Lung Cancer Mice". Bangladesh Journal of Pharmacology, Vol. 10, no. 1, Jan. 2015, pp. 92-96, doi:10.3329/bjp.v10i1.21185.
Section
Research Articles
Copyright (c) 2015 Zhen Chen, Ling-Yun Gu, Jun Zhou, Qin Wang, Hui Gao, Zhong-He Yu
This work is licensed under a Creative Commons Attribution 4.0 International License.
Authors who publish with this journal agree to the following terms:
Authors retain copyright and grant the journal right of first publication with the work simultaneously licensed under a

Creative Commons Attribution License

that allows others to share the work with an acknowledgement of the work's authorship and initial publication in this journal.
Authors are able to enter into separate, additional contractual arrangements for the non-exclusive distribution of the journal's published version of the work (e.g., post it to an institutional repository or publish it in a book), with an acknowledgement of its initial publication in this journal.
Authors are permitted and encouraged to post their work online (e.g., in institutional repositories or on their website) prior to and during the submission process, as it can lead to productive exchanges, as well as earlier and greater citation of published work (See

The Effect of Open Access

).