Vernolepin regulates apoptosis and autophagy via microtubule formation in ovarian carcinoma cells
Ju-Hong Tu

Department of Obstetrics and Gynecology, Renji Hospital, School of Medicine, Shanghai Jiao Tong University, Shanghai 200127

Wei-Hua Lou

Department of Obstetrics and Gynecology, Renji Hospital, School of Medicine, Shanghai Jiao Tong University, Shanghai 200127

Rong Huang

Department of Health Care Centre, Renji Hospital, School of Medicine, Shanghai Jiao Tong University, Shanghai 200127

Ai-Min Zhao

Department of Obstetrics and Gynecology, Renji Hospital, School of Medicine, Shanghai Jiao Tong University, Shanghai 200127
Keywords:
Apoptosis, Autophagy, Microtubule, Ovarian carcinoma cell, Vernolepin
Abstract
The study demonstrates the effect of vernolepin on proliferation and apoptosis in ovarian cancer cell lines. The inhibition of cell growth was significant at 30 ?M concentration after 48 hours in both OVCAR-3 and SK-OV3 cell lines. Phase-contrast microscopic examination revealed a decrease in number of vernolepin-treated cells. A number of membranous structures and vacuoles were visible in the cytoplasm after 24 hours. After 48 hours chromatin condensation and nuclear fragmentation indicating typical apoptotic changes were observed. Vernolepin treatment lead to 83.6% cell viability compared to control. However the cell viability was increased to 93.7% on after starvation followed by vernolepin treatment. On the other hand, 3-MA in combination with vernolepin decreased cell viability to 54.5%. Annexin V-FITC/PI staining and FACS demonstrated that in OVCAR-3 and SK-OV3 cells treatment with vernolepin (30 µ?) for 48 hours caused apoptosis in 34.2% and 28.5% cells respectively. Thus, vernolepin-treatment in ovarian carcinoma cells leads to autophagy before the onset of apoptosis and protects cancer cells.
Downloads
Download data is not yet available.
Abstract
725
Download
368 Read
243
References
Baehrecke EH. Autophagy: Dual roles in life and death? Nat Rev Mol Cell Biol. 2005; 6: 505-10.
Bast RC Jr. Status of tumor markers in ovarian cancer screening. J Clin Oncol. 2003; 21: 200s-05s.
Chan JK, Cheung MK, Husain A, Teng NN, West D, Whittemore AS, Berek JS, Osann K. Patterns and progress in ovarian cancer over 14 years. Obstet Gynecol. 2006; 108: 521-28.
Clayde J. Organic chemistry. Oxford, Oxford University Press, 2005, p 238.
Daido S, Kanzawa T, Yamamoto A, et al. Pivotal role of the cell death factor BNIP3 in ceramide-induced autophagic cell death in malignant glioma cells. Cancer Res. 2004; 64: 4286-93.
Eisenkop SM, Spirtos NM, Friedman RL, Lin WC, Pisani AL, Perticucci S. Relative influences of tumor volume before surgery and the cytoreductive outcome surviva for patients with advanced ovarian cancer: A prospective study. Gynecol Oncol. 2003; 90: 390-96.
Hartge P, Whittemore AS, Itnyre J, McGowan L, Cramer D.Rates and risks of ovarian cancer in subgroups of white women in the United States. The Collaborative ovarian Cancer Group. Obstet Gynecol. 1994; 84: 760-64.
Hoskins WJ. Prospective on ovarian cancer: Why prevent? J Cell Biochem. 1995; 23(Suppl): 189-99.
Kanzawa T, Kondo Y, Ito H, et al. Induction of autophagic cell death in malignant glioma cells by arsenic trioxide. Cancer Res. 2003; 63: 2103-08.
Laekeman GM, Mertens J, Totté J, Bult H, Vlietinck AJ, Herman AG. Isolation and pharmacological characterization of vernolepin. J Nat Prod. 1983; 46: 16169.
Laekeman GM, Clerck F, Vlietinck AJ, Herman AG. Vernolepin: An antiplatelet compound of natural origin. Naunyn-Schmiedeberg's Arch Pharmacol. 1985; 331: 10813.
Martinez-Borra J, Lopez-Larrea C. Autophagy and self-defense. Adv Exp Med Biol. 2012; 738: 169-84.
McGuire WP, Hoskins WJ, Brady MF, Kucera PR, Partridge EE, Look KY, Clarke-Pearson DL, Davidson M. Cyclophosphamide and cisplatincompared with paclitaxel and cisplatin in patients with stage III and stage IV ovarian cancer. N Engl J Med 1996; 334: 1-6.
Ozols RF, Bundy BN, Greer BE, Fowler JM, Clarke-Pearson D, Burger RA, Mannel RS, DeGeest K, Hartenbach EM, Baergen R. Phase III trial of carboplatin and paclitaxel compared with cisplatinand paclitaxel in patients with optimally resected stage III ovarian cancer: A Gynecologic Oncology Group study. J Clin Oncol. 2003; 21: 3194-200.
Paglin S, Hollister T, Delohery T, et al. A novel response of cancer cells to radiation involves autophagy and formation of acidic vesicles. Cancer Res. 2001; 61: 439-44.
Previati M, Lanzoni I, Corbacella E, et al. Cisplatin-induced apoptosis in human promyelocyticleukemia cells. Int J Mol Med. 2006; 18: 51116.
Stewart JJ, White JT, Yan X, et al. Proteins associated with Cisplatin resistance in ovarian cancer cells identified by quantitative proteomic technology and integrated with mRNA expression levels. Mol Cell Proteomics 2006; 5: 43343.
Terman A, Gustafsson B, Brunk UT. Autophagy, organelles and ageing. J Pathol. 2007; 211: 134-43.
Toth S, Nagy K, Palfia Z, et al. Cellular autophagic capacity changes during azaserine-induced tumour progression in the rat pancreas: Up-regulation in all premalignant stages and down-regulation with loss of cycloheximide sensitivity of segregation along with malignant transformation. Cell Tissue Res. 2002; 309: 409-16.
Takeuchi H, Kondo Y, Fujiwara K, et al. Synergistic augmentation of rapamycin-induced autophagy in malignant glioma cells by phosphatidylinositol 3-kinase/protein kinase B inhibitors. Cancer Res. 2005; 65: 3336-46.
Van Dalen A, Favier J, Burges A, Hasholzner U, de Bruijn HW, Dobler-Girdziunaite D, Dombi VH, Fink D, Giai M, McGing P, Harlozinska A, Kainz C, Markowska J, Molina R, Sturgeon C, Bowman A, Einarsson R. Prognostic significance of CA 125 and TPS levels after 3 chemotherapy courses in ovarian cancer patients. Gynecol Oncol. 2000; 79: 444-50.
Wu YT, Tan HL, Huang Q, et al. Autophagy plays a protective role during zVAD-induced necrotic cell death. Autophagy 2008; 4: 457-66.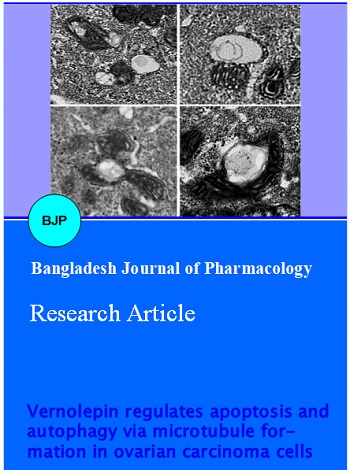 How to Cite
Tu, J.-H., W.-H. Lou, R. Huang, and A.-M. Zhao. "Vernolepin Regulates Apoptosis and Autophagy via Microtubule Formation in Ovarian Carcinoma Cells". Bangladesh Journal of Pharmacology, Vol. 10, no. 1, Feb. 2015, pp. 100-5, doi:10.3329/bjp.v10i1.21180.
Section
Research Articles
Copyright (c) 2015 Ju-Hong Tu, Wei-Hua Lou, Rong Huang, Ai-Min Zhao
This work is licensed under a Creative Commons Attribution 4.0 International License.
Authors who publish with this journal agree to the following terms:
Authors retain copyright and grant the journal right of first publication with the work simultaneously licensed under a

Creative Commons Attribution License

that allows others to share the work with an acknowledgement of the work's authorship and initial publication in this journal.
Authors are able to enter into separate, additional contractual arrangements for the non-exclusive distribution of the journal's published version of the work (e.g., post it to an institutional repository or publish it in a book), with an acknowledgement of its initial publication in this journal.
Authors are permitted and encouraged to post their work online (e.g., in institutional repositories or on their website) prior to and during the submission process, as it can lead to productive exchanges, as well as earlier and greater citation of published work (See

The Effect of Open Access

).