In vitro acetylcholinesterase and butyrylcholinesterase inhibitory potentials of essential oil of Artemisia macrocephala
Mohammad Shoaib

Department of Pharmacy, University of Malakand, Chakdara Dir Lower, KPK

Ismail Shah

Department of Pharmacy, University of Malakand, Chakdara Dir Lower, KPK

Niaz Ali

Institute of Basic Medical Sciences, Khyber Medical University Peshawar, KPK

Syed Wadood Ali Shah

Department of Pharmacy, University of Malakand, Chakdara Dir Lower, KPK
Keywords:
Acetylcholinesterase, A. macrocephala, butrylcholinesterase, Essential oil
Abstract
In this study we screened the essential oil of Artemisia macrocephala for acetylcholinesterase (AChE) and butyrylcholinesterase (BChE) inhibitory potentials. Ellman's assay method was used to investigate the enzyme inhibitory potential of the essential oil. The oil sample showed 87.7 ± 1.2, 77.9 ± 0.6, 74.5 ± 1.9 and 62.5 ± 0.3 percent AChE inhibition at 1000, 500, 250 and 125 ?g/mL concentrations respectively with IC50 value of 40 ?g/mL. Similarly it showed 81.8 ± 0.6, 75.6 ± 1.2, 70.0 ± 0.6 and 64.2 ± 1.4 percent BChE inhibition in 1000, 500, 250 and 125 ?g/mL concentrations respectively with IC50 value of 30 ?g/mL. The results of this study confirm the beneficial applications of the oil sample in the treatment of various neurodegenerative disorders including Alzheimer's disease, Parkinson's disease, ataxia and all other forms of dementia.
Downloads
Download data is not yet available.
Abstract
1239
Download
624 Read
722
References
Ali N, Shah I, Shah SWA, Ahmed G, Shoaib M, Junaid M, Ali W, Ahmed Z. Antioxidant and relaxant activity of fractions of crude methanol extract and essential oil of Artemisia macrocephala jacquem. BMC Complem Altern Med. 2013; 13: 1-8.
Ali N, Shah SWA, Shah I. Preliminary phytochemical screening and antispasmodic activity of Artemisia macrocephala Jacquem. JYP. 2011; 3: 125-28.
Chang ST, Chen PF, Chang SC. Antibacterial activity of leaf essential oils and their constituents from Cinnamomum osmophloeum. J Ethnopharmacol. 2001; 77: 123-27.
Candy J, Perry R, Perry E. Pathological changes in the nucleus of Meynert in Alzheimer's and Parkinson's diseases. J N S. 1983; 59: 277-89.
Dudko V, Berezovskaya T, Usynina R. Essential oil from Artemisia macrocephala. Chem Nat Compd. 1974 10: 100-07.
Ellman GL, Courtney KD, Featherstone RM. A new and rapid colorimetric determination of acetylcholinesterase activity. Biochem Pharmacol. 1961; 7: 88-95.
Heinrich M, Ankli A, Frei B, Weimann C, Sticher O. Medicinal plants in Mexico: Healers' consensus and cultural importance. Soc Sci Med. 1998; 47: 1859-71.
Khan SW, Khatoon S. Ethnobotanical studies on some useful herbs of Haramosh and Bugrote valleys in Gilgit, northern areas of Pakistan. Pakistan J Bot. 2008; 40: 43-58.
Loizzo MR, Tundis R, Menichini F, Menichini F. Natural products and their derivatives as cholinesterase inhibitors in the treatment of neurodegenerative disorders: An update. Curr Med Chem. 2008; 15: 1209-28.
Mukherjee PK, Kumar V, Mal M, Houghton PJ. Acetylcholinesterase inhibitors from plants. Phytomedicine 2007; 14: 289-300.
Orhan I, Kartal M, Kan Y, Sener B. Activity of essential oils and individual components against acetyl- and butyrylcholinesterase. Z Naturforsch C. 2008; 63: 547-53.
Sharma RK, Chatterji S, Rai KD. Antioxidant activities and phenolic contents of the aqueous extracts of some Indian medicinal plants. J Med Plants Res. 2009; 3: 944-48.
Sung SH, Kang SY, Lee KY. Alpha-viniferin, a stilbene trimer from Caragana chamlague, inhibits acetylcholinesterase. Biol Pharm Bull. 2002; 25: 125-27.
Zareh M. Synopsis of the family astereace. Int J Agric Biol. 2005; 5: 832-44.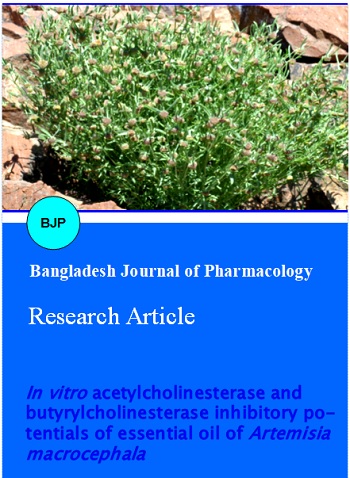 How to Cite
Shoaib, M., I. Shah, N. Ali, and S. Shah. "In Vitro Acetylcholinesterase and Butyrylcholinesterase Inhibitory Potentials of Essential Oil of Artemisia Macrocephala". Bangladesh Journal of Pharmacology, Vol. 10, no. 1, Jan. 2015, pp. 87-91, doi:10.3329/bjp.v10i1.21171.
Section
Research Articles
Copyright (c) 2015 Mohammad Shoaib, Ismail Shah, Niaz Ali, Syed Wadood Ali Shah
This work is licensed under a Creative Commons Attribution 4.0 International License.
Authors who publish with this journal agree to the following terms:
Authors retain copyright and grant the journal right of first publication with the work simultaneously licensed under a

Creative Commons Attribution License

that allows others to share the work with an acknowledgement of the work's authorship and initial publication in this journal.
Authors are able to enter into separate, additional contractual arrangements for the non-exclusive distribution of the journal's published version of the work (e.g., post it to an institutional repository or publish it in a book), with an acknowledgement of its initial publication in this journal.
Authors are permitted and encouraged to post their work online (e.g., in institutional repositories or on their website) prior to and during the submission process, as it can lead to productive exchanges, as well as earlier and greater citation of published work (See

The Effect of Open Access

).