In vitro antimicrobial evaluation of pyrazolone derivatives
Leile Rahimi Ahar

Department of Chemistry, Science and Research Branch, Islamic Azad University, Tehran

Moayad Hossaini Sadr

Department of Chemistry, Science and Research Branch, Islamic Azad University, Tehran

Karim Zare

Department of Chemistry, Science and Research Branch, Islamic Azad University, Tehran

Samad Motameni Tabatabaei

Department of Chemistry, Science and Research Branch, Islamic Azad University, Tehran
Keywords:
Antimicrobial, Pyrazolone
Abstract
In this investigation, unsubstituted pyrazolin-3(5)-ones (MePzO= 3-methyl-5-pyrazolone, PrPzO= 3-propyl-5-pyrazolone and PhPzO= 3-phenyl-5-pyrazolone) have been synthesized. The synthesized compounds were also screened for their antibacterial activity against some Gram-positive and Gram-negative bacteria using agar well diffusion method. The compounds with different concentrations were prepared and the activity was determined by measuring the diameter of the inhibition zone (in mm). The minimum inhibitory concentration (MIC) and minimum bactericidal concentration (MBC) of the compounds were determined against six bacteria. The antibacterial activities were influenced functional groups (methyl, propyl and phenyl). PhPzO exhibited the strongest activity (MIC, 0.625 mg/mL; MBC, 2.5 mg/mL) against Bacillus subtilis.
Downloads
Download data is not yet available.
Abstract
5494
Download
752 Read
598
References
Abood NA, Al-Shlhai RA. Theoretical study of molecular structure, IR and NMR spectra of pyrazolone and its derivatives. J Chem Pharmaceut Res. 2012; 4: 1772-81.
Ahmad MS, Hussain M, Hanif M, Ali S, Qayyum M, Mirza B. Di- and triorganotin (IV) esters of 3,4-methylenedioxyphe-nylpropenoic acid: Synthesis, spectroscopic characterization and biological screening for antimicrobial, cytotoxic and antitumor activities. Chem Biol Drug Des. 2008; 71: 568-76.
Al-Haiza MA, El-Assiery SA, Sayed GH. Synthesis and potential antimicrobial activity of some new compounds containing the pyrazol-3-one moiety. Acta Pharm. 2001; 51: 25161.
Andrews JM. Determination of minimum inhibitory concentrations. J Antimicrob Chemother. 2001; 48: 5-16.
Brogden RN. Pyrazolone derivatives. Drugs 1986; 32: 6070.
Chao EY, Caravella JA, Watson MA, Campobasso N, Ghisletti S, Billin AN. Structure guided design of N-phenyl tertiary amines as transrepression selective liver X receptror modulators with anti-inflammatory activity. J Med Chem. 2008; 51: 575865.
Chohan ZH, Scozzafava A, Supuran CT. Synthesis of biologically active Co(II), Cu(II), Ni(II) and Zn(II) complexes of symmetrically 1,1??disubstituted ferrocene?derived compounds. Synth React Inorg Met.-Org Chem. 2003; 33: 241-57.
El-Hawash SAM, Badawey ESAM, El-Ashmawey IM. Nonsteroidal antiinflammatory agents-part-2 antiinflammatory, analgesic and antipyretic activity of some substituted 3-pyrazolin-5-ones and 1,2,4,5,6,7-3H-hexahydroindazol-3-ones. Eur J Med Chem. 2006; 41: 15565.
Gursoy A, Demirayak S, Capan G, Erol K, Vural K. Synthesis and preliminary evaluation of new 5-pyrazolinone derivatives as analgesic agents. Eur J Med Chem. 2000; 35: 35964.
Hadi V, Koh YH, Sanchez TW, Barrios D, Neamati N, Jung KW. Development of the next generation of HIV-1 integrase inhibitors: Pyrazolone as a novel inhibitor scaffold. Bioorg Med Chem Lett. 2010; 20: 685457.
Higashi Y, Jitsuikia DD, Chayamab K, Yoshizumia M. Edara-vone (3-methyl-1-phenyl-2-pyrazolin-5-one), a novel free radical scavenger, for treatment of cardiovascular diseases. Recent Pat Cardiovasc Drug Discovery. 2006; 1: 8593.
Himly M, Jahn-Schmid B, Pittertschatscher K, Bohle B, Grubmayr K, Ferreira F, Ebner H, Ebner C. Ig E-mediated immediate-type hypersensitivity to the pyrazolone drug propyphenazone. J Allergy Clin Immunol. 2003; 111: 88288.
Jeon JH, Park JH, Lee HS. 2-isopropyl-5-methylphenol isolated from Ruta graveolens and its structural analogs show antibacterial activity against food-borne bacteria. J Korean Soc Appl Biol Chem. 2014; 57: 485-90.
Khalil AK, Hassan MA, Mohamed MM, El-Sayed AM. Metal salt-catalyzed diazocoupling of 3-substituted-1H-pyrazol-2-in-5-ones in aqueous medium. Dyes Pigments. 2005; 66: 241-45.
Kikuchi K, Kawahara K, Miyagi N, Uchikado H, Kuramoto T, Morimoto Y, Tancharoen S, Miura N, Takenouchi K, Oyama Y, Shrestha B, Matsuda F, Yoshida Y, Arimura S, Mera K, Tada K, Yoshinaga N, Maenosono R, Ohno Y, Hashiguchi T, Maruyama I, Shigemori M. Edaravone: A new therapeutic approach for the treatment of acute stroke. Med Hypotheses. 2010; 75: 58385.
Kim KR, Kwon JL, Kim JS, No Z, Kim HR, Cheon HG. EK-6136 (3-methyl-4-(O-methyl-oximino)-1-phenylpyrazolin-5-one): A novel Cdc25B inhibitor with antiproliferative activity. Eur J Pharmacol. 2005; 528: 3742.
Makhija MT, Kasliwal RT, Kulkarni V M, Neamati N. De novo design and synthesis of HIV-1 integrase inhibitors. Bioorg Med Chem. 2004; 12: 231733.
Manojkumar P, Ravi TK, Gopalakrishnan S. Antioxidant and antibacterial studies of arylazopyrazoles and arylhydrazo-nopyrazolones containing coumarin moiety. Eur J Med Chem. 2009; 44: 469094.
Perrin DD, Armarego WLF. Purification of laboratory chemicals. 3rd ed. Oxford, Pergamon, 1988.
Ramana Kumar K, Raghavendra Guru Prasad A, Srilalitha V, Narayana Swamy G, Ravindranath LK. Synthesis and electrochemical investigations on certain pyrazolin-5-ones. Scientia Iranica C. 2012; 19: 60518.
Raman N, Kulandaisamy A, Jeyasubramanian K. Synthesis, structural characterization, redox, and antibacterial studies of 12-membered tetraaza macrocyclic Cu(II), Ni(II), Co(II), Zn(II), and VO(IV) complexes derived from 1,2-(diimino-40-antipyrinyl)-1,2-diphenylethane and o-phenylenediamine. Synth React Inorg Met. 2004; 34: 1743.
Ramaraj S, Ramachandran V Pradeepchandran, Jauaveera KN, Vijainad R, Palani KA. Computational approach of benzimidazole containing pyrazolin-5-one derivatives as targeted antifungal activity. Int J Health Nutr. 2010; 1: 16.
Ratnadeep SJ, Priyanka GM, Santosh DD, Sanjay KD, Charansingh HG. Synthesis, analgesic and anti-inflammatory activities of some novel pyrazolins derivatives. Bioorg Med Chem Lett. 2010; 20: 372125.
Sedaghat T, Golalzadeh A, Motamedi H. Diorganotin complex-es with N(4)-phenylthiosemicarbazones: Synthesis, spectroscopic characterization, and antibacterial activity. Phosphorus Sulfur Silicon. 2013; 188: 1694-702.
Song LP, Zhu SZ. Regioselective synthesis of fluorinated pyrazole derivatives from trifluoromethyl-1,3-diketone. J Fluorine Chem. 2001; 111: 201-05.
Tsujita K, Shimomura H, Kawano H. Effects of edaravone on reperfusion injury in patients with acute myocardial infarction. Am J Cardiol. 2004; 94: 48184.
Vincent TA. Current and future antifungal therapy: New targets for antifungal agents. J Antimicrob Chemother. 1999; 44: 15162.
Watanabe T, Yuki S, Egawa M, Nishi H. Protective effects of MCI-186 on cerebral ischemia: Possible involvement of free radical scavenging and antioxidant actions. J Pharmacol Exp Ther. 1994; 268: 1597604.
Zhang P, Li W, Li L, Wang N, Li X, Gao M, Zheng J, Lei S, Chen X, Lu H, Liu Y. Treatment with edaravone attenuates ischemic brain injury and inhibits neurogenesis in the subventricular zone of adult rats after focal cerebral ischemia and reperfusion injury. Neuroscience 2012; 201: 297306.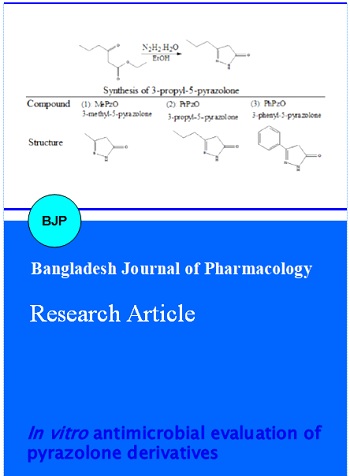 How to Cite
Ahar, L., M. Sadr, K. Zare, and S. Tabatabaei. "In Vitro Antimicrobial Evaluation of Pyrazolone Derivatives". Bangladesh Journal of Pharmacology, Vol. 10, no. 1, Feb. 2015, pp. 143-7, doi:10.3329/bjp.v10i1.21166.
Section
Research Articles
Copyright (c) 2015 Leile Rahimi Ahar, Moayad Hossaini Sadr, Karim Zare, Samad Motameni Tabatabaei
This work is licensed under a Creative Commons Attribution 4.0 International License.
Authors who publish with this journal agree to the following terms:
Authors retain copyright and grant the journal right of first publication with the work simultaneously licensed under a

Creative Commons Attribution License

that allows others to share the work with an acknowledgement of the work's authorship and initial publication in this journal.
Authors are able to enter into separate, additional contractual arrangements for the non-exclusive distribution of the journal's published version of the work (e.g., post it to an institutional repository or publish it in a book), with an acknowledgement of its initial publication in this journal.
Authors are permitted and encouraged to post their work online (e.g., in institutional repositories or on their website) prior to and during the submission process, as it can lead to productive exchanges, as well as earlier and greater citation of published work (See

The Effect of Open Access

).