Alpha-Naphthylisothiocyanate triggering G2/M phase arrest and apoptosis in human brain malignant glioma U87MG cells via mitochondrial pathway
Qiang Zhang

Department of Neurosurgery, Brain Hospital of Weifang People?s Hospital, Weifang 261041

Yu-Ting Wang

Department of Neurosurgery, Brain Hospital of Weifang People?s Hospital, Weifang 261041

Shi-Mei Jing

Department of Neurosurgery, Brain Hospital of Weifang People?s Hospital, Weifang 261041

Jian-Yong Chang

Department of Neurosurgery, Brain Hospital of Weifang People?s Hospital, Weifang 261041

Jin-Peng Wang

Department of Neurosurgery, Brain Hospital of Weifang People?s Hospital, Weifang 261041
Keywords:
Alpha-naphthyl isothiocyanate, Apoptosis, Brain malignant glioma, G2/M phase, Mitochondria, U87MG cell
Abstract
Cancer protective effect of cruciferous vegetables is partly attributed to organic isothiocyanates (ITC) with an N = C = S functional group. Elucidation of the mechanism by which ITCs impart protection against cancer has been the topic of intense research in the past few decades. In this study, we demonstrate that ANIT significantly decreased proliferation and viability of human brain malignant glioma U87MG cells in a dose-dependent manner. The cell cycle analysis showed that ANIT induced significantly G2/M arrest and sub-G1 phase (apoptotic population) in U87MG cells. CDK1 activity assay and Western blot analysis showed that there observed marked reduction in the CDK1/cyclin B activity and protein levels. Pretreatment with specific inhibitors of caspase-3 (Z-DEVE-FMK) and -9(Z-LEHD-FMK) significantly reduced caspase-3 and -9 activity in U87MG cells. Western blot analysis and colorimetric assays also displayed that ANIT caused a time-dependent increase in cytosolic cytochrome c, pro-caspase-9, Apaf-1, AIF, Endo G and the stimulated caspase-9 and -3 activity.
Downloads
Download data is not yet available.
Abstract
983
Download
426 Read
312
References
Batista LF, Kaina B, Meneghini R, Menck CF. How DNA lesions are turned into powerful killing structures: Insights from UV-induced apoptosis. Mutat Res. 2009; 681: 197-208.
Brusewitz G, Cameron BD, Chasseaud LF, Gorler K, Hawkins DR, Koch H, Mennicke WH. The metabolism of benzyl isothiocyanate and its cysteine conjugate. Biochem J. 1977; 162: 99-107.
Drobinica L, Augustine J. Reaction of isothiocyanate with amino acids, peptides and proteins. I. Kinetics of the reaction of aromatic isothiocyanates and glycines. Chem Commun. 1965; 30: 99-104.
Eitel K, Wagenknecht B, Weller M. Inhibition of drug-induced DNA fragmentation, but not cell death, of glioma cells by non-caspase protease inhibitors. Cancer Lett. 1999; 142: 11-16.
Kim SJ, Min HY, Chung HJ, Park EJ, Hong JY, Kang YJ, Shin DH, Jeong LS, Lee SK. Inhibition of cell proliferation through cell cycle arrest and apoptosis by thio-Cl-IB-MECA, a novel A3 adenosine receptor agonist, in human lung cancer cells. Cancer Lett. 2008; 264: 309-15.
Kuo HM, Tsai HC, Lin YL, Yang JS, Huang AC, Yang MD, Hsu SC, Chung MC, Gibson Wood W, Chung JG. Mitochondrial-dependent caspase activation pathway is involved in baicalein-induced apoptosis in human hepatoma J5 cells. Int J Oncol. 2009; 35: 717-24.
Pawlik A, Szczepanski MA, Klimaszewska A, Gackowska L., Zuryn A., Grzanka A. Phenethylisothiocyanate-induced cytoskeletal changes and cell death in lung cancer cells. Food Chem Toxicol. 2012; 50: 3577-94.
Sanchez-Munoz A, Perez-Ruiz E, Mendiola Fernandez C, Alba Conejo E, Gonzalez-Martin A. Current status of anti-angiogenic agents in the treatment of ovarian carcinoma. Clin Transl Oncol. 2009; 11: 589-95.
Schwartz GK, Shah MA. Targeting the cell cycle: A new approach to cancer therapy. J Clin Oncol. 2005; 23: 9408-21.
Singh SV, Kim SH, Sehrawat A, Arlotti JA, Hahm ER, Sakao K, Beumer JH, Jankowitz RC, Chandra-Kuntal K, Lee J. Biomarkers of phenethyl isothiocyanate-mediated mammary cancer chemoprevention in a clinically relevant mouse model. J Natl Cancer Inst. 2012; 104: 1228-39.
Srivastava SK, Singh SV. Cell cycle arrest, apoptosis induction and inhibition of nuclear factor kappa B activation in anti-proliferative activity of benzyl isothiocyanate against human pancreatic cancer cells. Carcinogenesis 2004; 25: 1701-09.
Wattenberg LW. Inhibitory effect of benzyl isothiocyanates administered shortly before diethyl nitrosamine or benzo(a)pyrene on pulmonary and fore stomach neoplasia in A/J mice. Carcinogenesis 1987; 12: 1971-73.
Xu K, Thornalley PJ. Studies on the mechanism of the inhibition of human leukemia cell growth by dietary isothiocyanates and their cysteine adducts in vitro. Biochem Pharmacol. 2000; 60: 221-31.
Yang JS, Chen GW, Hsia TC, Ho HC, Ho CC, Lin MW, Lin SS, Yeh RD, Ip SW, Lu HF, Chung JG. Diallyl disulfide induces apoptosis in human colon cancer cell line (COLO 205) through the induction of reactive oxygen species, endoplasmic reticulum stress, caspases casade and mitochondrial-dependent pathways. Food Chem Toxicol. 2009; 47: 171-79.
Yang JS, Hour MJ, Kuo SC, Huang LJ, Lee MR. Selective induction of G2/M arrest and apoptosis in HL-60 by a potent anticancer agent, HMJ-38. Anticancer Res. 2004; 24: 1769-78.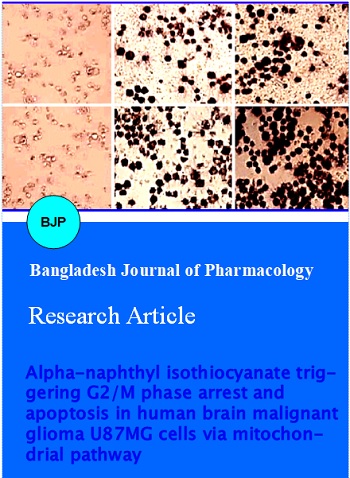 How to Cite
Zhang, Q., Y.-T. Wang, S.-M. Jing, J.-Y. Chang, and J.-P. Wang. "Alpha-Naphthylisothiocyanate Triggering G2/M Phase Arrest and Apoptosis in Human Brain Malignant Glioma U87MG Cells via Mitochondrial Pathway". Bangladesh Journal of Pharmacology, Vol. 10, no. 1, Mar. 2015, pp. 183-90, doi:10.3329/bjp.v10i1.21096.
Section
Research Articles
Copyright (c) 2015 Qiang Zhang, Yu-Ting Wang, Shi-Mei Jing, Jian-Yong Chang, Jin-Peng Wang
This work is licensed under a Creative Commons Attribution 4.0 International License.
Authors who publish with this journal agree to the following terms:
Authors retain copyright and grant the journal right of first publication with the work simultaneously licensed under a

Creative Commons Attribution License

that allows others to share the work with an acknowledgement of the work's authorship and initial publication in this journal.
Authors are able to enter into separate, additional contractual arrangements for the non-exclusive distribution of the journal's published version of the work (e.g., post it to an institutional repository or publish it in a book), with an acknowledgement of its initial publication in this journal.
Authors are permitted and encouraged to post their work online (e.g., in institutional repositories or on their website) prior to and during the submission process, as it can lead to productive exchanges, as well as earlier and greater citation of published work (See

The Effect of Open Access

).