Vitexicarpin inhibits overexpression of GNAO1 and plays a role in gastric cancer cell proliferation and apoptosis
Si-Ping Wang

Domestic Department of Health Management Institute, the Chinese People?s Liberation Army General Hospital, Beijing

Li Yu

Domestic Department of Health Management Institute, the Chinese People?s Liberation Army General Hospital, Beijing

Jie Xie

Domestic Department of Health Management Institute, the Chinese People?s Liberation Army General Hospital, Beijing

Xiao-Ming Liu

Key Laboratory of Animal Ecology and Conservation Biology, Institute of Zoology, Chinese Academy of Sciences, Beijing

Hong Li

Domestic Department of Health Management Institute, the Chinese People?s Liberation Army General Hospital, Beijing
Keywords:
Proliferation, Aneuploidy, Migration, Therapeutic
Abstract
The present study demonstrates the effect of vitexicarpin on down-regulation of GNAO1 in human gastric cancer cell lines. The results from Western blot analysis revealed that vitexicarpin treatment inhibited the GNAO1 expression in MKN-45 cells at a concentration of 30 µM. Examination of cell proliferation using CCK-8 cell proliferation kit showed 70% reduction in the vitexicarpin treated cells compared to untreated control cells. Cell cycle analysis using propidium Iodide staining followed by flow cytometry showed cell cycle arrest at G0/G1 with reduction of cell population in the S-phase. There was a significant aneuploidy in the controls compared to zero aneuploidy in the GNAO1 down-regulated cells. Transwell chamber and scratch wound healing assay respectively showed 65% and 42% reduction in migration of vitexicarpin treatedMKN-45 cells. Therefore, vitexicarpin treated inhibition of GNAO1can be a potential therapeutic strategy for the treatment of gastric cancer.
Downloads
Download data is not yet available.
Abstract
749
Download
354 Read
705
References
Chambers AF, Groom AC, MacDonald IC. Dissemination and growth of cancer cells in metastatic sites. Nat Rev Cancer 2002; 2: 56372.
Chen D, Cao J, Tian L, et al. Induction of apoptosis by casticin in cervical cancer cells through reactive oxygen species-mediated mitochondrial signaling pathways. Oncol Rep. 2011; 26, 1287-94.
Choudhary MI, Azizuddin, Jalil S, et al. Anti-inflammatory and lipoxygenase inhibitory compounds from Vitex agnus-castus. Phytother Res. 2009; 23, 1336-39.
Duesberg P, Rasnick D. Aneuploidy, the somatic mutation that makes cancer a species of its own. Cell Motil Cytoskeleton 2000; 47: 81107.
Fried P, Wolf K. Tumour-cell invasion and migration: Diversity and escape mechanisms. Nat Rev Cancer 2003; 3: 36274.
Hanahan D, Weinberg RA. The hallmarks of cancer. Cell 2000; 100: 5770.
He L, Yang X, Cao X, et al. Casticin induces growth suppression and cell cycle arrest through activation ofFOXO3a in hepatocellular carcinoma. Oncol Rep. 2012; 29, 103-08.
Karpeh MS, Kelsen DP, Tepper JE. Cancer of the stomach. In: Cancer: Principles and practice of oncology. DeVita VT, Hellman S, Rosenberg SA (eds). 2001, pp 1092126.
Koh DJ, Ahn HS, Chung HS, et al. Inhibitory effects of casticin on migration of eosinophil and expression of chemokines and adhesion molecules in A549 lung epithelial cells via NF-?B inactivation. J Ethnopharmacol. 2011; 136, 399-405.
Kops GJ, Weaver BA, Cleveland DW. On the road to cancer: Aneuploidy and the mitotic checkpoint. Nat Rev Cancer 2005; 5: 77385.
Mesaik MA, Azizuddin, Murad S, et al. Choudhary MI. Isolation and immunomodulatory properties of a flavonoid, casticin from Vitex agnus-castus. Phytother Res.2009; 23: 1516-20.
Peek Jr RM, Blaser MJ. Helicobacter pylori and gastrointestinal tract adenocarcinomas. Nat Rev Cancer 2002; 2: 2837.
Sen S. Aneuploidy and cancer. Curr Opin Oncol 2000; 12: 8288.
Shen JK, Du HP, Yang M, et al. Casticin induces leukemic cell death through apoptosis and mitotic catastrophe. Ann Hematol. 2009; 88: 743-52.
Shibuya K, Mathers CD, Boschi-Pinto C, Lopez AD, Murray CJ. Global and regional estimates of cancer mortality and incidence by site: II. Results for the global burden of disease 2000. BMC Cancer 2002; 2: 37.
Wang W, Goswami S, Lapidus K, Wells AL, Wyckoff JB, Sahai E, et al. Identification and testing of a gene expression signature of invasive carcinoma cells within primary mammary tumors. Cancer Res. 2004; 64: 858594.
Wang W, Goswami S, Sahai E, Wyckoff JB, Segall JE, Condeelis JS. Tumor cells caught in the act of invading: Their strategy for enhanced cell motility. Trends Cell Biol. 2005; 15: 13845.
Yamaguchi H, Wyckoff J, Condeelis J. Cell migration in tumors. Curr Opin Cell Biol. 2005; 17: 55964.
Yang J, Yang Y, Tian L, et al. Casticin-induced apoptosis involves death receptor up-regulation in hepatocellular carcinoma cells. World J Gastroenterol. 2011; 17: 4298-307.
Yuasa Y. Control of gut differentiation and intestinal-type gastric carcinogenesis. Nat Rev Cancer 2003; 3: 592600.
Zeng F, Tian L, Liu F, et al. Induction of apoptosis by casticin in cervical cancer cells: Reactive oxygen species dependent sustained activation of Jun N-terminal kinase. Acta Bioch Bioph Sin. 2012; 44: 442-49.
Zhang YH, Wang SQ, Sun CR, Wang M, Wang B, Tang JW. Inhibition of JNK1 expression decreases migration and invasion of mouse hepatocarcinoma cell line in vitro. Med Oncol. 2011; 28: 96672.
Zhen L, Jun Z, Lijun W, Jie L, Mingqing Z. Overexpression of GNAO1 correlates with poor prognosis in patients with gastric cancer and plays a role in gastric cancer cell proliferation and apoptosis. Int J Mol Med. 2013; 33: 589-96.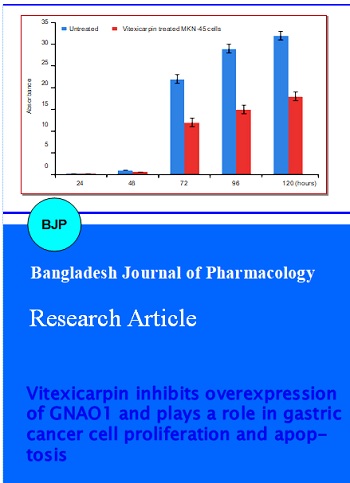 How to Cite
Wang, S.-P., L. Yu, J. Xie, X.-M. Liu, and H. Li. "Vitexicarpin Inhibits Overexpression of GNAO1 and Plays a Role in Gastric Cancer Cell Proliferation and Apoptosis". Bangladesh Journal of Pharmacology, Vol. 10, no. 1, Jan. 2015, pp. 63-68, doi:10.3329/bjp.v10i1.20975.
Section
Research Articles
Copyright (c) 2015 Si-Ping Wang, Li Yu, Jie Xie, Xiao-Ming Liu, Hong Li
This work is licensed under a Creative Commons Attribution 4.0 International License.
Authors who publish with this journal agree to the following terms:
Authors retain copyright and grant the journal right of first publication with the work simultaneously licensed under a

Creative Commons Attribution License

that allows others to share the work with an acknowledgement of the work's authorship and initial publication in this journal.
Authors are able to enter into separate, additional contractual arrangements for the non-exclusive distribution of the journal's published version of the work (e.g., post it to an institutional repository or publish it in a book), with an acknowledgement of its initial publication in this journal.
Authors are permitted and encouraged to post their work online (e.g., in institutional repositories or on their website) prior to and during the submission process, as it can lead to productive exchanges, as well as earlier and greater citation of published work (See

The Effect of Open Access

).