Retinoic acid ortho-hydroxy aniline amide promotes neurotrophin mediated cell growth and proliferation in nerve cells
Zhi-Gang Wang

Department of Neurosurgery, Qilu Hospital of Qingdao Branch?Shandong University, Qingdao 266035

Jin-Peng Wang

Department of Neurosurgery, Brain Hospital of Weifang People?s Hospital, Weifang 261041

Fang Wang

Department of Neurosurgery, Qilu Hospital of Qingdao Branch?Shandong University, Qingdao 266035

Yi-Hua Wang

Department of Neurosurgery, Brain Hospital of Weifang People?s Hospital, Weifang 261041

Pei-Cheng Cao

Department of Neurosurgery, Qilu Hospital of Qingdao Branch?Shandong University, Qingdao 266035
Keywords:
Neuronal differentiation, Proliferation, Stem cell, Retinoic acid amide
Abstract
In the present study, effect of retinoic acid ortho-hydroxy aniline amide (RAA), an analog of retinoic acid (RA) was investigated on neurotrophin mediated cell growth and proliferation in hippocampus-derived stem cell clones. The results revealed that retinoic acid ortho-hydroxy aniline amide enhanced neuronal differentiation, increased NeuroD expression and p21 compared to proliferating cells stimulated by FGF-2. Retinoic acid ortho-hydroxy aniline amide treatment prevented decrease in RNA for trkC, enhanced expression of trkB RNA and p75NGFR. Retinoic acid ortho-hydroxy aniline amide treatment for 5 days increased the baseline expression of c-fos mRNA following stimulation with NGF, BDNF, and NT-3. Treatment of cultures with retinoic acid ortho-hydroxy aniline amide for 5 days followed by 5 days in serum alone increased Map2ab-positive cells compared to that of control. Therefore, retinoic acid ortho-hydroxy aniline amide is an effective agent for inducing neuronal differentiation and proliferation and is even more potent than the parent retinoic acid.
Downloads
Download data is not yet available.
Abstract
781
Download
330 Read
258
References
Berg MM, Sternberg DW, Parada LF, Chao MV. K-252a inhibits nerve growth factor-induced trk protooncogene tyrosine phosphorylation and kinase activity. J Biol Chem. 1992; 267: 1316.
Birling M-C, Price J. Influence of growth factors on neuronal differentiation. Curr Opin Cell Biol. 1995; 7: 87884.
Davies AM. The role of neurotrophins in the developing nervous system. J Neurobiol. 1994; 25: 133448.
Dobashi Y, Kudoh T, Matsumine A, Toyoshima K, Akiyama T. Constitutive overexpression of CDK2 inhibits neuronal differentiation of rat pheochromocytoma PC12 cells. J Biol Chem. 1995; 270: 2303137.
Dowdy SF, Hinds PW, Louie K, Reed SI, Arnold A, Weinberg RA. Physical interaction of the retinoblastoma protein with human D cyclins. Cell 1993; 73: 499511.
El-Deiry WS, Tokino T, Waldman T, Velculescu V, Oliner JD, Burell M, Hill DE, Rees JL, Hamilton SR, Kinzler KW, Vogelstein B. Topological control of p21WAF1/CIP1 expression in normal and neoplastic tissues. Cancer Res. 1995; 55: 291019.
Gage FH, Coates PW, Palmer TD, Kuhn HG, Fisher LJ, Suhonen JO, Peterson DA, Suhr ST, Ray J. Survival and differentiation of adult neuronal progenitor cells transplanted to the adult brain. Proc Natl Acad Sci USA. 1995; 92: 1187983.
Harper JW, Adami GR, Wei N, Keyomarsi K, Elledge SJ. The p21 Cdk-interacting protein Cip1 is a potent inhibitor of G1 cyclin-dependent kinases. Cell 1993; 75: 80516.
Henderson CE. Role of neurotrophic factors in neuronal development. Curr Opin Neurobiol. 1996; 6: 64 70.
Hunter T, Pines J. Cyclins and cancer II: Cyclin D and Cdk inhibitors come of age. Cell 1994; 79: 57382.
Takahashi J, Palmer TD, Fred H. Gage retinoic acid and neurotrophins collaborate to regulate neurogenesis in adult-derived neural stem cell cultures. J Neurobiol. 1999; 38: 65-81.
Kato J, Matsuoka M, Polyak K, Massagu´e J, Sherr CJ. Cyclic AMP-induced G1 phase arrest mediated by an inhibitor (p27Kip1) of cyclin-dependent kinase 4 activation. Cell 1994; 79: 48796.
Kilpatrick TJ, Richards LJ, Bartlett PF. The regulation of neural precursor cells within the mammalian brain. Mol Cell Neurosci. 1995; 6: 215.
Klein R. Role of neurotrophins in mouse neuronal develop-ment. FASEB J. 1994; 8: 73844.
Lee JE, Hollenberg SM, Snider L, Turner D, Lipnick N, Weintraub H. Conversion of xenopus ectoderm into neurons by neuroD, a basic helixloop helix protein. Science 1995; 268: 83644.
Ma Q, Kitner C, Anderson DJ. Identification of neurogenin, a vertebrate neuronal determination gene. Cell 1996; 87: 4352.
Palmer TD, Takahashi J, Gage FG. The adult rat hippocampus contains primordial neural stem cells. Mol Cell Neurosci. 1997; 8: 389404.
Peter M, Herskowitz I. Joining the complex: cyclin dependent kinase inhibitory proteins and the cell cycle. Cell 1994; 79: 18184.
Polyak K, Lee M-H, Erdjument-Bromage H, Koff A, Roberts JM, Tempst P, Massagu´e J. Cloning of p27Kip1, a cyclin-dependent kinase inhibitor and a potential mediator of extracellular antimitogenic signals. Cell 1994; 78: 5966.
Ross ME. Cell division and the nervous system: Regulating the cycle from neural differentiation to death. Trends Neurosci. 1996; 19: 628.
Ryan JJ, Danish R, Gottlieb CA, Clarke MF. Cell cycle analysis of p53-induced cell death in murine erythroleukemia cells. Mol Cell Biol. 1993; 13: 71119.
Sherr CJ. G1 phase progression: Cycling on cue. Cell 1994; 79: 55155.
Snider WD. Functions of the neurotrophins during nervous system development: What the knockouts are teaching us. Cell 1994; 77: 62738.
Yan G-Z, Ziff EB. NGF regulates the PC12 cell cycle machinery through specific inhibition of the cdk kinases and inhibition of cyclin D1. J Neurosci. 1995; 15: 620012.
Yao L, Zhang D, Bernd P. The onset of neurotrophin and trk mRNA expression in early embryonic tissue of the quail. Dev Biol. 1994; 165: 72730.
Weiss S, Reynolds BA, Vescovi AL, Morshead C, Craig CG, van der Kooy D. Is there a neural stem cell in the mammalian forebrain? Trends Neurosci. 1996; 19: 38793.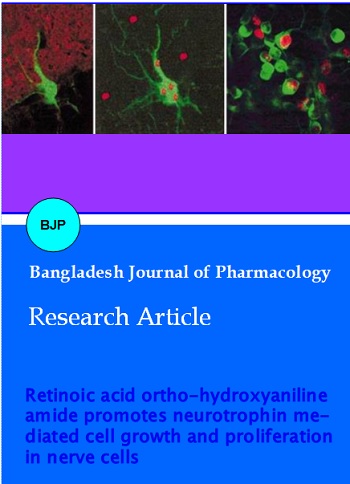 How to Cite
Wang, Z.-G., J.-P. Wang, F. Wang, Y.-H. Wang, and P.-C. Cao. "Retinoic Acid Ortho-Hydroxy Aniline Amide Promotes Neurotrophin Mediated Cell Growth and Proliferation in Nerve Cells". Bangladesh Journal of Pharmacology, Vol. 10, no. 1, Jan. 2015, pp. 40-46, doi:10.3329/bjp.v10i1.20921.
Section
Research Articles
Copyright (c) 2015 Zhi-Gang Wang, Jin-Peng Wang, Fang Wang, Yi-Hua Wang, Pei-Cheng Cao
This work is licensed under a Creative Commons Attribution 4.0 International License.
Authors who publish with this journal agree to the following terms:
Authors retain copyright and grant the journal right of first publication with the work simultaneously licensed under a

Creative Commons Attribution License

that allows others to share the work with an acknowledgement of the work's authorship and initial publication in this journal.
Authors are able to enter into separate, additional contractual arrangements for the non-exclusive distribution of the journal's published version of the work (e.g., post it to an institutional repository or publish it in a book), with an acknowledgement of its initial publication in this journal.
Authors are permitted and encouraged to post their work online (e.g., in institutional repositories or on their website) prior to and during the submission process, as it can lead to productive exchanges, as well as earlier and greater citation of published work (See

The Effect of Open Access

).