Evaluation of hepatoprotective effect of chloroform and methanol extracts of Opuntia monacantha in paracetamol-induced hepatotoxicity in rabbits
Mohammad Saleem

College of Pharmacy, GC university Faisalabad

Iram Irshad

College of Pharmacy, GC University, Faisalabad, Pakistan

Muhammad Kashif Baig

Independent Medical College, Faisalabad

Faiza Naseer

College of Pharmacy, GC university Faisalabad
Keywords:
Hepatoprotective, Opuntia monacantha, Paracetamol, Silymarin
Abstract
The chloroform and methanol extracts of Opuntia monacantha were studied for its hepatoprotective effect against paracetamol induced liver damage in rabbits. Results proved that both extracts at 200, 400 and 600 mg/kg body weight in one week protocol showed significant (p<0.001) hepatoprotective activity by reducing the magnitude of liver markers including alanine aminotransferase, aspartate aminotransferase, alkaline phasphatase and total bilirubin levels. The results were supported by histopathological studies of liver tissue. Chemical analysis of O. monacantha indicated the presence of alkaloids, tannins, saponins, flavonoids and  polysaccharides and its hepato-protective potential may be due to the presence of flavonoids. Its is concluded that 600 mg/kg is the potent dose of both extracts of O. monacantha as hepatoprotective plant.
Downloads
Download data is not yet available.
Abstract
1645
Download
1091 Read
789
References
Ahmad M, Eram S. Hepatoprotective studies on Haloxylon Salicornicum: A plant from cholistan desert. Pakistan J Pharm Sci. 2011; 24: 377-82.
Ahmad SS. Medicinal wild plants from Lahore-Islamabad motorway (M-2). Pak J Botany. 2007; 39: 355-75.
Ahsan R, Islam MK, Musaddik A, Haque E. Hepatoprotective activity of
methanol extract of some medicinal plants against carbon tetrachloride induced hepatotoxicity in Albino rats. Global J Pharmacol. 2009; 3: 116-22.
Akhtar MS, Asjad HMM, Bashir S, Malik A, Khalid R, Gulzar F, Irshad N. Evaluation of antioxidant and hepatoprotective effects of Khamira Gaozaban Ambri Jadwar Ood Saleeb Wala (KGA). Bangladesh J Pharmacol. 2013; 8: 44-48.
Ali M, Qadir MI, Saleem M, Janbaz KH, Gul H, Hussain L, Ahmed B. Hepatoprotective potential of Convolvulus arvensis against paracetamol-induced hepatotoxicity. Bangladesh J Pharmacol. 2013; 8: 300-04.
Ali M, Ramachandram R, Rafiullah MR, Singh O, Siddiqui AW, Mir SR. Prevention of carbon tetrachloride-induced hepatotoxicity by the ethanol extract of Capparis mooniifruits in rats. Pharma Bio. 2004; 42: 286-88.
Bag AK, Mumtaz SMF. Hepatoprotective and nephroprotective activity of hydroalcoholic extract OfIpomoea staphylina leaves. Bangladesh J Pharmacol. 2013; 8: 263-68.
Balamurugan G, Muthusamy P. Observation of the hepatoprotective and antioxidant activities of Trianthema decandra Linn. (Vallai sharunnai) roots on carbon tetrachloride-treated rats. Bangladesh J Pharmacol. 2008; 3: 83-89.
Bari NM, Zubair M, Rizwan K, Rasool N, Bukhari HI, Akram S, Bokhari HT, Shahid M, Hameed M, Ahmad UV. Biological activities of Opuntia Monacantha Cladodes. International Centre for Chemical and Biological Sciences, University of Karachi. 2012; 34: 990-95.
Galati EM, Tripodo MM, Trovato A, Miceli N, Monforte MT, Biological effect of Opuntia ficus indica (L.) Mill. (Cactaceae). J Ethnopharmacol. 2002; 79: 19-22.
Girish C, Koner BC, Jayanthi S, Rao KR, Rajesh B, Pradhan SC. Hepatoprotective activity of six polyherbal formulations in paracetamol induced liver toxicity in mice. Indian J Med Res. 2009; 3: 569-78.
Hegde K, Joshi AB. Hepatoprotective and antioxidanteffect of Carissa spinarum root extract against CCl4 and paracetamol-induced hepatic damage in rats. Bangladesh J Pharmacol. 2010; 5: 73-76.
Ibrahim M, Khaja ZU, Narasu ML. Hepatoprotective activity of Boswellia serrata extracts: In vitro and in vivo studies. Int J Pharm Applications. 2011; 2: 89-98.
Kifayatullah M, Waheed I. Evaluation of hydroethanolic extract of Opuntia monacantha haw cladodes for antipyretic activity. World J Pharm Pharmaceut Sci. 2014; 3: 1021-30.
Mallhi TH, Abbas K, Ali M, Qadir MI, Saleem M, Khan YH. Hepatoprotective activity of methanolic extract of Malva parviflora against paracetamol-induced hepatotoxicity in mice. Bangladesh J Pharmacol. 2014; 9: 342-46.
Raja S, Ahamed KF, Kumar V. Antioxidant effect of Cytisus scoparius against carbon tetrachloride treated liver injury in rats. J Ethnopharmacol. 2006; 109: 41-47.
Saboo SS, Tapadiya G, Farooqui IA, Khadabadi SS. Free radical scavenging, in vivo antioxidant and hepatoprotective activity of folk medicine Trichodesma sedgwickianum. Bangladesh J Pharmacol. 2013; 8: 58-64.
Saleem M, Ahmed B, Karim M, Ahmed S, Ahmad M, Qadir MI, Syed NIH. Hepatoprotective effect of aqeous methanolic extract of Rumex dentatus in paracetamol induced hepatotoxicity in mice. Bangladesh J Pharmacol. 2014; 9: 284-89.
Saleem M, Ahmed B, Qadir MI, Karim M, Rafiq M, Ahmad M, Ahmad B. Hepatoprotective effect of Chenopodium murale in mice. Bangladesh J Pharmacol. 2014; 9: 124-28.
Saleem M, Naseer F. Medicinal plants in the protection and treatment of liver diseases. Bangladesh J Pharmacol. 2014; 10: 511-26.
Thakare SP, Jain HN, Patil SD, Upadhyay UM. Hepatoprotective effect of Cocculus hirsutus on bile duct ligation-induced liver fibrosis in albino Wistar rats. Bangladesh J Pharmacol. 2009; 4: 126-30.
Yasmin S, Kashmiri AM, Anwar K. Screening of aerial parts of Abutilon bidentatum for hepatoprotective activity in rabbits. J Medicinal Plants Res. 2011; 5: 349-53.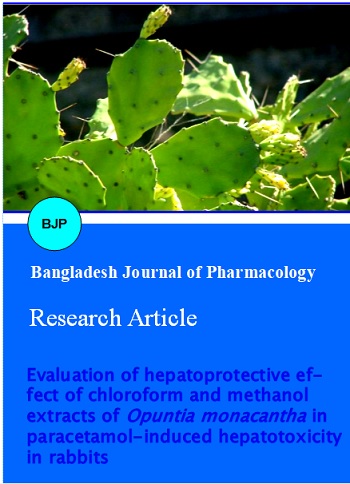 How to Cite
Saleem, M., I. Irshad, M. Baig, and F. Naseer. "Evaluation of Hepatoprotective Effect of Chloroform and Methanol Extracts of Opuntia Monacantha in Paracetamol-Induced Hepatotoxicity in Rabbits". Bangladesh Journal of Pharmacology, Vol. 10, no. 1, Jan. 2015, pp. 16-20, doi:10.3329/bjp.v10i1.20825.
Section
Research Articles
Copyright (c) 2015 Mohammad Saleem, Iram Irshad, Muhammad Kashif Baig, Faiza Naseer
This work is licensed under a Creative Commons Attribution 4.0 International License.
Authors who publish with this journal agree to the following terms:
Authors retain copyright and grant the journal right of first publication with the work simultaneously licensed under a

Creative Commons Attribution License

that allows others to share the work with an acknowledgement of the work's authorship and initial publication in this journal.
Authors are able to enter into separate, additional contractual arrangements for the non-exclusive distribution of the journal's published version of the work (e.g., post it to an institutional repository or publish it in a book), with an acknowledgement of its initial publication in this journal.
Authors are permitted and encouraged to post their work online (e.g., in institutional repositories or on their website) prior to and during the submission process, as it can lead to productive exchanges, as well as earlier and greater citation of published work (See

The Effect of Open Access

).