In vitro phytochemical and antimicrobial screening of Thymus linearis
Attiqa Naz

Department of Pharmacy, University of Peshawar

Muhammad Saeed

Department of Pharmacy, University of Peshawar

Muhammad Medrar Hussain

Department of Microbiology, Abasyn University Peshawar

Muhammad Saqib Ishaq

Department of Microbiology, Abasyn University Peshawar
Keywords:
Antibacterial, Antifungal, FTIR, Phytochemical screening, Thymus linearis
Abstract
Extracts from the whole plant of Thymus linearis were extracted with methanol (crude), chloroform, n-hexane, ethyl acetate and butanol and screened for their phytochemical and antimicrobial potentials. Preliminary phytochemical screening of plant extracts manifests the existence of terpenoids, flavonoids, tannins, alkaloids, glycosides and reducing sugars. Fourier transform infrared spectroscopy studies were carried out on various phytochemicals extracted from the extracts of T. linearis which results in the presence of different compounds like amides, aldehydes, carboxylic acid, ethers, alcohol and ketones. All the extracts of T. linearis showed significant antibacterial and antifungal activities when tested against nine bacterial and four fungal strains. It was concluded from this study that extracts of T. linearis have an array of important phytochemicals and significant activities against some of the multidrug resistant bacterial and medically important fungal strains.
Downloads
Download data is not yet available.
Abstract
2032
Download
660 Read
1202
References
Alamgeer, Nawaz M, Ahmad T , Mushtaq MN, Batoo A. Hepatoprotective activity of Thymus linearis against paracetamol and carbon tetrachloride-induced hepatotoxicity in albino mice. Bangladesh J Pharmacol. 2014; 9: 230-34.
Ayoola GA, Coker H, Adesegun SA, Adepoju-Bello AA, Obaweya K, Ezennia EC, Atangbayila T. Phytochemical screening and antioxidant activities of some selected medicinal plants used for malaria therapy in Southwestern Nigeria. Trop J Pharm Res. 2008; 7: 1019-24.
Gracelin DHS, Britto ADJ. Kumar PBRJ. Antibacterial screening of a few medicinal ferns against antibiotic resistant phytopathogen. Int J Pharm Sci Res. 2012; 3: 868-73.
Hannan A, Qamar MU, Usman M, Waheed KAI, Rauf K. Multidrug resistant microorganisms causing neonatal septicemia: In a tertiary care hospital Lahore, Pakistan. Afr J Microbiol Res. 2013; 7:1896-902.
Hussain AI, Anwar F, Chatha SAS, Jabbar A, Mahboob S, Nigam PS. 2010. Rosmarinus officinalis essential oil: Antiproliferative, antioxidant and antibacterial activities. Braz J Microbiol. 2010; 41: 1070-78.
Hussain AI, Anwar F, Nigam PS, Sarker SD, Moore JE, Rao JR, Mazumdar A. Antibacterial activity of some Lamiaceae essential oils using resazurin as an indicator of cell growth. LWT-Food Sci Technol. 2011; 44: 1199-206.
Hussain MM, Ahmad B, Rashid E, Hashim S, Marwat KB, Jan A. In vitro antibacterial activity of methanol and water extracts of Adiantum capillus veneris and Tagetes patula against multidrug resistant bacterial strains. Pakistan J Bot. 2014; 46: 363-68.
Ishaq MS, Hussain MM, Afridi MS, Ali G, Khattak M, Ahmad S. In vitro phytochemical, antibacterial, and antifungal activities of leaf, stem, and root extracts of Adiantum capillus veneris. Sci World J. 2014.
Karaman S, Digrak M, Ravid U, Ilcim A. Antibacterial and antifungal activity of the essential oils of Thymus revolutus Celak from Turkey. J Ethnopharmacol. 2001; 76: 183-86.
Kayani AS, Masood A, Achakzai AKK, Anbreen S. Distribution of secondary metabolites in plants of Quetta-Balochistan. Pakistan J Bot. 2007; 39: 1173-79.
Kucukbay FZ, Kuyumcu E, Celen S, Azaz AD, Arabac T. Chemical composition of the essential oils of three Thymus taxa from Turkey with antimicrobial and antioxidant activities. Rec Nat Prod. 2014; 8: 110-20.
Maiyo ZC, Ngure RM, Matasyoh JC, Chepkorir R. Phytochemical constituents and antimicrobial activity of leaf extracts of three Amaranthus plant species. Afr J Biotechnol. 2010; 9: 3178-82.
Maksimovic Z, Stojanovic D, Sostaric I, Dajic Z, Ristic M. Composition and radical-scavenging activity of Thymus glabrescens Willd. (Lamiaceae) essential oil. J Sci Food Agric. 2008; 88: 2036-41.
Rasooli I, Mirmostafa SA. Antibacterial properties of Thymus pubescens and Thymus serpyllum essential oils. Fitoterapia. 2002; 73: 244-50.
Rios JL, Recio MC. Medicinal plants and antimicrobial activity. J Ethnopharmacol. 2005; 100: 80-84.
Rota MC, Herrera A, Martínez RM, Sotomayor JA, Jordan MJ. Antimicrobial activity and chemical composition of Thymus vulgaris, Thymus zygis and Thymus hyemalis essential oils. Food Control. 2008; 19: 681-87.
Sharafzadeh S, Bahmani A. Main components in aroma profile of genus thymus: A short review. J Curr Res Sci. 2014; 2: 158-61.
Verma RS, Padalia RC, Chanotiya CS, Chauhan A. Chemical investigation of the essential oil of Thymus linearis (Benth. ex Benth) from Western Himalaya, India. Nat Prod Res. 2010; 24: 1890-96.
Westh H, Zinn CS, Rosdahl VT. An international multicenter study of antimicrobial consumption and resistance in Staphylococcus aureus isolates from 15 hospitals in 14 countries. Microb Drug Resist. 2004; 10: 169-76.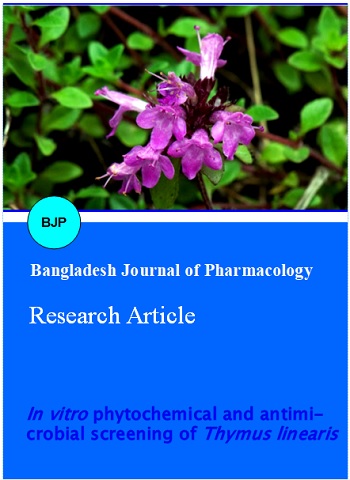 How to Cite
Naz, A., M. Saeed, M. Hussain, and M. Ishaq. "In Vitro Phytochemical and Antimicrobial Screening of Thymus Linearis". Bangladesh Journal of Pharmacology, Vol. 10, no. 1, Jan. 2015, pp. 21-26, doi:10.3329/bjp.v10i1.20639.
Section
Research Articles
Copyright (c) 2015 Attiqa Naz, Muhammad Saeed, Muhammad Medrar Hussain, Muhammad Saqib Ishaq
This work is licensed under a Creative Commons Attribution 4.0 International License.
Authors who publish with this journal agree to the following terms:
Authors retain copyright and grant the journal right of first publication with the work simultaneously licensed under a

Creative Commons Attribution License

that allows others to share the work with an acknowledgement of the work's authorship and initial publication in this journal.
Authors are able to enter into separate, additional contractual arrangements for the non-exclusive distribution of the journal's published version of the work (e.g., post it to an institutional repository or publish it in a book), with an acknowledgement of its initial publication in this journal.
Authors are permitted and encouraged to post their work online (e.g., in institutional repositories or on their website) prior to and during the submission process, as it can lead to productive exchanges, as well as earlier and greater citation of published work (See

The Effect of Open Access

).