Hepatoprotective activity of fruit extract of Garcinia pedunculata
Keywords:
Garcinia pedunculata, Hepatoprotective, Paracetamol, Silymarin
Abstract
The objective of this study was to explore the hepatoprotective activity of fruits of Garcinia pedunculata in paracetamol-induced liver toxicity in rats. Paracetamol-induced hepatotoxicity was evaluated by an increase in serum transaminases and alkaline phosphatase activity. Histopathological observation showed extensive disturbance in the liver cytoarchitecture in comparison to normal control liver sections. Pre-treatment with aqueous extract of fruits of G. pedunculata prevented the paracetamol-induced increase in serum transaminases, alkaline phosphatase and histopathological changes. Based on the above observation it can be concluded that G. pedunculata pretreatment exhibited significant hepatoprotective activity against paracetamol-induced hepatotoxicity.
Downloads
Download data is not yet available.
Abstract
2173
Download
1199 Read
1040
References
Bancroft JD, Gamble M. Theory and practice of histological techniques. 5th ed. Churchill Livingstone, 2002.
Bradly DW, Maynard JE, Emery G, Webster H. Transaminase activities in serum of long-term hemodialysis patients. Clin Chem. 1972; 18: 1442.
Dixon MF, Nimmo J, Prescott LF. Experimental paracetamol-induced hepatic necrosis: A histopathological study. J Pathol. 1971: 103; 225-27.
Grosser T, Smyth E, Fitzgerald GA. Anti-inflammatory antipyretic and analgesic agents: Pharmacotherapy of gout. In: Goodman and Gilmans The Pharmacological basis of therapeutics. 11th ed. New York, The MecGrow Companies, 2006, p 983.
Jayaprakasha GK, Negi PS, Jena BS. Anti-oxidative and anti-mutagenic activities of the extracts from the rinds of Garcinia pedunculata. Innov Food Sci Emerg Technol. 2006: 7: 246-50.
Kagyung R, Gajurel P R, Rethy P. Singh B. Ethnomedicinal plants used for gastrointestinaldiseases by Adi tribes of Dehang-Debang Biosphere Reserve in Arunachal Pradesh. Indian J Tradit Know. 2010; 9: 496-501.
Graham G G, Davies M J, Day R O, Mohamudally A, Scott K F. The modern pharmacology of paracetamol: therapeutic actions, mechanism of action, metabolism, toxicity and recent pharmacological findings. Inflammopharmacology 2013; 21: 20132.
Larson AM, Polson J, Fontana R J. Acetaminophen-induced acute liver failure: Results of a United States multicenter, prospective study. Hepatology 2005; 42: 136472.
Mundugaru R, Joy F, Shrinidhi R, Das L, Sudhakara, Ravishankar B. Anti-inflammatory activity of aqueous extract of fruits of Garcinia pedunculata in experimental animals. Am J Pharma Tech Res. 2014: 4; 3.
Patiri B, Borah A. Wild edible plants of Assam. 1st ed. Assam, Director Forest Communication, Forest Department, 2007.
Rumack B, Matthew H. Acetaminophen poisoning and toxi-city. Pediatrics 1975; 55: 87176.
Rajesh M J, Latha M S, Hepatoprotection by Elephantopus scaber Linn. in CCL4-induced liver injury. Indian J Physiol Pharmacol. 2001: 45; 481-86.
Sahu A, Das B, Chatterjee A. Polyisoprenylated benzophenones from Garcinia pedunculata. Phytochemistry 1989; 28: 1233-35.
Schmidt E, Schemidt F W, Mohr J, Otto P, Vido I, Wrongeman K, Herfarth C (eds.). In: Pathogenesis and mechanism of liver cell necrosis. 4th ed. Lancester, Medical and Technical Publications, 1975, p 147.
Wilkinson J H, Boutwell J H, Winsten S. Evaluation of a new system for kinetic measurement of serum alkaline phosphatase. Clin Chem. 1969; 15: 487-95.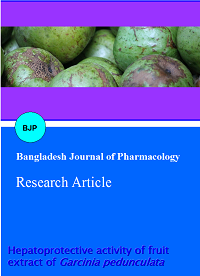 How to Cite
Mundugaru, R., M. Chakkravarthy, and R. Basavaiah. "Hepatoprotective Activity of Fruit Extract of Garcinia Pedunculata". Bangladesh Journal of Pharmacology, vol. 9, no. 4, Oct. 2014, pp. 483-7, doi:10.3329/bjp.v9i4.19910.
Section
Research Articles
License
Authors who publish with this journal agree to the following terms:
Authors retain copyright and grant the journal right of first publication with the work simultaneously licensed under a

Creative Commons Attribution License

that allows others to share the work with an acknowledgement of the work's authorship and initial publication in this journal.
Authors are able to enter into separate, additional contractual arrangements for the non-exclusive distribution of the journal's published version of the work (e.g., post it to an institutional repository or publish it in a book), with an acknowledgement of its initial publication in this journal.
Authors are permitted and encouraged to post their work online (e.g., in institutional repositories or on their website) prior to and during the submission process, as it can lead to productive exchanges, as well as earlier and greater citation of published work (See

The Effect of Open Access

).