Phytochemical, antioxidant, antiviral and cytotoxic evaluation of Opuntia dillenii flowers
Arthanari Saravana Kumar

Department of Chemical Engineering, Hanseo University

Mani Ganesh

Department of Chemical Engineering, Hanseo University

Mei Mei Peng

Department of Chemical Engineering, Hanseo University

Jang Hyun Tae

Department of Chemical Engineering, Hanseo University
Keywords:
Antioxidant, Antiviral, Cytotoxicy, Opuntia dillenii, Phytochemical
Abstract
Opuntia dillenii used in Asian traditional medicine especially in China. We here report on the investigation of the phytochemical content, antioxidant, cytotoxicity and antiviral activity of methanolic extract of O. dillenii flowers. The antioxidant activity was measured with the DPPH, hydrogen peroxide and hydroxyl radicals scavenging method. In the antiviral and cytotoxic assay we used different viruses in different cell lines.  In antioxidant assay, the DPPH assay exhibited potent antioxidant abilities with IC50 of 58.7 µg/mL. In antiviral assay, the extract possess strongest antiviral activity against herpes simplex 1(EC50= 25 µg/mL) and 2 (EC50= 20 µg/mL), vaccinia (EC50= 100 µg/mL) and moderate activity for remaining viruses (EC50= >100 µg/mL). The cytotoxicity effect was evaluated using MTT assay and the results revealed that the extracts exhibited cytotoxicity above the range of 100 µg/mL. Our present reports confirmed that the O. dillenii could be a potential antioxidant and antimicrobial agent in near future.
Downloads
Download data is not yet available.
Abstract
2071
Download
1009 Read
278
References
Ahmed MS, EI Tanbouly ND, IslamWT, Saleem AA, EI SenousyAS. Anti-inflammatory flavonoids from Opuntia dillenii (Ker–Gawl) Haw. Flowers growing in Egypt. Phytother Res. 2005; 19: 807-09.
Barnes PJ. Reactive oxygen species and airway inflammation. Free Rad Biol Med. 1990; 9: 235-43.
Blois MS. Anti-oxidant determinations by the use of a stable free radical. Nature 1958; 181: 1199-201.
Brand-Williams W, Cuvelier ME, Berset C. Use of free radical method to evaluate anti-oxidant activity, LWT- Food Sci Tech. 1995; 28: 25-30.
Carocho M, Ferreira ICFR. A review on anti-oxidants, prooxidants and related controversy: Natural and synthetic compounds, screening and analysis methodologies and future perspectives. Food Chem Toxicol. 2013; 51: 15-25.
Chang SF, Hsieh CL, Yen GC. The protective effect of Opuntia dillenii Haw. fruit against low-density lipoprotein peroxidation and its active compounds. Food Chem. 2008; 106: 569-75.
Chiang LC, Chiang W, Chang MY. Antiviral activity of Plantago major extracts and related compounds in vitro. J Ethnopharmacol. 2002; 55: 52-62.
Cowan MM. Plant products as antimicrobial agents. Clin Microbiol Rev. 1999; 12: 564-82.
Evans WC. Treese and Evans Pharmacognosy. London, Balliere, 1996, pp 388-433.
Hochestein P, Atallah AS. The nature of oxidant and antioxidant systems in the inhibition of mutation and cancer. Mut Res. 1988; 202: 363-75.
Lin CC, Huang PC. Anti-oxidant and hepatoprotective effects of Acathopanax senticosus. Phytother Res. 2002; 14: 489-94.
Loro JF, Del Rio I, Perez-Santana L. Preliminary studies of analgesic and anti-inflammatory properties of Opuntia dillenii aqueous extract. J Ethnopharmacol. 1999; 67: 213-18.
Manian R, Anusuya N, Siddhuraju P, Manian S. The antioxidant activity and free radical scavenging potential of two different solvent extracts of Camellia sinensis (L.) O. Kuntz, Ficus bengalensis L. and Ficus racemosa L. Food Chem. 2008; 107: 1000-07.
Muller HE. Detection of hydrogen peroxide produced by microorganism on ABTS-peroxidase medium. Zentrabl Bakteriol Mikrobiol Hyg A. 1985; 259: 151-54.
Park EH, Kahng JH, Lee SH, Shin KH. An anti-inflammatory principle from cactus. Fitoterapia 2001; 72: 288-90.
Perez de Paz PL, Medina Medina I. Catalogo de lasplantas-medicinalesdela flora canaria. Aplicacionespopulares. La Laguna, Spain, Instituto de Estudios Canarios, 1988.
Perfumi M, Tacconi R. Antihyperglycemic effect of fresh Opuntia dillenii fruit from Tenerife (Canary Islands). Int J Pharmacog. 1996; 34: 41-47.
Perry EK, Pickering AT, Wang WW, Houghton PJ, Perru NS. Medicinal plants and Alzheimer's disease: from ethnobotany to phytotherapy. J Pharm Pharmacol. 1999; 51: 527- 34.
Rajeshwar Y, Kumar GP, Gupta M, Mazumder UK. Studies on in vitro anti-oxidant activities of methanol extract of Mucuna pruriens (Fabaceae) seeds. Eur Bull Drug Res. 2005; 13: 31- 39.
Repetto MG, Llesuy SF. Anti-oxidant properties of natural compounds used in popular medicine for gastric ulcers. Braz J Med Biol Res. 2002; 35: 523-34.
Smirnoff N, Cumbes QJ. Hydroxyl radical scavenging activity of compatible solutes. Phytochemistry 1989; 28: 1057-60.
Taylor RSL, Manandhar NP, Hudson JB, Towers GHN. Anti-viral activities of Nepalese medicinal plants. J Ethnopharmacol. 1996; 52: 157-63.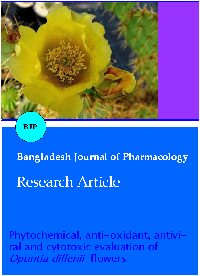 How to Cite
Kumar, A., M. Ganesh, M. Peng, and J. Hyun Tae. "Phytochemical, Antioxidant, Antiviral and Cytotoxic Evaluation of Opuntia Dillenii Flowers". Bangladesh Journal of Pharmacology, Vol. 9, no. 3, Aug. 2014, pp. 351-5, doi:10.3329/bjp.v9i3.19489.
Section
Research Articles
This work is licensed under a Creative Commons Attribution 4.0 International License.
Authors who publish with this journal agree to the following terms:
Authors retain copyright and grant the journal right of first publication with the work simultaneously licensed under a

Creative Commons Attribution License

that allows others to share the work with an acknowledgement of the work's authorship and initial publication in this journal.
Authors are able to enter into separate, additional contractual arrangements for the non-exclusive distribution of the journal's published version of the work (e.g., post it to an institutional repository or publish it in a book), with an acknowledgement of its initial publication in this journal.
Authors are permitted and encouraged to post their work online (e.g., in institutional repositories or on their website) prior to and during the submission process, as it can lead to productive exchanges, as well as earlier and greater citation of published work (See

The Effect of Open Access

).