A diterpenoid sugiol from Metasequoia glyptostroboides with α-glucosidase and tyrosinase inhibitory potential
Vivek K. Bajpai

Department of Applied Microbiology and Biotechnology, School of Biotechnology, Yeungnam University, Gyeongsan, Gyeongbuk 712 749

Sun Chul Kang

Department of Biotechnology, Daegu University, Gyeongsan, Gyeongbuk 712 714
Keywords:
Metasequoia glyptostroboides, Sugiol, α-Glucosidase, Tyrosinase
Abstract
Nowadays use of plant derived natural compounds have become a topic of increasing interest in food and medicine industries due to their multitude of biological and therapeutic properties. In this study, a diterpenoid compound sugiol, isolated from Metasequoia glyptostroboideswas evaluated for α-glucosidase and tyrosinase inhibitory efficacy in terms of its potent anti-diabetic and anti-melanogenesis potential, respectively. As a result, sugiol at the concentration range of (100-10,000 µg/mL) and (20-500 µg/mL) showed potent efficacy on inhibiting α-glucosidase and tyrosinase enzymes in vitro ranging from 12.34-63.47% and 28.22-67.43%, respectively. These findings confirm the therapeutic potential of diterpenoid compound sugiol from M. glyptostroboides as a novel candidate for using in food and medicine industry which may have practical potential to cure skin and diabetes mellitus type-2 related disorders.
Downloads
Download data is not yet available.
Abstract
1688
Download
720 Read
105
References
An BJ, Kwak JH, Park JM, Lee JY, Park TS, Lee JT, Son JH, Jo C, Byun MW. Inhibition of enzyme activities and the anti-wrinkle effect of polyphenol isolated from the Persimmon leaf (Diospyros kaki folium) on human skin. Dermatol Surg. 2005; 31: 848-54.
Bajpai VK, Na MK, Kang SC. The role of bioactive substances in controlling foodborne pathogens derived from Metasequoia glyptostroboides Miki ex Hu. Food Chem Toxicol. 2010; 48: 1945-49.
Bajpai VK, Kang SC. Isolation and characterization of biologically active secondary metabolites from Metasequoia glyptostroboides Miki Ex Hu. J Food Safety. 2011; 31: 276-83.
Bajpai VK, Kang SC. Antimycotic potential of a diterpenoid taxoquinone against Candida species isolated from Metasequoia glyptostroboides. Bangladesh J Pharmacol. 2014; 9: 154-60.
Batubara I, Kuspradini H, Mitsunaga T. Anti-acne and tyrosinase inhibition properties of taxifolin and some flavanonol rhamnosides from Kempas (Koompassia malaccensis). Wood Res J. 2010; 1: 45-49.
Chang HS, Cheng KP, Choang TF, Chow HF, Chui KY, Hon PM, Tan FWL, Yang Y, Zhong ZP. Structure elucidation and total synthesis of new tanshinones isolated from Salvia miltiorrhiza Bunge (Danshen). J Org Chem. 1990; 55: 3537-43.
Chai C, Ju HK, Kim SC, Park JH, Lim J, Kwon SW, Lee J. Determination of bioactive compounds in fermente d soybean products using GC/MS and further investigation of correlation of their bioactivities. J Chrom B. 2012; 880: 42-49.
Chen YS, Liou HC, Chan CF. Tyrosinase inhibitory effect and anti-oxidative activities of fermented and ethanol extracts of Rhodiola rosea and Lonicera japonica. Sci World J. 2013; 1: 1-5.
Fawole OA, Makunga NP, Opara UL. Antibacterial, anti-oxidant and tyrosinase-inhibition activities of pomegranate fruit peel methanolic extract. BMC Comp Alt Med. 2012; 12: 202-11.
Kwon SH, Hong SI, Kim JA, Jung YH, Kim SY, Kim HC, Lee SY, Jang CG. The neuroprotective effects of Lonicera japonica THUNB. against hydrogen peroxide-induced apoptosis via phosphorylation of MAPKs and PI3K/Akt in SH-SYSY cells. Food Chem Toxicol. 2011; 49: 1011-19.
Liu L, Deseo MA, Morris C, Winter KM, Leach DN. Investigation of α-glucosidase inhibitory activity of wheat bran and germ. Food Chem. 2011; 126: 553-61.
Liu X, Zhu L, Tan J, Zhou X, Xiao L, Yang X, Wang B. Glucosidase inhibitory activity and anti-oxidant activity of flavonoid compound and triterpenoids compound from Agrimonia Pilosa Ledeb. BMC Comp Altern Med. 2014; 14: 12-16.
Ma K, Han J, Bao L, Wei T, Liu H. Two sarcoviolins with anti-oxidative and α-glucosidase inhibitory activity from the edible mushroom Sarcodon leucopus collected in Tibet. Nat Prod. 2014; 77: 942-47.
Maritim AC, Sanders RA, Watkins JB. Diabetes, oxidative stress, and anti-oxidants: A review. J Biochem Mol Toxic. 2003; 17: 24-38.
Ozer O, Mutlu B, Kivcak B. Antityrosinase activity of some plant extracts and formulations containing ellagic acid. Pharma Biol. 2007; 45: 519-24.
Piao LZ, Park HR, Park YK, Lee SK, Park JH, Park MK. Mushroom tyrosinase inhibition activity of some chromones. Chem Pharm Bull. 2002; 50: 309-11.
Tiwari AK, Viswanadh V, Gowri PM, Ali AZ, Radhakrishnan SVS, Agawane SB, Madhusudana K, Rao JM. Oleanolic acid: An α-glucosidase inhibitory and antihyperglycemic active compound from the fruits of Sonneratia caseolaris. J Med Arom Plants. 2010; 1: 19-23.
Wu B, Chen J, Qu H, Cheng Y. Complex sesquiterpenoids with tyrosinase inhibitory activity from the leaves of Chloranthus tianmushanensis. J Nat Prod. 2008; 71: 877-80.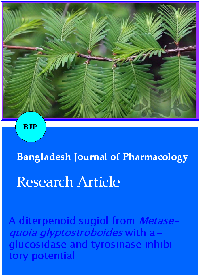 How to Cite
Bajpai, V., and S. C. Kang. "A Diterpenoid Sugiol from Metasequoia Glyptostroboides With α-Glucosidase and Tyrosinase Inhibitory Potential". Bangladesh Journal of Pharmacology, Vol. 9, no. 3, July 2014, pp. 312-6, doi:10.3329/bjp.v9i3.19026.
Section
Research Articles
Copyright (c) 2014 Vivek K. Bajpai, Sun Chul Kang
This work is licensed under a Creative Commons Attribution 4.0 International License.
Authors who publish with this journal agree to the following terms:
Authors retain copyright and grant the journal right of first publication with the work simultaneously licensed under a

Creative Commons Attribution License

that allows others to share the work with an acknowledgement of the work's authorship and initial publication in this journal.
Authors are able to enter into separate, additional contractual arrangements for the non-exclusive distribution of the journal's published version of the work (e.g., post it to an institutional repository or publish it in a book), with an acknowledgement of its initial publication in this journal.
Authors are permitted and encouraged to post their work online (e.g., in institutional repositories or on their website) prior to and during the submission process, as it can lead to productive exchanges, as well as earlier and greater citation of published work (See

The Effect of Open Access

).