Antidiabetic potential of Conocarpus lancifolius
Keywords:
Antidiabetic, Alloxan, Alpha glycosidase, Conocarpus lancifolius
Abstract
The antidiabetic activity of Conocarpus lancifolius extract was investigated in vitro, as alpha glucosidase inhibition and in vivo as alloxan induced diabetic rabbits with other biochemical parameters (LDL, HDL, SGPT, SGOT, cretinine, urea and triglyceride). Alpha-glucosidase inhibition activity was performed by using acorbose as standred. Methanolic extract show alpha-glucosidase inhibition activity. The dose of 200 mg/kg body weight significantly (p<0.05) decreases the blood glucose level, plasma total cholesterol, triglycerides and LDL in treated rabbits as compared to diabetic rabbits. This dose significantly increased the level of HDL in treated group. The activity of SGOT and SGPT also significantly (p<0.05) decreased in treated diabetic rabbits. Phytochemical studies show the presence of glycosides, tannins, saponins and terpenoids. The antidiabetic potential is may be due to its saponin contents.
Downloads
Download data is not yet available.
Abstract
2114
Download
2000 Read
184
References
Abdel-Hameed ES, Bazaid SA, Shohayeb MM, El-Sayed MM, El-Wakil. Phytochemical studies and evaluation of anti-oxidant, anti-cancer and antimicrobial properties of Conocarpus erectus L. growing in Taif, Saudi Arabia. Eur J Med Plants. 2012; 2: 93-112
Abdel-Hassan IA, Abdel-Barry JA, Tariq Mohammeda S. The hypoglycemic and antihyperglycemic effect of citrullus colocynth fruit in normal and diabetic rabbits. J Enthopharmacol. 2000; 71: 325-30.
Akhtar MS, Asjad HMM, Bashir S, Malik A, Khalid R, Gulzar F, Irshad N. Evaluation of antioxidant and hepatoprotective effects of Khamira Gaozaban Ambri Jadwar Ood Saleeb Wala (KGA). Bangladesh J Pharmacol. 2013; 8: 44-48.
Alamgeer, Rashid M, Bashir S, Mushtaq MN, Khan HU, Malik MNH, Qayyum A, Shafeeq ur Rahaman M. Comparative hypoglycemic activity of different extracts of Teucrium stocksianum in diabetic rabbits. Bangladesh J Pharmacol. 2013; 8: 186-93.
Al-hader AA, Hassan ZA, Agel MB. Hypoglycemic and insulin release inhibitory effect of rosomonius officinalis. J Enthopharmacol. 1994; 43: 217-22.
Ali M, Qadir MI, Saleem M, Janbaz KH, Gul H, Hussain L, Ahmad B. Hepatoprotective potential of Convolvulus arvensis against paracetamol-induced hepatotoxicity. Bangladesh J Pharmacol. 2013; 8: 300-04.
Amos AF, McCarty DJ, Zimmet P. The rising global burden of diabetes and its complications: Estimates and projections to the year. Diabet Med. l997; 14: S1-85.
Athanasakis K, Ollandezos M, Angeli A, Gregoriou A, Geitona M, Kyriopoulos J. Estimating the direct cost of Type 2 diabetes in Greece: The effects of blood glucose regulation on patient cost. Diabet Med. 2010; 27: 679-84.
Bag AK, Mumtaz SMF. Hepatoprotective and nephroprotective activity of hydroalcoholic extract of Ipomoea staphylina leaves. Bangladesh J Pharmacol. 2013; 8: 263-68.
Balamurugan G, Muthusamy P. Observation of the hepatoprotective and anti-oxidant activities of Trianthema decandra Linn. (Vallai sharunnai) roots on carbon tetrachloride-treated rats. Bangladesh J Pharmacol. 2008; 3: 83-89.
Baroon Z, Razzaque, MA. Nutritional evaluation and palatability trial of ensiled Conocarpus Greenery residues. Exper Agric. 2012; 48: 138.
Bell GI. Molecular defects in diabetes mellitus. Diabetes 1991; 40: 413-17.
Bhavsar C, Talele GS. Potential antidiabetic activity of Bombax ceiba. Bangladesh J Pharmacol. 2013; 8: 102-06.
Casirola DM, Ferraris RP. alpha-Glucosidase inhibitors prevent diet-induced increases in intestinal sugar transport in diabetic mice. Metab Clin Exp. 2006; 55: 832-41.
Chatila R, West AB. Hepatomegaly and liver tests due to glycogenesis in adults with diabetes. Med Bait. 1996; 75: 327-32.
Dong HQ, Li M, Zhu F, Liu FL, Huang JB. Inhibitory potential of trilobatin from Lithocarpus polystachyus Rehd against α-glucosidase and α-amylase linked to type 2 diabetes. Food Chem. 2012; 130: 261-66.
Fridewald WT, Levy RI, Fredrickson DS. Estimation of the concentration of low-density lipoprotein cholesterol in plasma, without use of the preparative ultracentrifuge. Clin Chem. 1972; 18: 499-502.
Hegde K, Joshi AB. Hepatoprotective and anti-oxidant effect of Carissa spinarum root extract against CCl4 and paracetamol-induced hepatic damage in rats. Bangladesh J Pharmacol. 2010; 5: 73-76.
Khan AZ, Mohammad A, Iqbal Z, Anis I, Shah MR, Nadeem S, Rabnawaz M, Shahidullah A, Khan H, Khan I. Molecular docking of viscosine as a new lipoxygenase inhibitor isolated from Dodonaea viscose. Bangladesh J Pharmacol. 2013; 8: 36-39.
Loven D, Schedl H, Wilson H, Daabas TT, Stegink DL, Diekus M, Oberley LW. Effect of insulin and oral glutathione on glutathione levels and superoxide dismutase activities in organs of rats with streptozotocin-induced diabetes. Diabetes 1986; 35: 503-07.
Mazar G, Ayurvedische phytotherapie in Indian. Z Physiother, 1998; 19: 269-74.
Moller DE. New drug targets for type 2 diabetes and the metabolic syndrome. Nature 2001; 414: 821-27.
Oubre AY, Carlson TJ, King SR, Reaven GM. From plant to patient: An ethno medical approach to the identification of new drugs for the treatment of NIDDM. Diabetologia 1997; 40: 614-17.
Qadir MI, Murad MSA, Ali M, Saleem M, Farooqi AA. Hepatoprotective effect of leaves of aqueous ethanol extract of Cestrum nocturnum against paracetamol-induced hepatotoxicity. Bangladesh J Pharmacol. 2014; 9: 167-70.
Rahman A, Chaudhary MI, Thomsen WJ. Bioassay techniques for drug development. Canada, Harwood Academic Publishers, 2001, pp 65-67.
Rang HP, Dale MM, Ritter JM, Moore PK (eds). In: Atherosclerosis and lipoprotein metabolism. Pharmacology. 5th ed. 2003, p 311.
Redha A, Mansour N, Suleman P, Afzal M, Al-Hasan. Leaf traits and histochemistry of Trichomes of Conocarpus lancifolius a Combretaceae in Semi-Arid conditions. Am J Plant Sci. 2011; 2: 165-74.
Rehman JU, Saqib NU, Akhtar N, Jamshaid M, Asif HM, Sultana S, Rehman RU. Hepatoprotective activity of aqueous-methanolic extract of Suaeda fruticosa in paracetamol-induced hepatotoxicity in rabbits. Bangladesh J Pharmacol. 2013; 8: 378-81.
Saboo SS, Tapadiya G, Farooqui IA, Khadabadi SS. Free radical scavenging, in vivo anti-oxidant and hepatoprotective activity of folk medicine Trichodesma sedgwickianum. Bangladesh J Pharmacol. 2013; 8: 58-64.
Sacks DB, Implication of the revised criteria for diagnosis and classification of diabetes mellitus. Clin Chem. 1997; 43: 2230.
Sadeque MZ, Begum ZA. Protective effect of dried fruits of Carica papaya on hepatotoxicity in rat. Bangladesh J Pharmacol. 2010; 5: 48-50.
Saleem M, Ahmed B, Qadir MI, Mahrukh, Rafiq M, Ahmad M, Ahmad B. Hepatoprotective effect of Chenopodium murale in mice. Bangladesh J Pharmacol. 2014; 9: 124-28.
Skyler JS, Cefalu WT, Kourides IA, Landschulz WH, Balagtas CC, Cheng SL, Gelfand RA. Efficacy of inhaled human insulin in type-l diabetes mellitus: A randomized proof of concept study. Lancet 2001; 357: 331-35.
Thakare SP, Jain HN, Patil SD, Upadhyay UM. Hepatoprotective effect of Cocculus hirsutus on bile duct ligation-induced liver fibrosis in albino Wistar rats. Bangladesh J Pharmacol. 2009; 4: 126-30.
Trease GE, Evans WC. Pharmacognosy. 13th ed. London, Bailliere Tindall, 1989, p 833.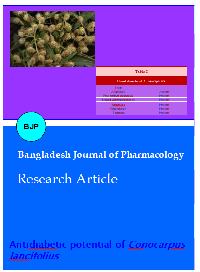 Additional Files
How to Cite
Saadullah, M., B. A. Chaudary, M. Uzair, and K. Afzal. "Antidiabetic Potential of Conocarpus Lancifolius". Bangladesh Journal of Pharmacology, vol. 9, no. 2, June 2014, pp. 244-9, doi:10.3329/bjp.v9i2.18556.
Section
Research Articles
License
Authors who publish with this journal agree to the following terms:
Authors retain copyright and grant the journal right of first publication with the work simultaneously licensed under a

Creative Commons Attribution License

that allows others to share the work with an acknowledgement of the work's authorship and initial publication in this journal.
Authors are able to enter into separate, additional contractual arrangements for the non-exclusive distribution of the journal's published version of the work (e.g., post it to an institutional repository or publish it in a book), with an acknowledgement of its initial publication in this journal.
Authors are permitted and encouraged to post their work online (e.g., in institutional repositories or on their website) prior to and during the submission process, as it can lead to productive exchanges, as well as earlier and greater citation of published work (See

The Effect of Open Access

).