2,4,3',4'-tetramethoxy-biphenyl induces apoptosis in MGC-803 cells through a mitochondrial/caspase pathway
Keywords:
Apoptosis, Caspases, MGC-803 cells, Mitochondria, Tetramethoxybiphenyl
Abstract
Anti-proliferative and apoptosis-inducing effects of 2,4,3?,4?-tetramethoxy-biphenyl (TMBP) on human gastric cancer MGC-803 cells were investigated. The molecular mechanisms of TMBP-mediated tumor cell death were detected by clonogenic assay, staining with Hoechst 33258, DNA fragmentation assay, Western blot analysis and flow cytometry assay. Studies on MGC-803 cells treated with TMBP showed that TMBP inhibited the proliferation of MGC-803 cells in a time- and dose-dependent manner. The induction of apoptosis by TMBP was accompanied by the loss of mitochondrial membrane potential (ΔΨm), cytochrome C release and activation of caspase cascade, resulting in the cleavage of some specific substrates for caspase-3 such as poly (ADP-ribose) polymerase (PARP). In conclusion, these findings showed that TMBP may induce the apoptosis of MGC-803 through a mitochondrial/caspase pathway, suggesting its possible use for treating human cancers.
Downloads
Download data is not yet available.
Abstract
1505
Download
698 Read
243
References
Ameisen JC. On the origin, and nature of programmed cell death: A timeline of four billion years. Cell Death Differ. 2002; 9: 367-93.
Bhushan S, Kumar A, Malik F, Andotra SS, Sethi VK, Kaur IP, Taneja SC, Qazi GN, Singh J. A triterpenediol from Boswellia serrata induces apoptosis through both the intrinsic and extrinsic apoptotic pathways in human leukemia HL-60 cells. Apoptosis 2007; 12: 1911-26.
Burlacu A. Regulation of apoptosis by Bcl-2 family proteins. J Cell Mol Med. 2003; 7: 249-57.
Cohen GM. Caspases: The executioners of apoptosis. Biochem J. 1997; 326: 1-16.
Fleischer A, Rebollo A, Ayllon V. BH3-only proteins: The lords of death. Arch Immunol Ther Exp. 2003; 51: 9-17.
Fulda S, Debatin KM. Extrinsic versus intrinsic apoptosis pathways in anti-cancer chemotherapy. Oncogene. 2006; 25: 4798-811.
Gelinas C, White E. BH3-only proteins in control: Specificity regulates MCL-1 and BAK-mediated apoptosis. Genes Dev. 2005; 19: 1263-68.
Ghobrial IM, Witzig TE, Adjei AA. CA. Targeting apoptosis pathways in cancer therapy. Cancer J Clin. 2005; 55: 178-94.
Han YH, Kim SZ, Kim SH, Park WH. Pyrogallol inhibits the growth of lung cancer Calu-6 cells via caspase-dependent apoptosis. Chem-Biol Interact. 2009; 177: 107-14.
Harada H, Grant S. Apoptosis regulators. Rev Clin Exp Hematol. 2003; 7: 117-38.
Hu J, Yan XL, Wang W, Wu H, Hua L, Du LJ. Anti-oxidant activity in vitro of three constituents from Caesalpinia sappan L. Tsinghua Sci Tech. 2008; 13: 474-79.
Ji YB, Qu ZY, Zou X. Juglone-induced apoptosis in human gastric cancer SGC-7901 cells via the mitochondrial pathway. Exp Toxicol Pathol. 2011; 63: 69-78.
Kaufmann SH, Desnoyers S, Ottaviano Y, Davidson NE, Poirier GG. Specific proteolytic cleavage of poly (ADP-ribose) polymerase: An early marker of chemotherapy-induced apoptosis. Cancer Res. 1993; 53: 3976-85.
Lazebnik YA, Kaufmann SH, Desnoyers S, Poirier GG, Earnshaw WC. Cleavage of poly (ADP-ribose) polymerase by a proteinase with properties like ICE. Nature 1994; 371: 346-47.
Lou C, Yang G, Cai H, Zou M, Xu Z, Li Y, Zhao F, Li W, Tong L, Wang M, Cai B. 2′, 4′-Dihydroxychalcone-induced apoptosis of human gastric cancer MGC-803 cells via down-regulation of survivin mRNA. Toxicol in vitro. 2010; 24: 1333-37.
Ly JD, Grubb DR, Lawen A. The mitochondrial membrane potential (deltapsi(m)) in apiotosis; An update. Apoptosis 2003; 8: 115-28.
Martindale JL, Holbrook NJ. Cellular response to oxidative stress: Signaling for suicide and survival. J Cell Physiol. 2002; 192: 1-15.
Niranjan Reddy VL, Ravikanth V, Jansi Lakshmi VV, Suryanarayan Murty U, Venkateswarlu Y. Inhibitory activity of homoisoflavonoids from Caesalpinia sappan against Beauveria bassiana. Fitoterapia 2003; 74: 600-02.
Pilatova M, Varinska L, Perjes P, Sarissk M, Mirossa L, Solar P, Ostro A, Mojzis J. In vitro antiproliferative and antiangiogenic effects of synthetic chalcone analogues. Toxicol in Vitro. 2010; 24: 1347-55.
Shen Y, Du X. The preparation and application of biphenyl compound, China Patent 200810070623.0. 2008.
Shemarova IV. Signaling mechanisms of apoptosis-like programmed cell death in unicellular eukaryotes. Comp Biochem Phys B. 2010; 155: 341-53.
Vaux DL, Korsmeyer SJ. Cell death in development. Cell 1999; 96: 245-54.
Wu J, Hou JB, Zhang MM, Zou YP, Yu B. Protosappanin A, an immunosuppressive constituent from a Chinese herb, prolongs graft survival and attenuates acute rejection in rat heart allografts. Transplant Proc. 2008; 40: 3719-22.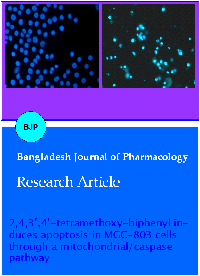 How to Cite
Sui, X., Z. Sun, W. An, K. Cheng, S. Jiang, and G. Xianfeng. "2,4,3',4'-Tetramethoxy-Biphenyl Induces Apoptosis in MGC-803 Cells through a mitochondrial/Caspase Pathway". Bangladesh Journal of Pharmacology, vol. 9, no. 2, June 2014, pp. 235-43, doi:10.3329/bjp.v9i2.18430.
Section
Research Articles
License
Authors who publish with this journal agree to the following terms:
Authors retain copyright and grant the journal right of first publication with the work simultaneously licensed under a

Creative Commons Attribution License

that allows others to share the work with an acknowledgement of the work's authorship and initial publication in this journal.
Authors are able to enter into separate, additional contractual arrangements for the non-exclusive distribution of the journal's published version of the work (e.g., post it to an institutional repository or publish it in a book), with an acknowledgement of its initial publication in this journal.
Authors are permitted and encouraged to post their work online (e.g., in institutional repositories or on their website) prior to and during the submission process, as it can lead to productive exchanges, as well as earlier and greater citation of published work (See

The Effect of Open Access

).