Arabinosyl transferase inhibitor design against Mycobacterium tuberculosis using ligand based drug design approach
Keywords:
Arbinosyl transferase, Docking, Ethambutol, Mycobacterium tuberculosis
Abstract
Antibiotic resistance is a major challenge to combat tuberculosis. Several reports of antibiotic resistance strains of Mycobacterium tuberculosis is strongly demanding the need of new and alternative antibiotics for its inhibition. Therefore, current investigation is an attempt to screen few lead molecules for the inhibition of arbinosyl transferase enzyme of M. tuberculosis. The inhibition of this enzyme is an established target of many antibiotics especially ethambutol. Herein, we have considered the structure of ethambutol as a starting point to screen active compound then ethambutol. Similar compounds were searched in chemical database and six compounds were identified and considered as selective arbinosyl transferase inhibitor based on physiochemical properties, bioactivity and ADME with least docking score. The compounds viz. ZINC00388344, ZINC003884, Chemspider2057082, ZINC-00388344, ZINC0038846, Chemspider2057082, Etha17 (analog) and Etha10 (analog) were finally screened and recommended for in vitro investigation.
Downloads
Download data is not yet available.
Abstract
2132
Download
854 Read
450
References
Amin AG, Goude R, Shi L, Zhang J, Chatterjee D, Parish T. EmbA is an essential arabinosyltransferase in Mycobacterium tuberculosis. Microbiology 2008; 154: 240-48.
Burris HA. Dual kinase inhibition in the treatment of breast cancer: Initial experience with the EGFR/ErbB-2 inhibitor lapatinib. Oncologist 2004: 9(Suppl 3): 10-15.
Gogoi D, Bezbaruah RL, Bordoloi M, Sarmah R, Bora TC. Insights from the docking analysis of biologically active compounds from plant Litsea Genus as potential COX-2 inhibitors. Bioinformation 2012; 8: 812-15.
Harries AD, Dye C. Tuberculosis. Ann Trop Med Parasitol. 2006; 100: 415-31.
Jain A, Mondal R. Extensively drug-resistant tuberculosis: Current challenges and threats. FEMS Immunol Med Microbiol. 2008; 53: 145-50.
Kumar A, Sandramouli S, Verma L, Tewari HK, Khosla PK. Ocular ethambutol toxicity: Is it reversible? J Clin Neuro-ophthalmol. 1993; 13: 15-17.
Lagunin A, Stepanchikova A, Filimonov D, Poroikov V. PASS: Prediction of activity spectra for biologically active substances. Bioinformatics 2000; 16: 747-48.
Lopez AD, Mathers CD. Measuring the global burden of disease and epidemiological transitions: 2002-2030. Ann Trop Med Parasitol. 2006; 100: 481-99.
McIlleron H, Willemse M, Werely CJ, Hussey GD, Schaaf HS, Smith PJ, Donald PR. Isoniazid plasma concentrations in a cohort of South African children with tuberculosis: Implications for international pediatric dosing guidelines. Clin Infect Dis. 2009; 48: 1547-53.
Norinder U, Bergstrom CA. Prediction of ADMET properties. Chem Med Chem. 2006; 1: 920-37.
Thomsen R, Christensen MH. MolDock: A new technique for high-accuracy molecular docking. J Med Chem. 2006; 49: 3315-21.
Zhang Z, Wang Y, Pang Y, Kam KM. Ethambutol resistance as determined by broth dilution method correlates better than sequencing results with embB mutations in multidrug-resistant Mycobacterium tuberculosis isolates. J Clin Microbiol. 2014; 52: 638-41.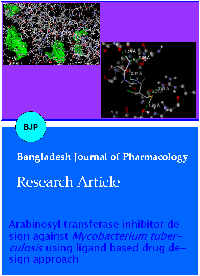 Additional Files
How to Cite
Kolita, B., D. Gogoi, P. P. Dutta, M. Bordoloi, and R. L. Bezbaruah. "Arabinosyl Transferase Inhibitor Design Against Mycobacterium Tuberculosis Using Ligand Based Drug Design Approach". Bangladesh Journal of Pharmacology, vol. 9, no. 2, May 2014, pp. 225-9, doi:10.3329/bjp.v9i2.18270.
Section
Research Articles
License
Authors who publish with this journal agree to the following terms:
Authors retain copyright and grant the journal right of first publication with the work simultaneously licensed under a

Creative Commons Attribution License

that allows others to share the work with an acknowledgement of the work's authorship and initial publication in this journal.
Authors are able to enter into separate, additional contractual arrangements for the non-exclusive distribution of the journal's published version of the work (e.g., post it to an institutional repository or publish it in a book), with an acknowledgement of its initial publication in this journal.
Authors are permitted and encouraged to post their work online (e.g., in institutional repositories or on their website) prior to and during the submission process, as it can lead to productive exchanges, as well as earlier and greater citation of published work (See

The Effect of Open Access

).