In vivo antioxidant and hepatoprotective effects of methanolic extract of dioclea reflexa seed in rats following acute or chronic liver injury
Keywords:
Antioxidant, Dioclea reflexa, Hepatoprotective, Oxidative stress
Abstract
Methanolic extract of Dioclea reflexa seed was investigated following acute or chronic carbon tetrachloride intoxication in male albino rats. In the acute experiment, rats were pre-treated with extract at 5 mg/kg for three days before administration of carbon tetrachloride(0.6 mL/kg) while in the chronic model, rats received extract at 2.5 mg/kg for 12 consecutive days with 72 hourly administration of carbon tetrachloride at 0.3 mL/kg. In both models, the levels of transaminases and malondialdehyde were significantly (p<0.05) reduced in D. reflexa extract treated rats compared to the carbon tetrachloride control, with concomitant boosting in the levels of superoxide dismutase and catalase activities. These results indicate that the seed extract of D. reflexa possess strong antioxidant and hepatoprotective properties in both acute and chronic hepatocellular damage and oxidative stress that it could impact positively on the health of the eastern Nigerian populace that consumes it regularly.
Downloads
Download data is not yet available.
Abstract
2552
Download
1810 Read
303
References
Abei H. Catalase. In: Method of enzymatic analysis. New York, Academic Press, 1979, pp 673-84.
Agba OA, Asiegbu JE, Omalik CPE. Effect of length of soakingin water at room temperature and hot water treatment on the germination of mucuna flagellipes (vogel Ex hook) seeds. Glob J Agric Sci.2005; 4; 15-18.
Akram J, Mohammad JK, Zahra D, Hossein N. Hepatoprotective activity of Cichorium intybus L. leaves extract against carbon tetrachloride induced toxicity. Iran J Pharm Res.2006; 1: 41-46.
Asuku O, Atawodi SE, Onyike E. Antioxidant, hepatoprotective, and ameliorative effects of methanolic extract of leaves of Grewia mollis Juss. on carbon tetrachloride treated albino rats. J Med Food. 2012; 15: 83-88.
Atawodi SE. Antioxidant potential of African medicinal plants. Afri J Biotechnol. 2005; 4: 128-33.
Atawodi SE, Atawodi JC, Idakwo P, Pfundstein B, Haubner R, Wurtele G, Spiegelhalder B, Bartsch HRW, Owen RW. Evaluation of the polyphenol composition and antioxidant activity of African variety of Dacryodes edulis (G.Don) H.J Lam fruit. J Med Food. 2009a; 12: 1321-25.
Atawodi SE, Atawodi JC, Pala Y, Idakwo P. Assessment of the polyphenol profile and antioxidant properties of leaves, stem and root barks of Khaya senegalensis Desv. Electron J Biol. 2009b;5: 80-84.
Atawodi SE, Atawodi JC, Idakwo GA, Pfundstein B, Haubner R, Wurtele G, Spiegelhalder B, Bartsch HRW, Owen RW. Evaluation of the polyphenol content and antioxidant properties of methanol extracts of the leaves, stem and root barks of Moringa oleifera, Lam. J Med Food.2010a; 13: 710-16.
Atawodi SE. Polyphenol composition and in vitro antioxidant potential of Nigerian Canarium schweinfurthii Engl. oil. Adv Biol Res. 2010;4: 314-22.
Atawodi SE, Atawodi JC, Pfundstein B, Spiegelhalder B, Bartsch H, Owen R. Assessment of the polyphenol components and in vitro antioxidant properties of Syzygium aromaticum (L.) Merr. and Perry. Electron J Environ Agric Food Chem. 2011a; 10: 1970-78.
Atawodi SE. Nigerian foodstuffs with prostate cancer chemopreventive polyphenols. Proceedings, science of global prostate cancer disparities in black men conference. Infect Ag Can. 2011b; 6: S2-S9.
Atawodi SE. Antimutagenic polyphenols in African foods: Sixth annual conference on environmental mutagens in human population. Q Sci Proc. 2012; 3: 96.
Colleen S, Allan MD, Micheal L. Marks basic medical biochemistry: A clinical approach. 2nd ed. 2003, p 453.
Faleye FJ. Extraction and characterisation of Dioclea reflexa Hook F. seed oil. Pak J Sc Ind Res. 2010; 53: 40-48.
Lako J, Trenerry VC, Rochfort S. Routine analytical methods for use in South Pacific regional laboratories for determining naturally occurring antioxidants in food. Int Food Res J. 2008; 15: 1-11.
Lasisi AA. Yusuf AA. Compositional analysis of horse eye (Dioclea Reflexa) seed flour and its cake. Agric J. 2006; 10: 28-31.
Norhaiza M, Maziah M, Hakiman M. Antioxidative properties of leaf extracts of a popular Malaysian herb, Labisia pumila. J Med Plants Res. 2009; 3: 217-23.
Nisar M, Qayum M, Ćavar S, Shah MR, Zia-Ul-Haq M, Khan I, Ahmad KW, Qayum ZA. Chemical constituents and antioxidant activity of n-hexane extract of Impatiens bicolor Royle. Chem Nat Comp. 2012; 48: 143-46.
Oladosu IA, Echeme JO, Zubair MF. Anticholinesterase and antibacterial activities of dioclimidazole from Dioclea reflexa seeds. Fitoterapia 2006; 77: 571-75.
Rizwan K, Zubair M, Rasool N, Riaz M, Zia-Ul-Haq M, De Feo V. Chemical and biological study of Agave attenuata. Int J Mol Sci. 2012; 13: 6440-51.
Singh S, Mehta A, Mehta P. Hepatoprotective activity of Cajanus cajan against carbon tetrachloride induced liver damage. Int J Pharm Pharm Sci. 2011; 3: 146-47.
Souri E, Amin G, Farsam H, Barazandeh TM. Screening of antioxidant activity and phenolic content of 24 medicinal plant extracts. DARU. 2008; 16: 83-87.
Usha K, Mary KG, Hemalatha P. Hepatoprotective effect of hygrophila spinosa and cassia occidentalis on carbon tetrachloride induced liver damage in experimental rats. Indian J Clin Biochem. 2007; 22: 132-35.
Vauzour D, Rodriguez-Mateos A, Corona G, Oruna-Concha MJ, Spencer JPE. Polyphenols and human health: Prevention of disease and mechanisms of action. Nutrition 2010; 2: 1106-31.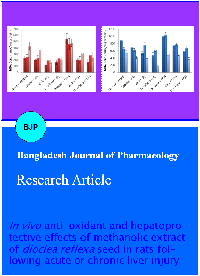 How to Cite
Iliemene, U. D., and S. E.-O. Atawodi. "In Vivo Antioxidant and Hepatoprotective Effects of Methanolic Extract of Dioclea Reflexa Seed in Rats Following Acute or Chronic Liver Injury". Bangladesh Journal of Pharmacology, vol. 9, no. 1, Mar. 2014, pp. 112-7, doi:10.3329/bjp.v9i1.17452.
Section
Research Articles
License
Authors who publish with this journal agree to the following terms:
Authors retain copyright and grant the journal right of first publication with the work simultaneously licensed under a

Creative Commons Attribution License

that allows others to share the work with an acknowledgement of the work's authorship and initial publication in this journal.
Authors are able to enter into separate, additional contractual arrangements for the non-exclusive distribution of the journal's published version of the work (e.g., post it to an institutional repository or publish it in a book), with an acknowledgement of its initial publication in this journal.
Authors are permitted and encouraged to post their work online (e.g., in institutional repositories or on their website) prior to and during the submission process, as it can lead to productive exchanges, as well as earlier and greater citation of published work (See

The Effect of Open Access

).