Quorum quenching and antibacterial activity of silver nanoparticles synthesized from Sargassum polyphyllum
Keywords:
AgNPs, Antiquorum sensing, Antibacterial activity, Sargassum polyphyllum, Swarming assay
Abstract
Development of efficient methodology for the green synthesis of silver nanoparticles using marine algae is a modern area of research in the field of phyconanotechnology. In this regard, the present study deals with green synthesis of silver nanoparticles (AgNPs) by using aqueous extracts of marine brown seaweed Sargassum polyphyllum.  UV-visible spectral analysis reveals the formation of AgNPs by showing absorption maximum at 420 nm wavelength and SEM analysis clearly elucidate the polydispersed structure of AgNPs without aggregation and ranged in size from 37-43 nm. X-ray Diffraction pattern confirmed the AgNPs crystalline personality. The synthesized AgNPs showed more enduring antibacterial activity against test bacterial pathogens. Furthermore, the synthesized AgNPs exhibited varying level of inhibition of violacein production and swarming motility. In the near future, silver nanoparticles can be extremely useful in clinical medicine as an alternative method for the treatment of wound infection.
Downloads
Download data is not yet available.
Abstract
4626
Download
1448 Read
537
References
Ahmad A, Mukherjee P, Mandal D, Senapati S, Khan Kumar R, Sastry M. Enzyme mediated extracellular synthesis of Cds nanoparticles by the fungus Fusarium oxysporum. J Am Chem Soc. 2002; 124: 12108-09.
Ahmad AS, Senapati Kham MI, Kumar R, Ramani R, Srinivas V, Sastry M. Intracellular synthesis of gold nanoparticles by a novel alkalotolerant actinomycete, Rhodococcus species. Nanotechnology 2003; 14: 824-28.
Asmathunisha N, Kathiresan K, Anburaj R, Nabeel MA. Synthesis of antimicrobial silver nanoparticles by callus leaf extracts from saltmarsh plant Sesuvium portulacastrum. L Coll Surf B Biointer. 2010; 79: 488-93.
Cho KH, Park JE, Osaka T, Park SG. The study of antimicrobial activity and preservative effects of nanosilver ingredient. Electrochim Acta. 2005; 51: 95.
David LE, Ryan E, Amanda K, Kent S, Dolina VD, Harvey RR, Ian M, Douglas GS. Pseudomonas aeruginosa Quorum-sensing systems may control virulence factor expression in the lungs of patients with cystic fibrosis. Infect Immu. 2002; 70: 1783-90.
Gade AK, Bonde PP, Ingle AP, Marcato P, Duran N, Rai MK. Exploitation of Aspergillus niger for synthesis of silver nanoparticles. J Biobased Mater Bioen. 2008; 2: 243-47.
Gnanadesigan M, Anand M, Ravikumar S, Maruthupandy M, Syed Ali M, Vijayakumar V, Kumaragu AK. Antibacterial potential of biosynthesised silver nanoparticles using Avicennia marina mangrove plant. Applied Nanaosci. 2012; 2: 143-47.
Harborne JB. Phytochemical methods: A guide to modern technique of plant analysis. London, Champman and Hall, 1998, pp 182-90.
Huang H, Yang XJ. Silver nanoparticles: A review. J Carbohydra Res. 2004; 339: 2627-31.
Jain D, Daima HK, Kachhwana S, Kothari SL. Synthesis of plant mediated silver nanoparticles using papaya fruit extract and evaluation of their antimicrobial activities. J Nanomet Biostr. 2009; 4: 557-63.
Jolocam M, George M, Song HC. Synthesis and characterisa-tion of silver nanoparticles using high electrical charge density and high viscosity organic. Res J Chem Sci. 2011; 1: 18-21.
Kim TN, Feng QL, Kim JO, Wu J, Wang H, Chen GL. Antimicrobial effects of metal ions (Ag+, Cu2+, Zn2+) in hydroxyapatite. J Mater Sci Mater Med. 1998; 9: 129-34.
Klug HP, Alexander LE. X-ray diffraction procedures for polycrystalline and amorphous materials. New York, Wiley, 1954, p 491.
Kohler T, Curty LK, Barja F, Van Delden C, Pechere JC. Swarming of Pseudomonas aeruginosa is dependent on cell-to-cell signaling and requires flagella and pili. J Bacteriol. 2000; 182: 5990-96.
Kyung-Hwan C, Jong-Eun P, Tetsuya O, Soo-Gill P. The study of antimicrobial activity and preservative effects of nanosilver ingredient. Electrochimica Acta. 2005; 51: 956-60.
Mcclean, KH. Quorum sensing and Chromobacterium violaceum: Exploitation of violacein production and inhibition for the detection of N-acylchomoserine lactones. Microbiology 1997; 143: 3703-11.
Nikaido H. Multidrug resistance in bacteria. Ann Rev Biochem. 2009; 78: 119-46.
Prasad TNVKV, Elumalai EK. Biofabrication of Ag nanoparticles using Moringa oleifera leaf extract and their antimicrobial activity. Asian Pacific J Trop Biomed. 2011; 1; 439-42.
Rajesh Kumar S, Kannan C, Annadurai G. Synthesis and characterization of antimicrobial silver nanoparticles using marine brown seaweed Padina tetrastromatica. Drug Invention Today. 2012; 4: 511-13.
Sharma DNK, Padma P, Khosa RL. Constituent of Tinospora cordifolia root. Fitoterapia LXIX. 2009; 6: 541-42.
Shrout JD, Chopp DL, Lust CL, Hentzer M, Givskov M, Parsek MR. The impact of quorum sensing and swarming motility on Pseudomonas aeruginosa biofilm formation is nutritionally conditional. Mol Microbiol. 2006; 62: 5.
Singh M, Kalaivani R, Manikandan S, Sangeetha N, Kumaraguru AK. Facile green synthesis of variable metallic gold nanoparticle using Padina gymnospora, a brown marine macroalgal. Appl Nanosci. 2013; 2: 145-51.
Smith AM, Duan H, Rhyner MN. Ruan G, Nie SA. A systematic examination of surface coatings on the optical and chemical properties of semiconductor quantum dots. Phys Chem. 2006; 8: 3895-903.
Thirumurugan A, Neethu AT, Jai ganesh R, Gobikrishnan S. Biological reduction of silver nanoparticles using plant leaf extracts and its effect on increased antimicrobial activity against clinically isolated organism. Der Pharma Chemica. 2010; 2: 279-84.
Vattem DA, Mihalik K, Chung DW, Crixell SH, McLean RJC. Quorum sensing modulators of Pseudomonas aeruginosa characterized in Camellia sinensis. Asian J Traditional Med. 2008; 3: 12-23.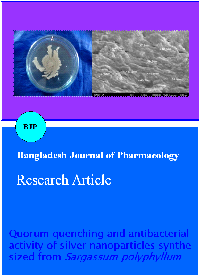 How to Cite
Arunkumar, M., K. Suhashini, N. Mahesh, and R. Ravikumar. "Quorum Quenching and Antibacterial Activity of Silver Nanoparticles Synthesized from Sargassum Polyphyllum". Bangladesh Journal of Pharmacology, vol. 9, no. 1, Feb. 2014, pp. 54-59, doi:10.3329/bjp.v9i1.17301.
Section
Research Articles
License
Authors who publish with this journal agree to the following terms:
Authors retain copyright and grant the journal right of first publication with the work simultaneously licensed under a

Creative Commons Attribution License

that allows others to share the work with an acknowledgement of the work's authorship and initial publication in this journal.
Authors are able to enter into separate, additional contractual arrangements for the non-exclusive distribution of the journal's published version of the work (e.g., post it to an institutional repository or publish it in a book), with an acknowledgement of its initial publication in this journal.
Authors are permitted and encouraged to post their work online (e.g., in institutional repositories or on their website) prior to and during the submission process, as it can lead to productive exchanges, as well as earlier and greater citation of published work (See

The Effect of Open Access

).