Design, docking, synthesis and anti-E. coli screening of novel thiadiazolo thiourea derivatives as possible inhibitors of Enoyl ACP reductase (FabI) enzyme
Sonia George

Department of Pharmaceutical Chemistry, College of Pharmacy, Sri Ramakrishna Institute of Paramedical Sciences, Coimbatore, Tamilnadu

Mohammed Basheer Ramzeena

Department of Pharmaceutical Chemistry, College of Pharmacy, Sri Ramakrishna Institute of Paramedical Sciences, Coimbatore, Tamilnadu

Sayee Vignesh Ram

Department of Pharmaceutical Chemistry, College of Pharmacy, Sri Ramakrishna Institute of Paramedical Sciences, Coimbatore, Tamilnadu

Senthil Kumar Selvaraj

Department of Pharmaceutical Chemistry, College of Pharmacy, Sri Ramakrishna Institute of Paramedical Sciences, Coimbatore, Tamilnadu

Shinu Rajan

Department of Pharmaceutical Chemistry, College of Pharmacy, Sri Ramakrishna Institute of Paramedical Sciences, Coimbatore, Tamilnadu

Thengungal Kochupappy Ravi

Department of Pharmaceutical Chemistry, College of Pharmacy, Sri Ramakrishna Institute of Paramedical Sciences, Coimbatore, Tamilnadu
Keywords:
Docking, Enoyl ACP reductase, Thiadiazole, Thiourea
Abstract
A series of 1-phenyl-[5-substitutedphenyl)-1,3,4-thiadiazol-2-yl]-3-thiourea (3a-h) were synthesized and screened for their anti Escherichia coli potential. The characterization of the newly synthesized compounds was based upon their spectral data. The design of the title compounds was done utilizing the in silico methodology. Virtual screening technique was utilized for the identification of the lead, thiadiazole. The pharmacokinetic behavior was predicted by lead optimization and docking studies helped to analyze the binding interactions. Antibacterial activity of the title compounds were predicted by the PASS prediction software. The anti E. coli screening results showed that the derivatives, 3b and 3h possessed significant activity.
Downloads
Download data is not yet available.
Abstract
1796
Download
969 Read
298
References
Arslan H, Duran N, Borekci G, Koray Ozer C, Akbay C. Antimicrobial activity of some thiourea derivatives and their nickel and copper complexes. Molecules 2009; 14: 519-27.
Cappuccino JG, Sherman N. Microbiology: A laboratory manual. 3rd ed. New York, Benjamin Cummings Publishing Company, 1992, pp 51-66.
Helmut B, Petra W, Angela ET, Birgit L et al. Protein EnvM Is the NADH-dependent enoyl-ACP Reductase (FabI) of Escherichia coli. J Biol Chem. 1994; 269: 5493-96.
Jatav V, Mishra P, Kashaw S, Stables JP. Synthesis and CNS depressant activity of some novel 3-[5-substituted1, 3, 4-thiadiazole-2-yl]-2-styryl quinazoline-4(3H)-ones. Eur J Med Chem. 2008; 43: 135-41.
Kuo MR, Morbidoni HR, Alland D, Sneddon SF, et al. Targeting tuberculosis and malaria through inhibition of enoyl reductase: Compound activity and structural data. J Biol Chem. 2003; 278: 20851-59.
Poroikov VV, Filimonov DA. How to acquire new biological activities in old compounds by computer prediction? J Comput Aided Mol Des. 2002; 16: 819-24.
Richard JH, Charles OR. Enoyl-acyl carrier protein reductase (fabI) plays a determinant role in completing cycles of fatty acid elongation in Escherichia coli. J Biol Chem. 1995; 270: 26538-42.
Roujeinikova A, Levy CW, Rowsell S, Sedelnikova S, et al. Crystallographic analysis of Triclosan bound to enoyl reductase. J Mol Biol. 1999; 294: 527-35.
Sonia G, Ravi TK. Design, synthesis and antitubercular screening of certain novel thiadiazolyl pyrrolidine carboxamides as enoyl acp reductase inhibitors. Int J Pharm Pharm Sci. 2011; 3: 280-84.
Sonia G, Ravi TK. Oxadiazolo pyrrolidine carboxamides as enoyl-ACP reductase inhibitors: Design, synthesis and antitubercular activity screening. Med Chem Res. 2012; 22: 3428-33.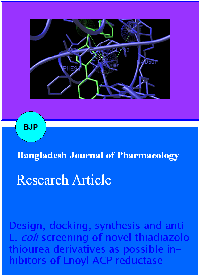 How to Cite
George, S., M. Ramzeena, S. Ram, S. Selvaraj, S. Rajan, and T. Ravi. "Design, Docking, Synthesis and Anti-E. Coli Screening of Novel Thiadiazolo Thiourea Derivatives As Possible Inhibitors of Enoyl ACP Reductase (FabI) Enzyme". Bangladesh Journal of Pharmacology, Vol. 9, no. 1, Jan. 2014, pp. 49-53, doi:10.3329/bjp.v9i1.16992.
Section
Research Articles
Copyright (c) 2014 Sonia George, Mohammed Basheer Ramzeena, Sayee Vignesh Ram, Senthil Kumar Selvaraj, Shinu Rajan, Thengungal Kochupappy Ravi
This work is licensed under a Creative Commons Attribution 4.0 International License.
Authors who publish with this journal agree to the following terms:
Authors retain copyright and grant the journal right of first publication with the work simultaneously licensed under a

Creative Commons Attribution License

that allows others to share the work with an acknowledgement of the work's authorship and initial publication in this journal.
Authors are able to enter into separate, additional contractual arrangements for the non-exclusive distribution of the journal's published version of the work (e.g., post it to an institutional repository or publish it in a book), with an acknowledgement of its initial publication in this journal.
Authors are permitted and encouraged to post their work online (e.g., in institutional repositories or on their website) prior to and during the submission process, as it can lead to productive exchanges, as well as earlier and greater citation of published work (See

The Effect of Open Access

).