In silico prediction of functional loss of cst3 gene in hereditary cerebral amyloid angiopathy
Piyush Choudhary

Industrial Biotechnology Division, School of Bio Sciences and Technology, Vellore Institute of Technology, Vellore 632014, Tamil Nadu

Juhee Singh

Industrial Biotechnology Division, School of Bio Sciences and Technology, Vellore Institute of Technology, Vellore 632014, Tamil Nadu

V. Karthick

Industrial Biotechnology Division, School of Bio Sciences and Technology, Vellore Institute of Technology, Vellore 632014, Tamil Nadu

V. Shanthi

Industrial Biotechnology Division, School of Bio Sciences and Technology, Vellore Institute of Technology, Vellore 632014, Tamil Nadu

R. Rajasekaran

Bioinformatics Division, School of Bio Sciences and Technology, Vellore Institute of Technology, Vellore 632014, Tamil Nadu

Karuppasamy Ramanathan

Industrial Biotechnology Division, School of Bio Sciences and Technology, Vellore Institute of Technology, Vellore 632014, Tamil Nadu
Keywords:
Cerebral amyloid angiopathy, CST3 gene, Genomi tool, Hereditary, In silico, Missense mutation
Abstract
The computational identification of missense mutation in CST3 (CYSTATIN 3 or CYSTATIN C) gene has been done in the present study. The missense mutations in the CST3 gene will leads to hereditary cerebral amyloid angiopathy  The initiation of the analysis was done with SIFT followed by POLYPHEN-2 and I-Mutant 2.0 using 24 variants of CST3 gene of Homo sapiens which were derived from dbSNP. The analysis showed that 5 variants (Y60C, C123Y, L19P, Y88C, L94Q) were found to be less stable and damaging by SIFT, POLYPHEN-2 and I-MUTANT2.0. Furthermore the outputs of SNP & GO are collaborated with PHD-SNP (Predictor of Human Deleterious-Single Nucleotide Polymorphism) and PANTHER to predict 5 variants (Y60C, Y88C, C123Y, L19P, and L94Q) having clinical impact in causing the disease.  These findings will be certainly helpful for the present medical practitioners for the treatment of cerebral amyloid angiopathy.
Downloads
Download data is not yet available.
Abstract
950
Download
396 Read
96
References
Altschul SF, Madden TL, Schäffer AA, Zhang J, Zhang Z, Miller W, Lipman DJ. Gapped BLAST and PSI-BLAST: A new generation of protein database search programs. Nucleic Acids Res. 1997; 25: 3389-402.
Arnold K, Bordoli L, Kopp J, Schwede T. The SWISS-MODEL Workspace: A web-based environment for protein structure homology modeling. Bioinformatics 2006; 22: 195-201.
Calabrese R, Capriotti E, Fariselli P, Martelli PL, Casadio R. Functional annotations improve the predictive score of human disease-related mutations in proteins. Human Mutation 2009; 30: 1237-44.
Capriotti E, Fariselli P, Casadio R. I-Mutant2.0: Predicting stability changes upon mutation from the protein sequence or structure. Nucleic Acids Res. 2005; 33: 306-10.
Goate A, Chartier-Harlin MC, Mullan M, Brown J, Crawford F, Fidani L, Giuffra L, Haynes A, Irving N, James L, et al. Segregation of a missense mutation in the amyloid precursor protein gene with familial Alzheimer's disease. Nature 1991; 349: 704-06.
Johansson MU, Zoete V, Michielin O, Guex N. Defining and searching for structural motifs using DeepView/Swiss-PdbViewer. BMC Bioinformatics 2012; 13: 173.
Kumar P, Henikoff S, Ng PC. Predicting the effects of coding non- synonymous variants on protein function using the SIFT algorithm. Nat. Protoc. 2009; 4: 1073-81.
Ng PC, Henikoff S. Predicting deleterious amino acid substitutions. Genome Res. 2001; 11: 863-74.
Ng PC, Henikoff S. SIFT: Predicting amino acid changes that affect protein function. Nucleic Acids Res. 2003; 31: 3812-14.
Rajasekaran R, Sudandiradoss C, Doss CG, Sethumadhavan R. Identification and in silico analysis of functional SNPs of the BRCA1 gene. Genomics. 2007; 90: 447-52.
Ramensky V, Bork P, Sunyaev S. Human non-synonymous SNPs: Server and survey. Nucleic Acids Res. 2002; 30: 3894-900.
Saitoh E, Sabatini LM, Eddy RL, Shows TB, Azen EA, Isemura S, Sanada K. The human cystatin C gene (CST3) is a member of the cystatin gene family which is localized on chromosome 20. Biochem Biophys Res Commun. 1989; 162: 1324-31.
Sherry ST, Ward MH, Kholodov M, Baker J, Phan L, Smigielski EM, Sirotkin K. dbSNP: The NCBI database of genetic variation. Nucleic Acids Res. 2001; 29: 308-11.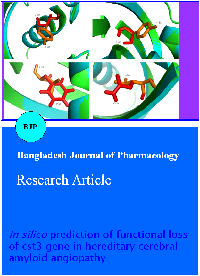 How to Cite
Choudhary, P., J. Singh, V. Karthick, V. Shanthi, R. Rajasekaran, and K. Ramanathan. "In Silico Prediction of Functional Loss of Cst3 Gene in Hereditary Cerebral Amyloid Angiopathy". Bangladesh Journal of Pharmacology, Vol. 8, no. 4, Nov. 2013, pp. 390-4, doi:10.3329/bjp.v8i4.16524.
Section
Research Articles
Copyright (c) 2013 Piyush Choudhary, Juhee Singh, V. Karthick, V. Shanthi, R. Rajasekaran, Karuppasamy Ramanathan
This work is licensed under a Creative Commons Attribution 4.0 International License.
Authors who publish with this journal agree to the following terms:
Authors retain copyright and grant the journal right of first publication with the work simultaneously licensed under a

Creative Commons Attribution License

that allows others to share the work with an acknowledgement of the work's authorship and initial publication in this journal.
Authors are able to enter into separate, additional contractual arrangements for the non-exclusive distribution of the journal's published version of the work (e.g., post it to an institutional repository or publish it in a book), with an acknowledgement of its initial publication in this journal.
Authors are permitted and encouraged to post their work online (e.g., in institutional repositories or on their website) prior to and during the submission process, as it can lead to productive exchanges, as well as earlier and greater citation of published work (See

The Effect of Open Access

).