Jaceosidin inhibits proliferation of human bladder cancer T24 cells through induction of cell cycle arrest and apoptosis
Yong Li

The First Hospital of Jilin University, Changchun, China, 130021 and The 210th Hospital of PLA, Dalian 116100

Yan Tan

The first Hospital of Jilin University, Changchun and The People?s Hospital of Jilin Province, Changchun
Keywords:
Apoptosis, Artemesia argyi, Bladder cancer, Jaceosidin, T24 cells
Abstract
Jaceosidin, isolated from Artemesia argyi, has been shown to possess promising anticancer potential against various cancer cells. However, its effect against bladder cancer cells remained unknown. In this study, for the first time, we investigated the effects of jaceosidin on cell proliferation, cell cycle, and apoptosis in bladder cancer T24 cells by using MTT assay and flow cytometric analysis. The results revealed that jaceosidin decreased the cell viability of bladder cancer T24 cells in a dose- and time-dependent manner. Flow cytometric analysis demonstrated that jaceosidin significantly triggered apoptosis in T24 cells and arrested cell cycle at G2/M phase in a time-dependent manner. Further characterization showed that jaceosidin-induced apoptosis is associated with dissipation in mitochondrial membrane potential (??m), up-regulation of Bax and down-regulation of Bcl-2 in jaceosidin-treated T24 cells. These in vitro results suggested that jaceosidin should be further examined for in vivo activity and molecular mechanism in human bladder cancer.
Downloads
Download data is not yet available.
Abstract
1025
Download
343 Read
77
References
Adams JM, Cory S. The Bcl-2 apoptotic switch in cancer development and therapy. Oncogene 2007; 26: 1324-37.
Amin AR, Kucuk O, Khuri FR, Shin DM. Perspectives for cancer prevention with natural compounds. J Clin Oncol. 2009; 27: 2712-25.
Burlacu A. Regulation of apoptosis by Bcl-2 family proteins. J Cell Mol Med. 2003; 7: 249-57.
Buytaert E, Dewaele M, Agostinis P. Molecular effectors of multiple cell death pathways initiated by photodynamic therapy. Biochim Biophys Acta. 2007; 1776: 86-107.
Cragg GM, Newman DJ. Plants as a source of anti-cancer agents. J Ethnopharmacol. 2005; 100: 72-79.
Danial NN. BCL-2 family proteins: critical checkpoints of apoptotic cell death. Clin Cancer Res. 2007; 13: 7254-63.
Elmore S. Apoptosis: A review of programmed cell death. Toxicol Pathol. 2007; 35: 495-516.
Fulda S. Evasion of apoptosis as a cellular stress response in cancer. Int J Cell Biol. 2010; 2010: 370835.
Grana X, Reddy EP. Cell cycle control in mammalian cells: role of cyclins, cyclin dependent kinases (CDKs), growth suppressor genes and cyclin-dependent kinase inhibitors (CKIs). Oncogene 1995; 11: 211-19.
Hengartner MO. The biochemistry of apoptosis. Nature 2000; 407: 770-76.
Khan M, Rasul A, Yi F, Zhong L, Ma T. Jaceosidin induces p53-dependent G2/M phase arrest in U87 glioblastoma cells. Asian Pac J Cancer Prev. 2011; 12: 3235-38.
Khan M, Yu B, Rasul A, Al Shawi A, Yi F, Yang H, Ma T. Jaceosidin Induces Apoptosis in U87 Glioblastoma Cells through G2/M Phase Arrest. Evid Based Complement Alternat Med. 2012; 2012: 703034.
Kim MJ, Han JM, Jin YY, Baek NI, Bang MH, Chung HG, Choi MS, Lee KT, Sok DE, Jeong TS. In vitro antioxidant and anti-inflammatory activities of jaceosidin from Artemisia princeps Pampanini cv. Sajabal. Arch Pharm Res. 2008; 31: 429-37.
Kluck RM, Bossy-Wetzel E, Green DR, Newmeyer DD. The release of cytochrome c from mitochondria: A primary site for Bcl-2 regulation of apoptosis. Science 1997; 275: 1132-36.
Konno S. Effect of various natural products on growth of bladder cancer cells: Two promising mushroom extracts. Altern Med Rev. 2007; 12: 63-68.
Lawen A. Apoptosis: An introduction. Bioessays 2003; 25: 888-96.
Lee JG, Kim JH, Ahn JH, Lee KT, Baek NI, Choi JH. Jaceosidin, isolated from dietary mugwort (Artemisia princeps), induces G2/M cell cycle arrest by inactivating cdc25C-cdc2 via ATM-Chk1/2 activation. Food Chem Toxicol. 2013; 55: 214-21.
Lee SH, Lee MY, Kang HM, Han DC, Son KH, Yang DC, Sung ND, Lee CW, Kim HM, Kwon BM. Anti-tumor activity of the farnesyl-protein transferase inhibitors arteminolides, isolated from Artemisa. Bioorg Med Chem. 2003; 11: 4545-49.
Leist M, Jaattela M. Four deaths and a funeral: from caspases to alternative mechanisms. Nat Rev Mol Cell Biol. 2001; 2: 589-98.
Lv W, Sheng X, Chen T, Xu Q, Xie X. Jaceosidin induces apoptosis in human ovary cancer cells through mitochondrial pathway. J Biomed Biotechnol. 2008; 2008: 394802.
Mallat Z, Tedgui A. Apoptosis in the vasculature: mechanisms and functional importance. Br J Pharmacol. 2000; 130: 947-62.
Mashima T, Tsuruo T. Defects of the apoptotic pathway as therapeutic target against cancer. Drug Resist Updat 2005; 8: 339-43.
Min SW, Kim NJ, Baek NI, Kim DH. Inhibitory effect of eupatilin and jaceosidin isolated from Artemisia princeps on carrageenan-induced inflammation in mice. J Ethnopharmacol. 2009; 125: 497-500.
Ploeg M, Aben KK, Kiemeney LA. The present and future burden of urinary bladder cancer in the world. World J Urol. 2009; 27: 289-93.
Pommier Y, Sordet O, Antony S, Hayward RL, Kohn KW. Apoptosis defects and chemotherapy resistance: Molecular interaction maps and networks. Oncogene 2004; 23: 2934-49.
Rasul A, Bao R, Malhi M, Zhao B, Tsuji I, Li J, Li X. Induction of apoptosis by costunolide in bladder cancer cells is mediated through ROS generation and mitochondrial dysfunction. Molecules 2013; 18: 1418-33.
Rasul A, Ding C, Li X, Khan M, Yi F, Ali M, Ma T. Dracorhodin perchlorate inhibits PI3K/Akt and NF-kappaB activation, up-regulates the expression of p53, and enhances apoptosis. Apoptosis 2012a; 17: 1104-19.
Rasul A, Khan M, Yu B, Ma T, Yang H. Xanthoxyletin, a coumarin induces S phase arrest and apoptosis in human gastric adenocarcinoma SGC-7901 cells. Asian Pac J Cancer Prev. 2011; 12: 1219-23.
Rasul A, Yu B, Khan M, Zhang K, Iqbal F, Ma T, Yang H. Magnolol, a natural compound, induces apoptosis of SGC-7901 human gastric adenocarcinoma cells via the mitochondrial and PI3K/Akt signaling pathways. Int J Oncol. 2012b; 40: 1153-61.
Reed JC. Bcl-2 family proteins. Oncogene 1998; 17: 3225-3236.
Reed JC. Apoptosis-based therapies. Nat Rev Drug Discov. 2002; 1: 111-21.
Saha A, Kuzuhara T, Echigo N, Suganuma M, Fujiki H. New role of (-)-epicatechin in enhancing the induction of growth inhibition and apoptosis in human lung cancer cells by curcumin. Cancer Prev Res. 2010; 3: 953-62.
Tan RX, Zheng WF, Tang HQ. Biologically active substances from the genus Artemisia. Planta Med. 1998; 64: 295-302.
Vermeulen K, Van Bockstaele DR, Berneman ZN. The cell cycle: A review of regulation, deregulation and therapeutic targets in cancer. Cell Prolif. 2003; 36: 131-49.
Wang X. The expanding role of mitochondria in apoptosis. Genes Dev. 2001; 15: 2922-33.
Wu XJ, Hu Y, Lamy E, Mersch-Sundermann V. Apoptosis induction in human lung adenocarcinoma cells by oil-soluble allyl sulfides: Triggers, pathways, and modulators. Environ Mol Mutagen. 2009; 50: 266-75.
Zhang JY. Apoptosis-based anticancer drugs. Nat Rev Drug Discov. 2002; 1: 101-02.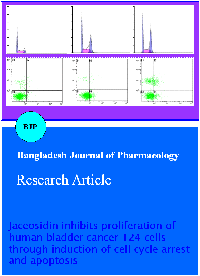 How to Cite
Li, Y., and Y. Tan. "Jaceosidin Inhibits Proliferation of Human Bladder Cancer T24 Cells through Induction of Cell Cycle Arrest and Apoptosis". Bangladesh Journal of Pharmacology, Vol. 8, no. 3, Aug. 2013, pp. 349-56, doi:10.3329/bjp.v8i3.15620.
Section
Research Articles
Copyright (c) 2013 Yong Li, Yan Tan
This work is licensed under a Creative Commons Attribution 4.0 International License.
Authors who publish with this journal agree to the following terms:
Authors retain copyright and grant the journal right of first publication with the work simultaneously licensed under a

Creative Commons Attribution License

that allows others to share the work with an acknowledgement of the work's authorship and initial publication in this journal.
Authors are able to enter into separate, additional contractual arrangements for the non-exclusive distribution of the journal's published version of the work (e.g., post it to an institutional repository or publish it in a book), with an acknowledgement of its initial publication in this journal.
Authors are permitted and encouraged to post their work online (e.g., in institutional repositories or on their website) prior to and during the submission process, as it can lead to productive exchanges, as well as earlier and greater citation of published work (See

The Effect of Open Access

).