Hepatoprotective potential of Convolvulus arvensis against paracetamol-induced hepatotoxicity
Mohsin Ali

College of Pharmacy, GC University, Faisalabad

M. Imran Qadir

College of Pharmacy, GC University, Faisalabad

Mohammad Saleem

College of Pharmacy, GC University, Faisalabad

Khalid Hussain Janbaz

Faculty of Pharmacy, Bahauddin Zakariya University, Multan

Humaira Gul

College of Pharmacy, GC University, Faisalabad

Liaqat Hussain

College of Pharmacy, GC University, Faisalabad

Bashir Ahmad

Faculty of Pharmacy, Bahauddin Zakariya University, Multan
Keywords:
Hepatoprotective, Serum enzymes, Hepatotoxicity, Paracetamol
Abstract
Convolvulus arvensis is traditionally used as laxative. Its decoction is used in cough, flu, jaundice and in skin diseases. It is also used to treat the painful joints, inflammation and swelling. The current study was conducted to determine its hepatoprotective activity. The results showed that extract of C. arvensis (200 mg/kg and 500 mg/kg) produced significant (p<0.05) decrease in paracetamol induced increased levels of liver enzymes and total bilirubin. Histopathological investigation and detection of active constituent, qurecetin by HPLC also supported the results. So the current study showed that ethanolic extract of C. arvensis possess hepatoprotective activity.
Downloads
Download data is not yet available.
Abstract
1827
Download
883 Read
138
References
Adewusi AE, Afolayan JA. A review of natural products with hepatoprotectiveactivity. J Medcinal Plant Res. 2010; 4, 1318-34.
Ahmad M, Mahmood Q, Gulzar K, Akhtar MS, Saleem M, Qadir MI. Antihyperlipidaemic and hepatoprotective activity of Dodonaea viscosa leaves extracts in alloxan-induced diabetic rabbits (Oryctolagus cuniculus). Pak Vet J. 2012; 32: 50-54.
Akhtar MS, Asjad HMM, Bashir S, Malik A, Khalid R, Gulzar F, Irshad N. Evaluation of antioxidant and hepatoprotective effects of Khamira Gaozaban Ambri Jadwar Ood Saleeb Wala (KGA). Bangladesh J Pharmacol. 2013; 8: 44-48.
Atta AH, Mohamed NH, Naser SM, Mouneir SM. Phytochemical and pharmacological studies on Convolvulus fatmensis Ktze. J Natural Rem. 2007; 7: 109-19.
Bag AK, Mumtaz SMF. Hepatoprotective and nephroprotective activity of hydroalcoholic extract OfIpomoea staphylina leaves. Bangladesh J Pharmacol. 2013; 8: 263-68.
Balamurugan G, Muthusamy P. Observation of the hepatoprotective and antioxidant activities of Trianthema decandra Linn. (Vallai sharunnai) roots on carbon tetrachloride-treated rats. Bangladesh J Pharmacol. 2008; 3: 83-89.
Elzaawely AA, Tawata S. Antioxident Activity of Phenolic Rich Fraction obtained from Convolvulus arvensis L. leaves grown in Egypt. Asian J Crop Sci.2012; 4, 32-40.
Girish C, Koner CB, Jayanthi S, Rao RK, Rajesh B, Pradhan CS. Hepatoprotective activity of picroliv, curcumin and ellagic acid compared to silymarin on paracetamol induced liver toxicity in mice. Fundamen Clin Pharmacol. 2009; 23, 735-45.
Hegde K, Joshi AB. Hepatoprotective and antioxidant effect of Carissa spinarum root extract against CCl4 and paracetamol-induced hepatic damage in rats. Bangladesh J Pharmacol. 2010; 5: 73-76.
Iqbal H, Sher Z, Khan UZ. Medicinal plants from salt range Pinddadan Khan, District Jehlum, Punjab, Pakistan. J Medcinal Plant Res. 2011; 5: 2157-68.
Kaur M, Kalia A. Convolvulus arvensis: A useful weed. Intern J Pharm and Pharmaceut Sci. 2012; 4: 38-40.
Khadeem JE. Identification of quercetin in Echinopstenuisectus family compositeae. AJPS.2007; 4: 64-80.
Khan I, Singh V, Chaudhary AK. Hepatoprotective activity of Pinus roxburghii Sarg. wood oil against carbon tetrachloride- and ethanol-induced hepatotoxicity. 2012; 7: 94-99.
Kumar HC, Ramesh A, Kumar SN, Ishaq MB. A review on hepatoprotectiveactivity of medicinal plants. IJPSR. 2011; 2: 501-15.
Mungole JA, Awati R, Chaturvedi A, Zanwar P. Preliminary phytochemical screening of Ipomoea obscura (L): A hepatoprotective medicinal plant. Inter J Pharm Tech Res. 2010; 2: 2307-12.
Pavanato A, Tuñón MJ, Sánchez CS, Marroni CA, Llesuy S, González GJ, Marroni N. 2003. Effects of quercetin on liver damage in rats with carbon tetrachloride-induced cirrhosis. Dig Dis Sci. 2008; 48: 824-29.
Sabir MS, Rocha TBJ. Water-extractable phytochemicals from Phyllanthus niruri exhibit distinct in vitro antioxidant and in vivo hepatoprotective activity against paracetamol-induced liver damage in mice. Food Chem. 2008; 111: 845-51.
Saboo SS, Tapadiya G, Farooqui IA, Khadabadi SS. Free radical scavenging, in vivo antioxidant and hepatoprotective activity of folk medicine Trichodesma sedgwickianum. Bangladesh J Pharmacol. 2013; 8: 58-64.
Sadeque MZ, Begum ZA. Protective effect of dried fruits of Carica papaya on hepatotoxicity in rat. Bangladesh J Pharmacol. 2010; 5: 48-50.
Shanmugasundaram P, Venkataraman S. Hepatoprotective and antioxidant effect of Hygrophila auriculata (K. Schum) Heine Acanthacaea root extract. J Ethnopharmacol. 2006; 104: 124-28.
Thakare SP, Jain HN, Patil SD, Upadhyay UM. Hepatoprotective effect of Cocculus hirsutus on bile duct ligation-induced liver fibrosis in Albino Wistar rats. Bangladesh J Pharmacol. 2009; 4: 126-30.
Thakral J, Borar S, Kalia JAR. Antioxidant potential fractionation from methanol extract of aerial parts of Convolvulus arvensis Linn. (Convolvulaceae). Inter J Pharma Sci Drug Res. 2010; 2: 219-23.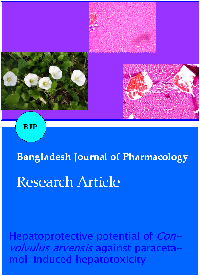 How to Cite
Ali, M., M. I. Qadir, M. Saleem, K. H. Janbaz, H. Gul, L. Hussain, and B. Ahmad. "Hepatoprotective Potential of Convolvulus Arvensis Against Paracetamol-Induced Hepatotoxicity". Bangladesh Journal of Pharmacology, Vol. 8, no. 3, July 2013, pp. 300-4, doi:10.3329/bjp.v8i3.15165.
Section
Research Articles
Copyright (c) 2013 Mohsin Ali, M. Imran Qadir, Mohammad Saleem, Khalid Hussain Janbaz, Humaira Gul, Liaqat Hussain, Bashir Ahmad
This work is licensed under a Creative Commons Attribution 4.0 International License.
Authors who publish with this journal agree to the following terms:
Authors retain copyright and grant the journal right of first publication with the work simultaneously licensed under a

Creative Commons Attribution License

that allows others to share the work with an acknowledgement of the work's authorship and initial publication in this journal.
Authors are able to enter into separate, additional contractual arrangements for the non-exclusive distribution of the journal's published version of the work (e.g., post it to an institutional repository or publish it in a book), with an acknowledgement of its initial publication in this journal.
Authors are permitted and encouraged to post their work online (e.g., in institutional repositories or on their website) prior to and during the submission process, as it can lead to productive exchanges, as well as earlier and greater citation of published work (See

The Effect of Open Access

).