Antimicrobial and cytotoxic potentials of Buddleja polystachya extracts
Keywords:
Antimicrobial, Buddleja polystachya, Cytotoxicity, Crystal violet assay
Abstract
Most of the species of Buddleja have found applications in folk medicine. This study aimed to evaluate the in vitro antimicrobial and cytotoxic potentials of B. polystachya extracts. Four extracts were prepared A-D (dichloromethane, ethyl acetate, n-butanol, and aqueous extracts, respectively). The antimicrobial activity was evaluated using the broth micro-dilution assay for minimum inhibitory concentrations (MIC). The crystal violet staining method (CVS) was used for the evaluation of the cytotoxic activity on HepG-2, MCF-7 and HCT-116 human cell lines. Results showed that  the highest antimicrobial activity was given by the ethyl acetate extract followed by the dichloromethane extract, while the n-butanol revealed moderate activity against gram positive bacteria only with no activity against the rest of tested microorganisms. The aqueous extract was totally ineffective against all tested microorganisms at 20 mg/ml. Among the four extracts tested, dichloromethane and ethyl acetate extracts showed the highest cytotoxic activity on all three human cell lines.
Downloads
Download data is not yet available.
Abstract
5636
Download
925 Read
176
References
Arif T, Bhosale JD, Kumar N, Mandal TK, Bendre RS, Lavekar GS, Dabur R. Natural products-antifungal agents derived from plants. J Asian Nat Prod Res. 2009; 11: 621-38.
Bakri IM, Douglas CW. Inhibitory effect of garlic extract on oral bacteria. Arch Oral Biol. 2005; 50: 645-51.
Emam AM, Diaz-Lanza AM, Matellano-Fernandez L, Faure R, Moussa AM, Balansard G. Biological activities of Buddelasaponin isolated from Buddleja madagascarensis and Scrophularia scorodonia. Pharmazie 1997; 52: 76-77.
Fridkin SK, Jarvis WR. Epidemiology of nosocomial fungal infection. Clin Microbiol Rev. 1996; 9: 499-511.
Gupta AK, Cooper EA. Update in antifungal therapy of dermatophytosis. Mycopathologia 2008; 166: 353-67.
Gupta P, Murali P, Murali MV, Faridi MMA, Kaul PB, Rama VC, Talwar V. Clinical profile of Klebsiella septicaemia in neonates. Indian J Paediatr. 1993; 60: 565-72.
Houghton PJ. Ethnopharmacology of Some Buddleja Species. J Ethnopharmacol. 1984; 11: 293-308.
Itagaki H, Hagino S, Kato S, Kobayashi T, Umeda M. An in vitro alternative to the draize eye-irritation test: Evaluation of the crystal violet staining method. Toxicol In Vitro. 1991; 5: 139-43.
Jiaoshe L, Yuying Z, Bin W, Jingrong C. Phenylethanoid glucosides from flos Buddlejae. China journal of Chinese Materia Medica. 1997; 22: 613-15.
Mensah AY, Houghton PJ, Bloomfield S, Vlietinck A, Vanden-Berghe D. Known and novel terpenes from Buddleja globosa displaying selective anti-fungal activity against dermatophytes. J Nat Prod. 2000; 63: 121013.
NCCLS (National Committee for Clinical Laboratory Standards). Reference method for broth dilution antifungal susceptibility testing of yeasts. Approved standard M27-A2. Wayne, PA, NCCLS, 2002.
NCCLS (National Committee for Clinical Laboratory Standards). Performance standards for antimicrobial susceptibility testing, 16th informational supplement, M100-S14. Wayne, PA, NCCLS, 2004.
Pardo F, Perich F, Villaroel L, Torres R. Isolation of verbascoside an antimicrobial constituent of Buddleja globosa leaves. J Ethnopharmacol. 1993; 39: 221-22.
Saotome K, Morita H, Umeda M. Cytotoxicity test with simplified crystal violet staining method using microtitre plates and its application to injection drugs. Toxicol In Vitro. 1989; 3: 317-21.
Sarkar R, Mandal N. In vitro cytotoxic effect of hydroalcoholic extracts of medicinal plants on Ehrlichs Ascites Carcinoma (EAC). IJOP. 2011; 3: 370-80.
Zhu L, Tian YJ, Yang L, Jiang JG. Chemical composition and antimicrobial activities of essential oil of Blumea megacephala, EXCLI J. 2011; 10: 62-68.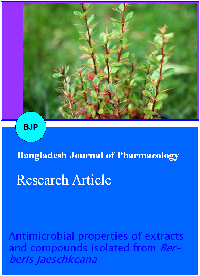 Additional Files
How to Cite
Fawzy, G. A., A. A. E. Gamal, and H. Y. Al Ati. "Antimicrobial and Cytotoxic Potentials of Buddleja Polystachya Extracts". Bangladesh Journal of Pharmacology, vol. 8, no. 2, Mar. 2013, pp. 136-41, doi:10.3329/bjp.v8i2.13844.
Section
Research Articles
License
Authors who publish with this journal agree to the following terms:
Authors retain copyright and grant the journal right of first publication with the work simultaneously licensed under a

Creative Commons Attribution License

that allows others to share the work with an acknowledgement of the work's authorship and initial publication in this journal.
Authors are able to enter into separate, additional contractual arrangements for the non-exclusive distribution of the journal's published version of the work (e.g., post it to an institutional repository or publish it in a book), with an acknowledgement of its initial publication in this journal.
Authors are permitted and encouraged to post their work online (e.g., in institutional repositories or on their website) prior to and during the submission process, as it can lead to productive exchanges, as well as earlier and greater citation of published work (See

The Effect of Open Access

).