Anti-proliferative and apoptosis-inducing activities of juglone in LS-174T cells
Qiang Li

School of Chemistry and Materials Science, Heilongjiang University, Harbin 150080

Xue-Ling Zhao

School of Chemistry and Materials Science, Heilongjiang University, Harbin 150080

Juan Sun

School of Chemistry and Materials Science, Heilongjiang University, Harbin 150080

Shou-Gang Jiang

Key Laboratory of Forest Plant Ecology, Ministry of Education, Northeast Forestry University, Harbin 150040

Gong Xianfeng

School of Chemistry and Materials Science, Heilongjiang University, Harbin 150080
Keywords:
Apoptosis, Caspase, Juglone, LS-174T cell, NAC
Abstract
Anti-proliferative and apoptosis-inducing effects of juglone in LS-174T cells were investigated. In this study, we showed that juglone inhibited the proliferation of LS-174T cells in a time and dose-dependent manner, treatment of juglone resulted in the activation of caspase-9 and caspase-3, decrease of Bcl-2. N-acetylcysteine significantly attenuate LS-174T cell death induced by juglone (p<0.001). In addition, NAC could reverse caspase-3 and caspase-9 activation, increase expression of Bcl-2 protein. Taken together, these findings indicated that juglone-mediated oxidative injury may act as upstream change, trigger ROS release, Bcl-2 modulation, caspase activation, and consequently leading cell apoptosis in LS-174T cells. In conclusion, these findings suggest that juglone may be an effective way for treating human cancers.
Downloads
Download data is not yet available.
Abstract
3604
Download
1846 Read
484
References
Adams JM, Cory S. The Bcl-2 protein family: Arbiters of cell survival. Science 1998; 281: 1322-26.
Babula P, Adam V, Havel L, Kizek R. Naphthoquinones and their pharmacological properties. Ceska Slov Farm. 2007; 56: 114-20.
Burlacu A. Regulation of apoptosis by Bcl-2 family proteins. J Cell Mol Med. 2003; 7: 249-57.
Chen YC, Lin-Shiau SY, Lin JK. Involvement of reactive oxygen species and caspase-3 activation in arsenite-induced apoptosis. J Cell Phys. 1998; 177: 324-33.
Clark AM, Jurgens TM, Hufford CD. Antimicrobial activity of juglone. Phytother Res. 2006; 4:11-14.
Inbaraj JJ, Chignell CF. Cytotoxic action of juglone and plumbagin: A mechanistic study using HaCaT keratinocytes. Chem Res Toxicol. 2004; 17: 55-62.
Ji Y B, Qu ZY, Zou X. Juglone-induced apoptosis in human gastric cancer SGC-7901 cells via the mitochondrial pathway. Exp Toxicol Pathol. 2009; 63: 69-78.
Jing Y, Dai J, Chalmers-Redman RM, Tatton WG, Waxman S. Arsenic trioxide selectively induces acute promyelocytic leukemia cell apoptosis via a hydrogen peroxide-dependent pathway. Blood 1999; 94: 2102-11.
Kamei H, Koide T, Kojima T, Hashimoto Y, Hasegawa M. Inhibition of cell growth in culture by quinones. Cancer Biother Radiopharm. 1998; 13: 185-88.
Kaufmann SH, Desnoyers S, Ottaviano Y, Davidson NE, Poirier G.G. Specific proteolytic cleavage of poly (ADP-ribose) polymerase: An early marker of chemotherapy-induced apoptosis. Cancer Res. 1993; 53: 3976-85.
Kiran B. Juglone, a naphthoquinone from walnut, exerts cytotoxic and genotoxic effects against cultured melanoma tumor cells. Cell Biol Int. 2009; 33: 1039-49.
Kwon KB, Kim EK, Shin BC, Seo EA, Yang JY, Ryu DG. Herba houttuyniae extract induces apoptotic death of human promyelocytic leukemia cells via caspase activation accompanied by dissipation of mitochondria membrane potential and cytochrome c release. Exp Mol Med. 2003; 35:91-97.
Larrick JW, Wright SC. Cytotoxic mechanism of tumor necrosis factor-?. FASEB J. 1990; 4: 3215-23.
Lauteburg BH, Corcoran GB, Mitchell JR. Mechanism of action of N-acetylcysteine in the protection against the hepatotoxicity of acetaminophen in rats in vivo. J Clin Invest. 1983; 71: 980-91.
Lazebnik YA, Kaufmann SH, Desnoyers S, Poirier GG, Earnshaw WC. Cleavage of poly (ADP-ribose) polymerase by a proteinase with properties like ICE. Nature.1994; 371: 346-47.
Li ZB, Wang JY, Jiang B, Zhang XL, An JL, Bao YM. Benzobijuglone, a novel cytotoxic compound from Juglans mandshurica, induced apoptosis in HeLa cervical cancer cells. Phytomedicine. 2007; 14: 846-52.
Liu L, Li W, Koike K, Zhang S, Nikaido T. New alpha-tetralonylglucosides from the fruit of Juglans mandshurica. Chem Pharm Bull. 2004; 52:566-69.
Nakano H, Boudjema K, Alexandre E, Imbs P, Chenard MP, Wolf P, Cinqualbre J, Jaeck D. Protective effects of N-acetylcysteine on hypothermic ischemia reperfusion injury of rat liver. Hepatology 1995; 22: 539-45.
Quillet-Mary A., Jaffrezou JP, Mansat V, Bordier C, Naval J, Laurent G. Implication of mitochondrial hydrogen peroxide generation in ceramide-induced apoptosis. J Biol Chem. 1997; 272: 21388-95.
Rippmann JF, Hobbie S, Daiber C, Guilliard B, Bauer M, Birk J, Nar H, Garin-Chesa P, Rettig WJ, Schnapp A. Phosphorylation-dependent proline isomerization catalyzed by Pin1 is essential for tumor cell survival and entry into mitosis. Cell Growth Differ. 2000; 11:409-16.
Rasu A, Song RM, Wei W, Nishino Y, Tsuji I, Li XM, Li J.Tubeimoside-1 inhibits growth via the induction of cell cycle arrest and apoptosis in human melanoma A375 cells. Bangladesh J Pharmacol. 2012; 7: 150-56
Segura-Aguilar J, Jonsson K, Tidefelt U, Paul C. The cytotoxic effects of 5-OH-1, 4-naphthoquinone and 5,8-diOH-1,4-naphthoquinone on doxorubicin-resistant human leukemia cells (HL-60). Leuk Res. 1992; 16: 631-37.
Shimizu S, Imoto M, Masuda N, Takada M, Umezawa K. Involvement of hydrogen peroxide production in erbstatin-induced apoptosis in human small cell lung carcinoma cells. Cancer Res. 1996; 56: 4978-82.
Varga Z, Bene L, Pieri C, Damjanovich S, Gaspar Jr R. The effect of juglone on the membrane potential and whole-cell K+ currents of human lymphocytes. Biochem Biophys Res Commun. 1996; 218: 828-32.
Verhagen AM, Ekert PG, Pakusch M, Silke J, Connoly LM, Reid GE, Moritz RL, Simpson RJ, Vaux DL. Identification of DIABLO, a mammalian protein that promotes apoptosis by binding and antagonizing IAP proteins. Cell 2000; 102: 43-53.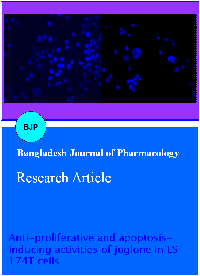 How to Cite
Li, Q., X.-L. Zhao, J. Sun, S.-G. Jiang, and G. Xianfeng. "Anti-Proliferative and Apoptosis-Inducing Activities of Juglone in LS-174T Cells". Bangladesh Journal of Pharmacology, Vol. 8, no. 1, Jan. 2013, pp. 65-72, doi:10.3329/bjp.v8i1.13174.
Section
Research Articles
Copyright (c) 2013 Qiang Li, Xue-Ling Zhao, Juan Sun, Shou-Gang Jiang, Gong Xianfeng
This work is licensed under a Creative Commons Attribution 4.0 International License.
Authors who publish with this journal agree to the following terms:
Authors retain copyright and grant the journal right of first publication with the work simultaneously licensed under a

Creative Commons Attribution License

that allows others to share the work with an acknowledgement of the work's authorship and initial publication in this journal.
Authors are able to enter into separate, additional contractual arrangements for the non-exclusive distribution of the journal's published version of the work (e.g., post it to an institutional repository or publish it in a book), with an acknowledgement of its initial publication in this journal.
Authors are permitted and encouraged to post their work online (e.g., in institutional repositories or on their website) prior to and during the submission process, as it can lead to productive exchanges, as well as earlier and greater citation of published work (See

The Effect of Open Access

).