Molecular docking of viscosine as a new lipoxygenase inhibitor isolated from <i>Dodonaea viscosa</i>
Keywords:
Dodonaea viscosa, Lipoxygenase, Molecular docking
Abstract
Viscosine was isolated from Dodonaea viscosa, which showed significant lipoxygenase inhibitory activity (IC50: value 39 ± 0.17). Molecular docking simulations were conducted to explore molecular binding mode, and to help elucidate molecular mechanism behind its significant inhibitory activity. Molecular interactions of viscosine with catalytic triad (His523, His518, Ile875) inside active site of lipoxygenase via hydrogen bonding, seems to be the major factor involved in its significant lipoxygenase inhibitory activity.
Downloads
Download data is not yet available.
Abstract
2022
Download
954 Read
309
References
Ghisalberti EL. Ethnopharmacology and phytochemistry of Dodonaea species. Fitoterapia 1998; 69: 99-113.
Khan I, Nisar M, Shah MR, Shah H, Gilani SN, Gul F, Abdullah SM, Ismail M, Khan N, Kaleem WA, Qayum M, Khan HO. Anti-inflammatory activities of Taxusabietane A isolated from Taxus wallichiana Zucc. Fitoterapea. 2011; 82: 1003-07.
Khan I, Nisar M, Ebad F, Nadeem S, Saeed M, Khan H. Anti-inflammatory activities of Sieboldogenin from Smilax china Linn.: Experimental and computational studies. J Ethnopharmacol. 2009; 121: 17577.
Muhammad A, Anis I, Ali Z, Awadelkarim S, Khan A, Khalid A, Shah MR, Galal A, Khan IA, Choudhary MI. Methylenebissantin: A rare methylene-bridged bisflavonoid from Dodonaea viscosa which inhibits Plasmodium falciparum enoyl-ACP reductase. Bioorganic Med Chem Lett. 2012; 22: 610-12.
Muhammad A, Anis I, Khan A, Marasini BP, Choudhary MI, Shah MR. Biologically Active C-Alkylated Flavonoids from Dodonaea viscosa. Archiv Pharmacol Res. 2012; 35: 431-36.
Utar Z, Majid MIA., Adenan MI., Jamil MFA, Lan TM. Mitragynine inhibits the COX-2 mRNA expression and prostaglandin E2 production induced by lipopolysaccharide in RAW264.7 macrophage cells. J Ethnopharmacol. 2011; 136: 75-82.
van Heerden FR, Viljoen AM, van Wyk BE. The major flavonoid of Dodonaea angustifolia. Fitoterapia 2000; 71: 602-04.
Venkatesh S, Reddy YSR, Ramesh M, Swamy MM, Mahadevan N, Suresh B. Pharmacognostical studies on Dodonaea viscosa Leaves. Afr J Pharm Pharmacol. 2008; 2: 83-88.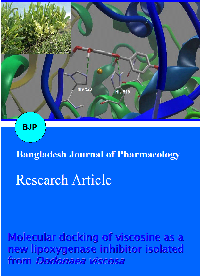 How to Cite
Khan, A. Z., A. Mohammad, Z. Iqbal, I. Anis, M. R. Shah, S. Nadeem, M. Rabnawaz, A. Shahidullah, H. Khan, and I. Khan. "/I&gt";. Bangladesh Journal of Pharmacology, vol. 8, no. 1, Dec. 2012, pp. 36-39, doi:10.3329/bjp.v8i1.13088.
Section
Research Articles
License
Authors who publish with this journal agree to the following terms:
Authors retain copyright and grant the journal right of first publication with the work simultaneously licensed under a

Creative Commons Attribution License

that allows others to share the work with an acknowledgement of the work's authorship and initial publication in this journal.
Authors are able to enter into separate, additional contractual arrangements for the non-exclusive distribution of the journal's published version of the work (e.g., post it to an institutional repository or publish it in a book), with an acknowledgement of its initial publication in this journal.
Authors are permitted and encouraged to post their work online (e.g., in institutional repositories or on their website) prior to and during the submission process, as it can lead to productive exchanges, as well as earlier and greater citation of published work (See

The Effect of Open Access

).