Evodiamine induces apoptosis in pancreatic carcinoma PANC-1 cells via NF-κB inhibition
Keywords:
Apoptosis, Caspase-3, Evodiamine, NF-?B, PANC-1
Abstract
NF-?B constitutively expresses in human pancreatic cancer cells and has been implicated in pancreatic tumorigenesis. Evodiamine, a bioactive alkaloid has been shown to possess antioxidant, anti-inflammatory and antitumor properties. In the present study, the anti-pancreatic cancer potential of evodiamine have been evaluated. Evodiamine effectively inhibited growth and induced apoptosis in PANC-1 cells in a dose-dependent manner. SN50 (NF-?Bp65 inhibitor) significantly increased the evodiamine-induced apoptotic cell death in PANC-1 cells, indicating that NF-?B is involved in evodiamine-induced apoptotic cell death. Furthermore, Western blot analysis showed that evodiamine inhibited the constitutive activation of NF-?Bp65, decreased the expression of anti-apoptotic protein Bcl-2, increased the expression of pro-apoptotic protein Bax and cleaved caspase-3 in PANC-1 cells in a dose-dependent manner. The present study suggests that evodiamine induces apoptosis in PANC-1 cells via NF-?Bp65 inhibition and apoptosis regulators modulation.
Downloads
Download data is not yet available.
Abstract
2470
Download
789 Read
384
References
Arlt A, Schafer H. NF kappaB-dependent chemoresistance in solid tumors. Int J Clin Pharmacol Ther. 2002; 40: 336-47.
Banerjee S, Zhang Y, Ali S, Bhuiyan M, Wang Z, Chiao PJ, Philip PA, Abbruzzese J, Sarkar FH. Molecular evidence for increased antitumor activity of gemcitabine by genistein in vitro and in vivo using an orthotopic model of pancreatic cancer. Cancer Res. 2005; 65: 9064-72.
Banerjee S, Zhang Y, Wang Z, Che M, Chiao PJ, Abbruzzese JL, Sarkar FH. In vitro and in vivo molecular evidence of genistein action in augmenting the efficacy of cisplatin in pancreatic cancer. Int J Cancer. 2007; 120: 906-17.
Bharadwaj U, Marin-Muller C, Li M, Chen C, Yao Q. Mesothelin confers pancreatic cancer cell resistance to TNF-alpha-induced apoptosis through Akt/PI3K/NF-kappaB activation and IL-6/Mcl-1 overexpression. Mol Cancer. 2011; 10: 106.
Chen D, Niu M, Jiao X, Zhang K, Liang J, Zhang D. Inhibition of AKT2 enhances sensitivity to gemcitabine via regulating PUMA and NF-kappaB signaling pathway in human pancreatic ductal adenocarcinoma. Int J Mol Sci. 2012; 13: 1186-208.
Fujioka S, Sclabas GM, Schmidt C, Niu J, Frederick WA, Dong QG, Abbruzzese JL, Evans DB, Baker C, Chiao PJ. Inhibition of constitutive NF-kappa B activity by I kappa B alpha M suppresses tumorigenesis. Oncogene 2003; 22: 1365-70.
Gong X, Wang M, Wu Z, Tashiro S, Onodera S, Ikejima T. Pseudolaric acid B induces apoptosis via activation of c-Jun N-terminal kinase and caspase-3 in HeLa cells. Exp Mol Med. 2004; 36: 551-56.
Holcomb B, Yip-Schneider M, Schmidt CM. The role of nuclear factor kappaB in pancreatic cancer and the clinical applications of targeted therapy. Pancreas 2008; 36: 225-35.
Kan SF, Huang WJ, Lin LC, Wang PS. Inhibitory effects of evodiamine on the growth of human prostate cancer cell line LNCaP. Int J Cancer. 2004; 110: 641-51.
Khan M, Ding C, Rasul A, Yi F, Li T, Gao H, Gao R, Zhong L, Zhang K, Fang X, Ma T. Isoalantolactone induces reactive oxygen species mediated apoptosis in pancreatic carcinoma PANC-1 cells. Int J Biol Sci. 2012a; 8: 533-47.
Khan M, Yu B, Rasul A, Al Shawi A, Yi F, Yang H, Ma T. Jaceosidin Induces Apoptosis in U87 glioblastoma cells through G2/M Phase Arrest. Evid Based Complement Alternat Med. 2012b; 2012: 703034.
Kim MJ, Kim DH, Lee KW, Yoon DY, Surh YJ. Jaceosidin induces apoptosis in ras-transformed human breast epithelial cells through generation of reactive oxygen species. Ann N Y Acad Sci. 2007; 1095: 483-95.
Lee TJ, Kim EJ, Kim S, Jung EM, Park JW, Jeong SH, Park SE, Yoo YH, Kwon TK. Caspase-dependent and caspase-independent apoptosis induced by evodiamine in human leukemic U937 cells. Mol Cancer Ther. 2006; 5: 2398-407.
Liptay S, Weber CK, Ludwig L, Wagner M, Adler G, Schmid RM. Mitogenic and antiapoptotic role of constitutive NF-kappaB/Rel activity in pancreatic cancer. Int J Cancer. 2003; 105: 735-46.
Liu JW, Cai MX, Xin Y, Wu QS, Ma J, Yang P, Xie HY, Huang DS. Parthenolide induces proliferation inhibition and apoptosis of pancreatic cancer cells in vitro. J Exp Clin Cancer Res. 2010; 29: 108.
Ou YQ, Zhu W, Li Y, Qiu PX, Huang YJ, Xie J, He SM, Zheng XK, Leng TD, Xu D, Yan GM. (2010). Aspirin inhibits proliferation of gemcitabine-resistant human pancreatic cancer cells and augments gemcitabine-induced cytotoxi-city. Acta Pharmacol Sin. 2010; 31: 73-80.
Takada Y, Kobayashi Y, Aggarwal BB. Evodiamine abolishes constitutive and inducible NF-kappaB activation by inhibiting IkappaBalpha kinase activation, thereby suppressing NF-kappaB-regulated antiapoptotic and metastatic gene expression, up-regulating apoptosis, and inhibiting invasion. J Biol Chem. 2005; 280: 17203-12.
Yang J, Wu LJ, Tashino S, Onodera S, Ikejima T. Reactive oxygen species and nitric oxide regulate mitochondria-dependent apoptosis and autophagy in evodiamine-treated human cervix carcinoma HeLa cells. Free Radic Res. 2008; 42: 492-504.
Yang ZG, Chen AQ, Liu B. Antiproliferation and apoptosis induced by evodiamine in human colorectal carcinoma cells (COLO-205). Chem Biodivers. 2009; 6: 924-33.
Yip-Schneider MT, Nakshatri H, Sweeney CJ, Marshall MS, Wiebke EA, Schmidt CM. Parthenolide and sulindac cooperate to mediate growth suppression and inhibit the nuclear factor-kappa B pathway in pancreatic carcinoma cells. Mol Cancer Ther. 2005; 4: 587-94.
Zhang Y, Zhang QH, Wu LJ, Tashiro S, Onodera S, Ikejima T. Atypical apoptosis in L929 cells induced by evodiamine isolated from Evodia rutaecarpa. J Asian Nat Prod Res. 2004; 6: 19-27.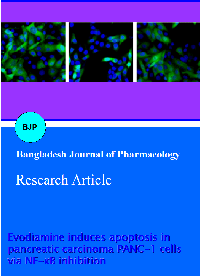 How to Cite
Khan, M., J. I. Qazi, A. Rasul, Y. Zheng, and T. Ma. "Evodiamine Induces Apoptosis in Pancreatic Carcinoma PANC-1 Cells via NF-κB Inhibition". Bangladesh Journal of Pharmacology, vol. 8, no. 1, Jan. 2013, pp. 8-14, doi:10.3329/bjp.v8i1.12802.
Section
Research Articles
License
Authors who publish with this journal agree to the following terms:
Authors retain copyright and grant the journal right of first publication with the work simultaneously licensed under a

Creative Commons Attribution License

that allows others to share the work with an acknowledgement of the work's authorship and initial publication in this journal.
Authors are able to enter into separate, additional contractual arrangements for the non-exclusive distribution of the journal's published version of the work (e.g., post it to an institutional repository or publish it in a book), with an acknowledgement of its initial publication in this journal.
Authors are permitted and encouraged to post their work online (e.g., in institutional repositories or on their website) prior to and during the submission process, as it can lead to productive exchanges, as well as earlier and greater citation of published work (See

The Effect of Open Access

).