Ethnopharmacological studies on Chrozophora prostrata in perspective of its folkloric reputation as purgative
Keywords:
Chrozophora prostrata, Purgative, Cholinergic, Spasmolytic, K channel opener
Abstract
This study was undertaken to validate the medicinal use of Chrozophora prostrata in constipation. The crude extract of C. prostrata produced laxative effect in mice at 100 and 300 mg/kg, similar to carbachol and castor oil. In spontaneously contracting rabbit jejunum tissues, C. prostrata (0.01-3 mg/mL) exhibited atropine-sensitive spasmogenic effect, which was reproducible in guinea-pig ileum. Interestingly, at high concentrations, C. prostrata showed concentration-dependent inhibitory effect on rabbit jejunum, suggesting the presence of accompanied spasmolytic activity. When tested on induced contractions, C. prostrata completely relaxed low K+-induced contraction, while partially inhibited high K+, similar to cromakalim. Tetraethylammonium pretreatment abolished the relaxant effect of C. prostrata on low K+-induced contractions while glibenclamide caused partial inhibition, suggesting the involvement of some non-specific and ATP-dependent K+ channels. These data show that C. prostrata possesses laxative effect at low doses mediated through cholinergic action followed by the spasmolytic activity at high doses mediated possibly through K+ channel activation. 
Downloads
Download data is not yet available.
Abstract
2313
Download
768 Read
337
References
Agrawal A, Singh J. Glycosides of two xanthones and a chromone from roots of Chrozophora prostrata. Phytochem. 1988; 27: 3692-94.
Awan HMH. Kitab-ul-mufridat. Lahore, Sheikh Ghulam Ali and Sons, 1993, p 500.
Bashir S, Janbaz KH, Jabeen Q, Gilani AH. Studies on spasmogenic and spasmolytic activities of Calendula officinalis flowers. Phytother Res. 2006; 20: 906-10.
Brown JH, Taylor P. Cholinergic agonists. In: Goodman and Gilmans The Pharmacological basis of therapeutics. 11th ed. Brunton LL, Lazo JS, Parker KL (eds). New York, McGraw-Hill, 2006, pp 845-68.
Caius JF. The medicinal and poisonous plants of India. Jodhpur, Scientific publishers, 1986, p 276.
Escande D, Thuringer D, Leguern S, Cavero I. The potassium channel opener cromakalim (BRL34915) activates ATP-dependent K+ channels in isolated cardiac myocytes. Biochem Biophys Res Commun. 1988; 154: 620-25.
Evan WC. Trease and Evan's pharmacognosy. 15th ed. Edenburgh, Harcourt publishers, 2002, p 473.
Frank H, Puschmann A, Schusdziarra V, Allescher HD. Functional evidence for a glibenclamide-sensitive K+ channel in rat ileal smooth muscle. Eur J Pharmacol. 1994; 271: 379-86.
Hamilton TC, Weir SW, Weston TH. Comparison of the effects of BRL34915 and verapamil on electrical and mechanical activity in rat portal vein. Br J Pharmacol. 1986; 88: 103-11.
Khan A, Rehman NU, AlKharfy KM, Gilani A. Antidiarrheal and antispasmodic activities of Salvia officinalis are mediated through activation of K+ channels. Bangl J Pharmacol. 2011; 6: 110-16.
Kishii KI, Morimoto T, Nakajima N, Yamazaki K, Tsujitani M, Takayanagi I. Effect of LP-805, a novel vasorelaxant agent, a potassium channel opener on rat thoracic aorta. Gen Pharmacol. 1992; 23: 347-53.
Nadkarni KM. Indian Materia Medica. 3rd ed. Bombay, Popular Prakashan, 1976, p 310.
Nasir E, Ali SI. Flora of Pakistan. Pakistan, A. Radcliffe-Smith, 1986, pp 47-49.
National Research Council, Guide for the care and use of laboratory animals. Washington, National Academy Press, 1996, pp 1-5.
Pasricha PJ. Treatment of disorders of bowel motility and water flux; antiemetics, agents used in biliary and pancreatic disease. In: Goodman and Gillmans Manual of pharmacology and therapeutics. Brunton L, Parker K, Blumenthal D, Buxton I (eds). 11th ed. New York, McGraw-Hill, 2008, pp 633-52.
Quest U, Cook NS. Moving together: K+ channel openers and ATP sensitive K+ channels. Trends Pharmacol Sci. 1989; 10: 431-35.
Said HM. Pharmacographia indica. Volume 15. Pakistan, The Institute of Health and Tibbi Research, 1972, p 409.
Shah AJ, Begum S, Hassan SI, Ali SN, Siddiqui BS, Gilani AH. Pharmacological basis for the medicinal use of Psidium guajava leave in hyperactive gut disorders. Bangladesh J Pharmacol. 2011; 6: 100-06.
Weston AH, Edwards G. Recent progress in potassium channel opener pharmacology. Biochem Pharmacol. 1992; 43: 4754.
Wu BN, Lin RJ, Lo YC, Shen KP, Wang CC, Lin YT, Chen IJ. KMUP-1, a xanthine derivative, induces relaxation of guinea-pig isolated trachea: The role of epithelium, cyclic nucleotides and K+ channels. Br J Pharmacol. 2004; 142: 1105-14.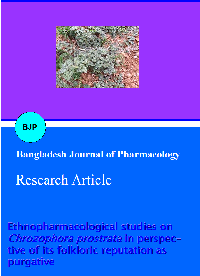 How to Cite
Arshad, U., K. H. Janbaz, S. Bashir, N.- ur Rehman, M. H. Mehmood, and A. H. Gilani. "Ethnopharmacological Studies on Chrozophora Prostrata in Perspective of Its Folkloric Reputation As Purgative". Bangladesh Journal of Pharmacology, vol. 7, no. 4, Oct. 2012, pp. 243-8, doi:10.3329/bjp.v7i4.12351.
Section
Research Articles
License
Authors who publish with this journal agree to the following terms:
Authors retain copyright and grant the journal right of first publication with the work simultaneously licensed under a

Creative Commons Attribution License

that allows others to share the work with an acknowledgement of the work's authorship and initial publication in this journal.
Authors are able to enter into separate, additional contractual arrangements for the non-exclusive distribution of the journal's published version of the work (e.g., post it to an institutional repository or publish it in a book), with an acknowledgement of its initial publication in this journal.
Authors are permitted and encouraged to post their work online (e.g., in institutional repositories or on their website) prior to and during the submission process, as it can lead to productive exchanges, as well as earlier and greater citation of published work (See

The Effect of Open Access

).