Dietary coconut sprout beneficially modulates cardiac damage induced by isoproterenol in rats
Keywords:
Antioxidants, Cardiac marker enzymes, Coconut sprout, Isoproterenol, Myocardial infarction, Peroxidation
Abstract
This work evaluates the cardioprotective potential of dietary coconut sprout (Cocos nucifera Linn.) on isoproterenol induced myocardial infarction in rats. Male Sprague Dawley rats were pretreated with coconut sprout (50, 100 and 200 mg/100 g body weight) orally for 45 days and then cardiotoxicity was induced with isoproterenol (20 mg/100 g body weight) twice at an interval of 24 hours. Activity of cardiac marker enzymes were significantly increased in the serum and decreased in the heart of isoproterenol treated rats indicating cardiac damage. These effects were significantly reduced in coconut sprout pretreated rats. Moreover, pretreatment with coconut sprout increased anti-oxidant status and decreased oxidative stress in the heart. Histopathological examination revealed almost normal tissue morphology in the heart of these rats. These observed beneficial effects indicate that coconut sprout possesses significant cardioprotective and antioxidant properties.
Downloads
Download data is not yet available.
Abstract
1961
Download
1417 Read
190
References
Aman U, Hardik G, Balaraman R. Isoproterenol Induced Myocardial infarction: Protective role of natural products. J Pharmacol Toxicol. 2011; 6: 1-17.
Anurag P, Rajamohan T. Cardioprotective Effect of Tender Coconut Water in Experimental Myocardial Infarction. Plant Foods Hum Nutr. 2003; 58: 1-12.
Baker H, Frankel O, De Angells B, Feingold S. Plasma ?-tocopherol in man at various times after ingesting free or acetylated tocopherol. Nutr Rep Int. 1980; 21: 531-36.
Cheng D, Zhu C, Cao J, Jiang W. The protective effects of polyphenols from jujube peel (Ziziphus Jujube Mill) on isoproterenol-induced myocardial ischemia and aluminum-induced oxidative damage in rats. Food Chem Toxicol. 2012; 50: 1302-08.
Dipak KP, Swati ND, Hardik PG, Ranjitsinh VD, Ramachandran AV. Cardio protective effect of Coriandrum sativum L. on isoproterenol induced myocardial necrosis in rats. Food Chem Toxicol. 2012; 50: 3120-25.
Ellman GL. Tissue sulfhydryl groups. Arch Biochem Biophys 1959; 82: 70-77.
Evans WC. In: Trease and Evans Pharmacognosy. 13th ed. USA, W.B. Saunder Company limited, 1996, pp 100-20.
Evans WC. In: Trease and Evans Pharmacognosy. 15th ed. New York, Elsevier Science Limited, 2002, pp 156-200.
Gumieniczek A. Effects of rapaglinide on oxidative stress in tissues of diabetic rabbits. Diabetes Res Clin Pr. 2005; 68: 89-95.
Hearse DJ. Enzymes in cardiology. In: Cellular damage during myocardial ischaemia: Metabolic changes leading to enzyme leakage. Hearse DJ, De Leiris J, Losiance D (eds). New York, Wiley, 1979, pp. 1-21.
Kakkar P, Das B, Viswanathan PN. A modified spectrophotometric assay of superoxide dismutase. Indian J Biochem Biophys.1984; 2 : 130-32.
Karthikeyan K, Sarala Bai BR, Gauthaman K, Niranjali Devaraj S. Protective effect of propyl gallate against myocardial oxidative stress-induced injury in rats. J Pharm Pharmacol. 2005; 57: 67-73.
Katus HA, Remppis A, Neumann FJ, Scheffold T, Diederich KW, Vinar G. Diagnostic efficacy of troponin T measurements in acute myocardial infarction. Circulation 1991; 83 : 902-12.
Kerstin KG, Johanna MG, Johanna HB, Heiner B, Albert H, Diederick EG, Jacqueline CMW. Dietary antioxidants and risk of myocardial infarction in the elderly: The Rotterdam Study. Am J Clin Nutr. 1999; 69: 261-66.
King J. The dehydrogenases or oxidoreductases- Lactate dehydrogenase. In: Practical Clinical Enzymol. Van D (eds). London, Nostrand, 1965, pp 83-93.
Levine RL, Williams JA, Stadman ER, Shacter E. Carbonyl assays for determination of oxidatively modified proteins. Methods in Enzymol. 1994; 233 : 346-57.
Li X, Zhou R, Zheng P, Yan L, Wu Y, Xiao X, Dai G. Cardioprotective effect of matrine on isoproterenol-induced cardiotoxicity in rats. J Pharm Pharmacol. 2010; 62 : 514-20.
Maehly AC, Chance B. Assay of catalases and peroxidases. Method Biochem Anal. 1954; 1 : 357-424.
Mallick CP, Singh MB. Plant enzymology and Histoenzymology. New Delhi, Kalyani publishers, 1980, p 286.
Manjula TS, Deepa R, Shyamala Devi CS. Effect of aspirin on lipid peroxidation in experimental myocardial infarction in rats. J Nutr Biochem. 1993; 5: 95-98.
Martensson J, Meister A. Glutathione deficiency decreases tissue ascorbate levels in new born rats: ascorbate spares glutathione and protects. Proc Nat Aca Sci. 1999; 88: 4656-60.
Menu S, Kamal K, Gupta SK, Joshi S, Arya DS. Cardioprotec-tive potential of Ocimum sanctum in isoproterenol induced myocardial infarction in rats. Mol Cell Biochem. 2001; 225: 75-83.
Michael FH, Pawan KS. Antioxidant and oxidative stress changes during heart failure subsequent to myocardial infarction in rats. Am J Pathol. 1996; 148: 291-300.
Mini S, Rajamohan T. Cardioprotective effect of coconut kernel protein in isoproterenol administered rats. Indian J Biochem Biophys. 2002; 39: 197-200.
Mitra B, Panja M. Myocardial metabolism: Pharmacological manipulation in myocardial ischaemia. J Assoc Physicians India. 2005; 53: 552-60.
Mukesh N, Ipseeta M, Nag TC, Shreesh KO, Rajan, M, Santosh K, Dharamvir SA. Cardioprotective response to chronic administration of vitamin E in isoproterenol induced myocardial necrosis: Hemodynamic, biochemical and ultrastructural studies. Ind J Clin Biochem. 2007; 22: 22-28.
Ohkawa H, Ohnishi N, Yag K. Assay of lipid peroxidation in animal tissue by thiobarbituric acid reaction. Anal Biochem. 1979; 95: 351-58.
Omaye DW, Emery G, Maynard JE. Selected methods for the determination of ascorbic acid in animal cells, tissues, and fluids. Methods in Enzymol. 1979; 62: 3-11.
Preetha PP, Devi VG, Rajamohan T. Hypoglycemic and antioxidant potential of coconut water in experimental diabetes. Food Funct. 2012; 3: 753-57.
Rajadurai M, Padmanaban M, Stanely Mainzen Prince P. Effect of Agelem armelos leaf extract and ?-tocopherol on lipid peroxidation and antioxidants in isoproterenol induced myocardial infarction in rats. Cardiol. 2005; 1: 40-45.
Reitman S, Frankel S. A colourimetric method for the determination of serum glutamic oxaloacetic acid and glutamine pyruvate transaminase. Am J Clin Pathol. 1957; 28: 56-63.
Rosalki SB. An improved procedure for serum creatinine phosphokinase. J Lab Clin Med. 1967; 69: 696-705.
Sadasivam S, Manickam A. Biochemical methods. 2nd ed. New Delhi, New Age International Publishers, 1996, pp 8-194.
Salil G, Nevin KG, Rajamohan T. Arginine rich coconut kernel protein modulates diabetes in alloxan treated rats. Chem Biol Interact. 2011; 189: 107-11.
Sangeetha T, Darlin Quine S. Anti lipoperoxidative and antioxidant effects of S-allyl cysteine sulfoxide on isoproterenol-induced myocardial infarction in Wistar Rats. J Biochem Mol Toxic. 2006; 20: 167-73.
Sheela Sasikumar C, Shyamaladevi CS. Protective effect of Abana: A polyherbal formulation, on isoproterenol induced myocardial infarction in rats. Indian J Pharmacol. 2000; 32: 198-201.
Wexler BC, Greenberg BP. Protective effects of clofibrate on isoproterenol-induced myocardial infarction in arteriosclerotic and non-arteriosclerotic rats. Atherosclerosis. 1978; 29: 373-95.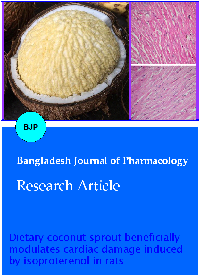 How to Cite
Chikku, A. M., and T. Rajamohan. "Dietary Coconut Sprout Beneficially Modulates Cardiac Damage Induced by Isoproterenol in Rats". Bangladesh Journal of Pharmacology, vol. 7, no. 4, Oct. 2012, pp. 258-65, doi:10.3329/bjp.v7i4.12143.
Section
Research Articles
License
Authors who publish with this journal agree to the following terms:
Authors retain copyright and grant the journal right of first publication with the work simultaneously licensed under a

Creative Commons Attribution License

that allows others to share the work with an acknowledgement of the work's authorship and initial publication in this journal.
Authors are able to enter into separate, additional contractual arrangements for the non-exclusive distribution of the journal's published version of the work (e.g., post it to an institutional repository or publish it in a book), with an acknowledgement of its initial publication in this journal.
Authors are permitted and encouraged to post their work online (e.g., in institutional repositories or on their website) prior to and during the submission process, as it can lead to productive exchanges, as well as earlier and greater citation of published work (See

The Effect of Open Access

).