In vitro glucose uptake by isolated rat hemidiaphragm study of Aegle marmelos Correa root
Keywords:
Aegle marmelos, Anti-diabetic, 6-Methyl-4-chromanone, Skimmianine
Abstract
The methanol extract of the root of Aegle marmelos, a medicinal plant, was fractionated into eight fractions using column chromatography. The anti-diabetic activity of all the fractions was studied using the glucose uptake by isolated rat hemidiaphragm in vitro model. Using the bioassay-guided fractionation, two compounds 1 and 2 were isolated by column chromatography and identified as 6-methyl-4-chromanone and skimmianine respectively by NMR and mass spectral methods.
Downloads
Download data is not yet available.
Abstract
1310
Download
953 Read
297
References
Chattopadhyay RR, Sarkar SK, Ganguly S, Banerjee RN, Basu TK. Effect of leaves of Vinca rosea Linn, on glucose utilization and glycogen deposition by isolated rat hemidiaphragm. Indian J Physiol Pharmacol. 1992; 36: 137-38.
Cheng JT. Effect of skimmianine on animal behavior. Acta Cryst. 2003; E59: 1503-05.
Cheng JT, Chang TK, Chen IS. Skimmianine and related furoquinolines function as antagonists of 5-hydroxytryptamine receptors in animals. J Auton Pharmacol. 1994; 14: 365-74.
Kakiuchi N, Senaratne LR, Huang SL, Yang XW, Hattori M, Pilapitiya U, Namba T. Effects of constituents of Beli (Aegle marmelos) on spontaneous beating and calcium paradox of myocardial cells. Plants Med. 1991; 57: 43-46.
Kamalakkannan N, Rajadurai M, Prince PS. Effect of Aegle marmelos fruits on normal and streptozotocin-diabetic Wistar rats. J Med Food 2003; 6: 93-98.
Kar A, Panda S, Barthi S. Relative efficacy of these medicinal plant extracts in the alteration of thyroid hormone concentration in male mice. J Ethnopharmacol. 2002; 81: 281-85.
Karunanayake EH, Welihinda J, Sirimanne SR, Sinnadorai G. Oral hypoglycemic activity of some medicinal plants of Sri Lanka. J Ethnopharmacol. 1984; 11: 223-31.
Kesari A, Gupta RK, Singh SK, Diwakar S, Watal G. Hypoglycemich and antihyperglycemic activity of A. marmelos seed extract in normal and diabetic rats. J Ethnopharmacol. 2006; 107: 374-79.
Lampronti I, Martello N, Bianchi N, Borgatti M, Lambertini E, Piva R, Jabbar S, Choudhuri MSK., Khan MTH, Gambari R. In vitro antiproliferative effects on human tumor cell lines of extracts from the Bangladeshi medicinal plant Aegle marmelos Correa. Phytomedicine 2003; 10: 300-08.
Napolitano HB, Silva M, Ellena J, Rocha WC, Vieira PC, Thiemann OH, Oliva G. Redetermination of skimmianine: A new inhibitor against the Leishmania APRT enzyme. Automatic Autacoid Pharmacol. 2008; 14: 365-74.
Narendrakannan RT, Subramanian S, Kandaswamy M. Biochemical evaluation of anti-diabetogenic properties of some commonly used Indian plants on streptozotocin-induced diabetes in experimental rats. Clin Exp Pharmacol Physiol. 2006; 33: 1150-57.
Rana BK, Singh. UP, Taneja V. Antifungal activity and kinetics of inhibition by essential oil isolated from leaves of Aegle marmelos. J Ethnopharmacol. 1997; 57: 29-34.
Sabu MC, Kuttan R. Antidiabetic activity of Aegle marmelos and its relationship with its antioxidant properties. Indian J Physiol Pharmacol. 2004; 48: 81-88.
Shoba FG, Thomas M. Study of anti-diarrheal activity of four plants in castor oil-induced diarrhea. J Ethnopharmacol. 2001; 76: 73-76.
Walaas E, Walaas O. Effect of insulin on rat diaphragm under anaerobic conditions. J Biol Chem. 1952; 195: 367-73.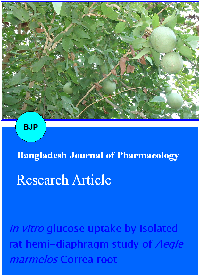 How to Cite
Ravi, S., C. T. Sadashiva, T. Tamizmani, T. Balasubramanian, M. Rupeshkumar, and I. Balachandran. "In Vitro Glucose Uptake by Isolated Rat Hemidiaphragm Study of Aegle Marmelos Correa Root". Bangladesh Journal of Pharmacology, vol. 4, no. 1, Nov. 2008, pp. 65-68, doi:10.3329/bjp.v4i1.1211.
Section
Research Articles
License
Authors who publish with this journal agree to the following terms:
Authors retain copyright and grant the journal right of first publication with the work simultaneously licensed under a

Creative Commons Attribution License

that allows others to share the work with an acknowledgement of the work's authorship and initial publication in this journal.
Authors are able to enter into separate, additional contractual arrangements for the non-exclusive distribution of the journal's published version of the work (e.g., post it to an institutional repository or publish it in a book), with an acknowledgement of its initial publication in this journal.
Authors are permitted and encouraged to post their work online (e.g., in institutional repositories or on their website) prior to and during the submission process, as it can lead to productive exchanges, as well as earlier and greater citation of published work (See

The Effect of Open Access

).