Alpha-glucosidase inhibitory effect and enzyme kinetics of coastal medicinal plants
Keywords:
Aegle marmelos, alpha-Glucosidase inhibitor, Citrullus colocynthis, Diabetes type 2, Postprandial hyperglycemia
Abstract
Numerous metabolic disorders and diseases associated with the glucosidase enzyme activity. Therefore, in the present study we evaluated alpha glucosidase inhibitory effect of coastal medicinal plants on Saccharomyces cerevisiae alpha-glucosidase to control postprandial hyperglycemia. The n-hexane extracts of study plants screened for alpha-glucosidase inhibitory activity using yeast glucosidase. The enzyme kinetics studied Line weaver burk plot method. Among the ten plants Citrullus colocynthis, Aegle marmelos and Ipomoea pescaprae exhibited potent alpha-glucosidase inhibitory activity, 85.9 ±0.10, 72.23 ± 0.30 and 67.9 ± 0.11 respectively. From the enzyme kinetics assay potent plants contain uncompetitive inhibitors of alpha glucosidase. C. colocynthis, A. marmelos and Ipomoea pescaprae have potential alpha-glucosidase inhibitors that can exploited for its used to treat diabetes.
Downloads
Download data is not yet available.
Abstract
4667
Download
3912 Read
1935
References
Albulescu R, Codrici E, Popescu ID, et al. Cytokine patterns in brain tumour progression. Mediators Inflamm. 2013; 2013: 979748.
Ali A, Goffin JR, Arnold A, Ellis PM. Survival of patients with non-small cell lung cancer after a diagnosis of brain metastases. Curr Oncol. 2013; 20: e306.
Ba X, Garg NJ. Signaling mechanism of poly (ADP-ribose) polymerase-1 (PARP-1) in inflammatory diseases. Am J Pathol. 2011; 178: 946-55.
Chiarugi A. Poly(ADP-ribose) polymerase: Killer or conspirator? The `suicide hypothesis' revisited. Trends Pharmacol Sci. 2002; 23: 122-29.
Chiarugi A, Moskowitz MA. Poly (ADP-ribose) polymerase-1 activity promotes NF-kappaB-driven transcription and microglial activation: implication for neurodegenerative disorders. J Neurochem. 2003; 85: 306-17.
Comings DE, MacMurray JP. Molecular heterosis: A review. Mol Genet Metab. 2000; 71: 19-31.
Corcoran NM, Clarkson MJ, Stuchbery R, Hovens CM. Molecu-lar pathways: Targeting DNA repair pathway defects enriched in metastasis. Clin Cancer Res. 2016; 22: 3132-37.
Cui NH, Qiao C, Chang XK, Wei L. Associations of PARP-1 variant rs1136410 with PARP activities, oxidative DNA damage, and the risk of age-related cataract in a Chinese Han population: A two-stage case-control analysis. Gene 2017; 600: 70-76.
Genovese T, Mazzon E, Muià C, Patel NS, Threadgill MD, Bramanti P, De Sarro A, Thiemermann C, Cuzzocrea S. Inhibitors of poly(ADP-ribose) polymerase modulate signal transduction pathways and secondary damage in experimental spinal cord trauma. J Pharmacol Exp Ther. 2005; 312: 449-57.
Hassa PO, Hottiger MO. The diverse biological roles of mam-malian PARPS, a small but powerful family of poly-ADP-ribose polymerases. Front Biosci. 2008; 13: 3046-82.
Hongping Yu, Hongxia Ma, Ming Yin, and Qingyi Wei. Association between PARP-1 V762A polymorphism and cancer susceptibility: A meta-analysis. Genet Epidemiol. 2012; 36: 56-65.
Hur JW, Sung YK, Shin HD, Park BL, Cheong HS, Bae SC. Poly(ADP-ribose) polymerase (PARP) polymorphisms associated with nephritis and arthritis in systemic lupus erythematosus. Rheumatology (Oxford) 2006; 45: 711-17.
Masuda T, Imai H, Kuwako T, Miura Y, Yoshino R, Kaira K, Shimizu K, Sunaga N, Tomizawa Y, Ishihara S, Mogi A, Hisada T, Minato K, Takise A, Saito R, Yamada M. Efficacy of platinum combination chemotherapy after first-line gefitinib treatment in non-small cell lung cancer patients harboring sensitive EGFR mutations. Clin Transl Oncol. 2015; 17: 702-09.
Matakidou A1, Eisen T, Houlston RS. TP53 polymorphisms and lung cancer risk: A systematic review and meta-analysis. Mutagenesis 2003; 18: 377-85.
Niyazoglu M, Baykara O, Koc A, Aydoğdu P, Onaran I, Dellal FD, Tasan E, Sultuybek GK. Association of PARP-1, NF-κB, NF-κBIA and IL-6, IL-1β and TNF-α with Graves disease and Graves ophthalmopathy. Gene 2014; 547: 226-32.
Park S, Keam B, Kim SH, Kim KH, Kim YJ, Kim JS, Kim TM, Lee SH, Kim DW, Lee JS, Heo DS. Pemetrexed singlet versus non-pemetrexed-based platinum doublet as second-line chemotherapy after first-line epidermal growth factor receptor (EGFR) tyrosine kinase inhibitor failure in non-small cell lung cancer patients with EGFR mutations. Cancer Res Treat. 2015; 47: 630-37.
Phulwani NK, Kielian T. Poly (ADP-ribose) polymerases (PARPs) 13 regulate astrocyte activation. J Neurochem. 2008; 106: 578-90.
Polanski J, Jankowska-Polanska B, Rosinczuk J, Chabowski M, Szymanska-Chabowska M. Quality of life of patients with lung cancer. Onco Targets Ther. 2016; 9: 1023-28.
Scott GS, Jakeman LB, Stokes BT, Szabó C. Peroxynitrite production and activation of poly (adenosine diphosphate-ribose) synthetase in spinal cord injury. Ann Neurol. 1999; 45: 120-24.
Smulson ME, Simbulan-Rosenthal CM, Boulares AH, et al. Roles of poly(ADP-ribosyl)ation and PARP in apoptosis, DNA repair, genomic stability and functions of p53 and E2F-1. Adv Enzyme Regul. 2000; 40: 183-215.
Trofimova I, Dimtchev A, Jung M, Rosenthal D, Smulson M, Dritschilo A, Soldatenkov V. Gene therapy for prostate cancer by targeting poly(ADP-ribose) polymerase. Cancer Res. 2002; 62: 6879-83.
Yu SW, Wang H, Poitras MF, et al. Mediation of poly (ADP-ri-bose) polymerase-1-dependent cell death by apoptosis-inducing factor. Science 2002; 297: 259-63.
Yu SW, Wang H, Poitras MF, et al. Mediation of poly(ADP-ri-bose) polymerase-1-dependent cell death by apoptosis-inducing factor. Science 2002; 297: 259-63.
Zhong D, Li G, Long J, Wu J, Hu Y. The hOGG1 Ser326Cys polymorphism and increased lung cancer susceptibility in Caucasians: An updated meta-analysis. Sci Rep. 2012; 2: 548.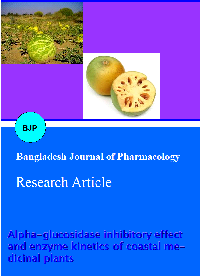 Additional Files
How to Cite
Gurudeeban, S., K. Satyavani, and T. Ramanathan. "Alpha-Glucosidase Inhibitory Effect and Enzyme Kinetics of Coastal Medicinal Plants". Bangladesh Journal of Pharmacology, vol. 7, no. 3, Sept. 2012, pp. 186-91, doi:10.3329/bjp.v7i3.11499.
Section
Research Articles
License
Authors who publish with this journal agree to the following terms:
Authors retain copyright and grant the journal right of first publication with the work simultaneously licensed under a

Creative Commons Attribution License

that allows others to share the work with an acknowledgement of the work's authorship and initial publication in this journal.
Authors are able to enter into separate, additional contractual arrangements for the non-exclusive distribution of the journal's published version of the work (e.g., post it to an institutional repository or publish it in a book), with an acknowledgement of its initial publication in this journal.
Authors are permitted and encouraged to post their work online (e.g., in institutional repositories or on their website) prior to and during the submission process, as it can lead to productive exchanges, as well as earlier and greater citation of published work (See

The Effect of Open Access

).