In vitro anthelmintic effects of Artemisia afra and Mentha longifolia against parasitic gastro-intestinal nematodes of livestock
Keywords:
Artemisia afra, Mentha longifolia, gastrointestinal nematodes, anthelmintic activity, egg hatch, larval development, larval mortality.
Abstract
Gastrointestinal nematodes are the most widespread and economically important class of the helminths. The major threat posed by nematode infections is the productivity loss due to their ability to disrupt nutrient utilization of the livestock resulting in hunger and malnutrition. Acetone and aqueous extracts were prepared from Mentha longifolia and Artemisia afra and tested on egg hatch, larval development and larval mortality assays at three concentrations 2.5, 5.0 and 7.5 mg/mL. Certain percentages of egg hatch and larval mortality were inhibited by both plants; however, larval development was totally inhibited at all concentrations as compared to the negative control. Generally the acetone extracts from the two plants were most effective against parasitic gastrointestinal nematodes of livestock. This report therefore validates the folkloric use of these species in the management of internal parasites by the Basotho of the eastern Free State Province of South Africa.
Downloads
Download data is not yet available.
Abstract
1674
Download
851 Read
340
References
Ademola IO, Eloff JN. Anthelminthic activity of acetone extract and fractions of Vernonia amygdalina against Haemonchus contortus eggs and larvae. Tropical Health Production 2011; 43: 521-27.
Asekum OT, Grierson DS, Afolayan AJ. Effects of drying methods on the quality of Mentha longifolia L. subsp. Capensis. Food Chemis. 2007; 101: 995-98.
Ashafa AOT, Afolayan AJ. Screening the root extracts from Biden pilosa L. var. radiata (Asteraceae) for antimicrobial potentials. J Med Plants Res. 2009; 3: 568-72.
Ashafa AOT, Grierson DS, Afolayan AJ. Antimicrobial activity of extracts of Felicia muricata thunb. J Biol Sci. 2008; 8: 1062-66.
Bizimenyera ES, Githiori JB, Eloff JN, Swan GE. In vitro activity of Peltophorum africanum Sond. (Fabaceae) extracts on the egg hatching and larval development of the parasitic nematode Trichostrongylus colubriformis. Vet Parasitol. 2006; 142: 33643.
Bogish BJ, Cheng TC. Intestinal nematodes. In: Human parasitology. Bogish BJ, Cheng TC (eds). New York, Saunder College Publisher, 1990, pp 269-91.
Cala AC, Chagas ACS, Oliveira MCS, Matos AP, Borges LMF, Sousa LAD, Souza FA, Oliveira GP. In vitro anthelmintic effect of Melia azedarach L. and Trichilia classenii C. against sheep gastrointestinal nematodes. Exper Parasitol. 2012; 130: 98-102.
Chauhan RS, Kaul MK, Shahi AK, Kumar A, Ram G, Tawa A. Chemical composition of essential oils in Mentha spicata L. accession [IIIM(J)26] from North-West Himalayan region, India. Industrial crops and products. 2009; 29: 65456.
Coles GC, Bauer C, Borgsteede F, Geerts S, Klei T R, Taylor MA, Waller PJ. World association for advancement in veterinary parasitology (WAAVP) methods for the detection of anthelmintic resistance in nematodes of veterinary importance. Vet Parasitol. 1992; 44: 3543.
Diehl MS, Atindehou KK, Tere H, Betschart B. Prospect for anthelminthic plants in the Ivory Coast using ethnobotanical criteria. Journal of Ethnopharmacology 2004; 95: 27784.
Eguale T, Tadese D, Giday M. In vitro anthelmintic activity of crude extracts of five medicinal plants against egg-hatch and larval development of Haemonchus contortus. J Ethnopharmacol. 2011; 137: 108-13.
Eguale T, Tilahun G, Debella A, Feleke A, Makonnen E. In vitro and in vivo anthelmintic activity of crude extracts of Coriandrum sativum against Haemonchus contortus. J Ethnopharmacol. 2007; 110: 428-33.
Ferhat M, Muhammad Q, Zaheer-Ud-Din K, Nameen I, Shahid M, Muhammad L, Phool S. In vitro evaluation anthelmintic activity of essential oils from different parts Skimma laureola (DC.) zucc.ex walp., ver. Nair. Pakistan J Botany 2011; 43: 2915-18.
Hendrix CM. Introduction to the nematodes. In: Diagnostic Veterinary Parasitology. Hendrix CM (ed). 2nd ed. Times Mirror Company, United State of America, Mosby Inc, 1998, pp 12, 108-16.
Hounzangbe-Adote MS, Paolini V, Fouraste I, Moutairou K, Hoste H. In vitro effects of four tropical plants on three life-cycle stages of the parasitic nematode, Haemonchus contortus. Res Vet Sci. 2005; 78: 15560.
Hunter A. Animal health: General principles. Vol. 1. Netherlands, The tropical agriculturalist series, the Netherlands, Macmillan, 1996, p 167.
Kamaraj C, Rahuman AA. Efficacy of anthelmintic properties of medicinal plant extracts against Haemonchus contortus. Res Vet Sci. 2010; 10: 1-5.
Koduru S, Grierson DS, Afolayan AJ. Antimicrobial activity of Solanum aculeastrm (Solanaceae). Pharmacol Biol. 2006; 44: 284-86.
Kotze AC, Coleman GT, Mai A, McCarthy JS. Field evaluation of anthelmintic drug sensitivity using in vitro egg hatch and larval motility assays with Necator americanus recovered from human clinical isolates. Int J Parasitol. 2005; 35: 44553.
Lewu FB, Grierson DS, Afolayan AJ. The leaves of Perlagonium sidoides may substitute for its roots in the treatment of bacterial infection. Biological Conservation 2006; 128: 582-84.
Maphosa V, Masika PJ, Bizimenyera ES, Eloff JN. In-vitro anthelmintic activity of crude aqueous extracts of Aloe ferox, Leonotis leonorus and Elephantorrhiza elephantine against Haemochus contortus. Tropic Animal Health Production 2010; 42: 301-07.
Maphosa V, Masika PJ. Ethnoveterinary uses of medicinal plants: A survey of plants used in the ethnoveterinary control of gastro-intestinal parasites of goats in the Eastern Cape Province, South Africa. Pharm Biol. 2009; 48: 697-702.
McGaw LJ, Rabe T, Sparg SG, Jager AK, Eloff JN, van Staden J. An investigation on the biological activity of Combretum species. J Ethnopharmacol. 2000; 75: 45-50.
McGaw LJ, van Der Merwe D, Eloff JN. In vitro anthelmintic, antibacterial and cytotoxic effects of extracts from plants in South Africa ethnoveterinary medicine. Vet J. 2007; 173: 366-72.
Molan EL, Meagher LP, Spencer PA. Effects of flavan-3-ols on the in vitro egg hatching, larval development and viability of infective larvae of Trichostrongylus colubriformis. Int J Parasitol. 2003; 33: 1691-98.
Nibret E, Wink M. Volatile components off our Ethiopian Artemisia species extracts and their in vitro antitrypanosomal and cytotoxicactivities. Phytomedicine 2010; 17: 36974.
Pessoa LM, Morais SM, Bevilaqua, CML Luciano JHS. Anthelmintic activity of essential oil of Ocimum gratissimum Linn. And eugenol against Haemonchus contortus. Vet Parasitol. 2002; 109: 59-63.
Rao BR, Kaul PN, Syamasundar KV, Ramesh S. Water soluble fractions of rose-scented geranium (Pelargonium species) essential oil. Bioresource Technol. 2002; 84: 24346.
Reinecke RK. Veterinary helminthology. Butterworths, Durban,1983, pp 325-26.
Salih NE. A brief review on the development of strongylid nematode eggs and larvae under constant and changing temperature condition I. egg development. J Thermal Biol. 2003; 6: 287-95.
Soulby EJL. Helminths, arthropods and protozoa of domesticated animals. In: Transactions of the royal society of tropical medicine and hygiene. Longstaffe JA (ed). London, Bailliere Tindall, 1982, p 809.
Suteky T, Dwatmadji T. Anthelmintic activity of Melastoma malabatricum extract of Haemonchus contortus in vitro. Asian J Pharmaceut Clin Res. 2011; 4: 68-70.
Tembely S. Development and survival of infective larvae of nematode parasites of sheep on pasture in a cool tropical environment. Vet Parasitol. 1998; 79: 81-87.
Tsotetsi AM, Mbati PA. Parasitic helminths of veterinary importance in cattle, sheep and goats on communal farms in the northeastern Free State, South Africa. J South African Vet Assoc. 2003; 74: 45-48.
Zafar I, Muhammad L, Abdul J, Muhammad NG, Anwarul HG. In vitro and in vivo anthelmintic activity of Nicotiana tabacum L. leaves against gastrointestinal nematodes of sheep. Phytother Res. 2006; 20: 46-48.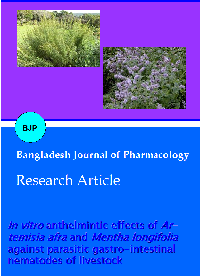 Additional Files
How to Cite
Molefe, N. I., A. M. Tsotetsi, A. O. T. Ashafa, and O. M. M. Thekisoe. "In Vitro Anthelmintic Effects of Artemisia Afra and Mentha Longifolia Against Parasitic Gastro-Intestinal Nematodes of Livestock". Bangladesh Journal of Pharmacology, vol. 7, no. 3, Aug. 2012, pp. 157-63, doi:10.3329/bjp.v7i3.11437.
Section
Research Articles
License
Authors who publish with this journal agree to the following terms:
Authors retain copyright and grant the journal right of first publication with the work simultaneously licensed under a

Creative Commons Attribution License

that allows others to share the work with an acknowledgement of the work's authorship and initial publication in this journal.
Authors are able to enter into separate, additional contractual arrangements for the non-exclusive distribution of the journal's published version of the work (e.g., post it to an institutional repository or publish it in a book), with an acknowledgement of its initial publication in this journal.
Authors are permitted and encouraged to post their work online (e.g., in institutional repositories or on their website) prior to and during the submission process, as it can lead to productive exchanges, as well as earlier and greater citation of published work (See

The Effect of Open Access

).