Antiepileptic and central nervous system depressant activity of Sechium edule fruit extract
Keywords:
Antiepileptic, Convulsion, Rota rod, Sechium edule
Abstract
The effect of ethanol extract of fruits of Sechium edule  on antiepileptic and central nervous system (CNS) depressant model was studied in rats. The extract (200 mg/kg body weight, orally) significantly reduced the duration of various phases of convulsions in both MES-induce seizures and in PTZ-induced convulsion. In CNS depressant model, the locomotor activity was also decreased in a dose dependent manner as compared to control group the extract and the rota rod test revealed a significant loss of muscular coordination.
Downloads
Download data is not yet available.
Abstract
1686
Download
967 Read
270
References
Adriana AL, Roxana M, Ordonez, Iris CZ, Maria II. Design and quality control of a pharmaceutical formulation containing natural products with antibacterial, antifungal properties. Int J Pharmaceutics. 2009; 378: 51-58.
Albone KS, Gaskin P, MacMillan J, Sponsel VM. Identification and localization of gibberlins in maturing seed of cucurbit Sechium edule. Planta springer-verlag. 1984; 162: 560-65.
Balakrishnan S, Pandhi P, Bhargava VK. Effects of nimodipine on the efficacy of commonly used anti-epileptic drugs in rats. Ind J Exp Biol. 1998; 36: 51-54.
Gordon EA, Guppy LJ, Nelson M. The antihypertensive effects of the Jamaican Cho-Cho (Sechium edule). West Indian Med J. 2000; 49: 27-31.
Goyal RK. Practicals in pharmacology. 5th ed. Ahmedabad, B.S. Shah Prakashan, 2006, pp 121-22.
Helen JL, Vitor MF, Clarice L. Low molecular weight squash trypsin inhibitors from Sechium edule seeds. Phytochem. 2006; 67: 362-70.
Jensen LP, Lai AR. Chayote (Sechium edule) causing hypokalemia in pregnancy Am J Obst Gynecol. 1986; 5: 1048-49.
Kulkarni SK. Hand Book of Experimental Pharmacology. 3rd ed. New Delhi, Vallabh Prakashan, 1987, p 22.
Kulkarni SK and George B. Significance of long term potentiation in cognitive functions and epilepsy. Ind J Pharmacol. 1999; 31: 14-22.
Loscher W, Schmidt D. Which animal models should be used in the search for new antiepileptic drugs? A proposal based on experimental and clinical consideration. Epilepsy Res. 1988; 2: 145-81.
Oliveira FA, Almeida RN, Sousa MFV, Barbosa-Filho JM, Diniz SA, Medeiros IA. Anticonvulsant properties of N-salicyloyltryptamine in mice. Pharmacol Biochem Behav. 2001; 68: 199-202.
Ordonez AA, Gomez JD, Isla MA. Antioxidant activities of Sechium edule (Jacq.) Swartz extracts. Food Chem. 2006; 97: 452-58.
Ramanjaneyulu R, Ticku MK. Interactions of pentamethylenetetrazole and tetrazole analogues with the picrotoxinin site of the benzodiazepine-GABA receptorionophore complex. Eur J Pharmacol. 1984; 98: 33745.
Sayyah M, Valizadeh J, Kamalinejad M. Anticonvulsant activity of the leaf essential oil of Laurus nobilis against pentylenetetrazole and maximal electroshock-induced seizures. Phytomed. 2000; 9: 212-16.
Siciliano T, De Tommasi N. Study of flavonoids of Sechium edule (Jacq) Swartz (Cucurbitaceae) different edible organs by liquid chromatography photodiode array mass spectrometry. J Agric Food Chem. 2004; 52: 651015.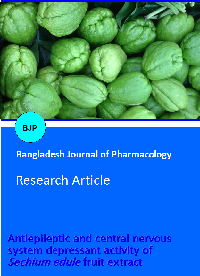 Additional Files
How to Cite
Mumtaz, S. M. F., S. Ahmed, and S. Dey. "Antiepileptic and Central Nervous System Depressant Activity of Sechium Edule Fruit Extract". Bangladesh Journal of Pharmacology, vol. 7, no. 3, Sept. 2012, pp. 199-02, doi:10.3329/bjp.v7i3.11275.
Section
Research Articles
License
Authors who publish with this journal agree to the following terms:
Authors retain copyright and grant the journal right of first publication with the work simultaneously licensed under a

Creative Commons Attribution License

that allows others to share the work with an acknowledgement of the work's authorship and initial publication in this journal.
Authors are able to enter into separate, additional contractual arrangements for the non-exclusive distribution of the journal's published version of the work (e.g., post it to an institutional repository or publish it in a book), with an acknowledgement of its initial publication in this journal.
Authors are permitted and encouraged to post their work online (e.g., in institutional repositories or on their website) prior to and during the submission process, as it can lead to productive exchanges, as well as earlier and greater citation of published work (See

The Effect of Open Access

).