In vitro anti-viral effect of fructopyrano-(1→4)-glucopyranose from Radix isatidis on infuenza virus A
Keywords:
Fructopyrano-(1?4)-glucopyranose, Radix Isatidis, influenza virus A, anti-viral effect
Abstract
To investigate the in vitro anti-viral effect of fructopyrano-(1&rarr;4)-glucopyranose (FG) from traditional Chinese medicine Radix isatidis, dog kidney cells (MDCK) were with treated with either FG and then with virus (Group A); virus and then with FG (Group B); or FG and virus simultaneously (Group C). Results showed the in vitro cell protection rate and virus inhibition rate increased significantly with the increase of FG concentration when compared with cells without FG treatment (p<0.01). The anti-viral effect was the best in Group C and that in Group A was superior to that in Group B. FG could exert significant inhibited effect on neuraminidase activity with the IC50 of 0.07 mmol/mL and on hemagglutinin of avian influenza virus with minimum inhibitory concentration of 3.13 mg/mL. Our findings indicate FG can confer obvious antiviral effects on influenza A virus in vitro.
Downloads
Download data is not yet available.
Abstract
1346
Download
780 Read
199
References
CaoCao HP, Tao PZ, Du GH. Establishment and application of high throughput screening model for influenza virus neuraminidase inhibitors in vitro. Acta Pharm. 2002; 37: 930-33.
Colman PM. Influenza virus neuraminidase: structure, antibodies, and inhibitors. Protein Sci. 1994; 3: 1687-96.
Knox YM, Suzutani T, Yosida I, Azuma M. Anti-influenza virus activity of crude extract of Ribes nigrum L. Phytother Res. 2003; 17: 120-22.
Li HB, Yan D, Wang JB, Wang JY, Bei ZC, Wei L, Xiao XH. Study on the biological evaluation of Radix Isatidis based on neuraminidase activity assay. Acta Pharm Sin. 2009; 44: 162-66.
Mosmann T. Rapid colorimetric assay for cellular growth and survival: Application to proliferation and cytotoxicity assays. J Immunol Methods. 1983; 65: 55-63.
Nayak DP, Reichl U. Neuraminidase activity assays for monitoring MDCK cell culture derived influenza virus. J Virol Methods. 2004; 122: 9-15.
Oosterheert JJ, van Loon AM, Schuurman R, Hoepelman AI, Hak E, Thijsen S, Nossent G, Schneider MM, Hustinx WM and Bonten MJ. Impact of rapid detection of viral and atypical bacterial pathogens by real-time polymerase chain reaction for patients with lower respiratory tract infection. Clin Infect Dis. 2005; 41: 1438-44.
Peng L, Wang BC, Ren P. Reduction of MTT by avonoids in the absence of cells. Colloids and Surfaces B: Biointerfaces. 2005; 45: 108-11.
Peng Y, Li WK. Recent development of studies on antivirus phytomedicines in abroad. World Phytomed. 1999; 14: 7-10.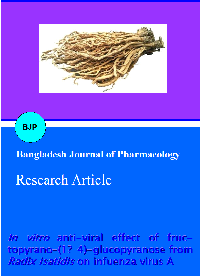 How to Cite
Sun, Q., P.-X. Shui, H.-B. Li, S.-J. Yang, M.-H. Liu, and S.-J. Zhang. "In Vitro Anti-Viral Effect of Fructopyrano-(1↠4)-Glucopyranose from Radix Isatidis on Infuenza Virus A". Bangladesh Journal of Pharmacology, vol. 7, no. 3, July 2012, pp. 145-9, doi:10.3329/bjp.v7i3.11228.
Section
Research Articles
License
Authors who publish with this journal agree to the following terms:
Authors retain copyright and grant the journal right of first publication with the work simultaneously licensed under a

Creative Commons Attribution License

that allows others to share the work with an acknowledgement of the work's authorship and initial publication in this journal.
Authors are able to enter into separate, additional contractual arrangements for the non-exclusive distribution of the journal's published version of the work (e.g., post it to an institutional repository or publish it in a book), with an acknowledgement of its initial publication in this journal.
Authors are permitted and encouraged to post their work online (e.g., in institutional repositories or on their website) prior to and during the submission process, as it can lead to productive exchanges, as well as earlier and greater citation of published work (See

The Effect of Open Access

).