Antitumor activity of Chondrococcus hornemanni and Spyridia fusiformis on Dalton's lymphoma ascites in mice
Keywords:
Chondrococcus hornemanni, Spyridia fusiformis and antitumor
Abstract
The antitumor activity of the methanol extract of Chondrococcus hornemanni and Spyridia fusiformis against Daltons lymphoma ascites (DLA)-induced tumor inoculation as well as its antioxidant activity was studied. The methanol extract of algal biomass given orally to mice (200 mg/kg/day) for 14 days caused significant reduction in body weight, packed cell volume and viable tumor cell count when compared to the mice of the DLA control group. The extract not only increased the survival of animals with ascites tumor, decreased the body weight induced by the tumor burden and reduced packed cell volume and viable tissue cell count, but also altered the hematological parameters. The extract given i.p. daily for 14 days significantly reduced the solid tumor volume induced by DLA cells. Based on the biochemical and hematological parameters, the methanol extract of red algae C. hornemanni and S. fusiformis exhibits potential antitumor activities.
Downloads
Download data is not yet available.
Abstract
1412
Download
1094 Read
238
References
Abirami RG, Kowsalya AS. Anticancer activity of methanolic and aquesous extract of Ulva fasciata in Albino mice. Int J Pharma Pharmaceut Sci. 2012; 4: 681-84.
Agarwal RC, Rachana J, Wasim R, Ovais M. Anti-carcinogenic effects of Solanum lycopersicum fruit extract on Swiss albino and C57B1 Mice. Asian Pacific J Cancer Prev. 2009; 10: 379-82.
Alekseyenko TV, Zhanayeva SY, Venediktova AA, Zvyagintseva TN, Kuznetsova TA, Besednova NN, Korolenko TA. Antitumor and antimetastatic activity of fucoidan, a sulfated polysaccharide isolated from the Okhotsk Sea Fucus evanescens brown alga. Bull Exp Biol Med. 2007; 143: 73032.
Appleman D, Skavinski ER, Stein AM. Catalase studies on normal and cancerous rats. Cancer Res. 1950; 10: 498-505.
Badami S, Reddy SAM, Kumar EP, Vijayan P, Suresh B. Antitumor activity of total alkaloid fraction of Solanum pseudocapsicum leaves. Phytotherapy Res. 2003; 17: 100104.
Chabner BA, Collins JM. Cancer chemotherapy: Principles an practice. Philadelphia, Lippincott JB, 1990.
Chitra V, Sharma S, Kayande N. Evaluation of anticancer activity of Vitex negundo study. Int J Pharm Tech Res. 2009; 1: 1485-89.
Fenninger LD, Mider GB. Energy and nitrogen metabolism in cancer. Adv Cancer Res. 1954; 2: 229-53.
Hogland HC. Hematological complication of cancer chemotherapy. Semin Oncol. 1982; 9: 95-102.
Kim WJ, Kim SM. Structure and antitumor activity of fucoidan isolated from sporophyll of Korean brown seaweed Undaria pinnatifida. Carbohydrate Polymers 2010; 81: 41-48.
Mary KT, Kuttan G, Kuttan K. Partial purification of tumor reducing principle from Helicanthis elasticus. Cancer Lett. 1994; 81: 53-57.
Player T. Free radicals and cancer. London, Academic Press, 1982.
Prasad SB, Giri A. Antitumor effect of cisplatin against murine ascites Daltons lymphoma. Indian J Exp Biol. 1994; 32: 155-62.
Price VE, Greenfield RE. Anemia in cancer. Adv Cancer Res. 1958; 5: 199-200.
Rajkapoor B, Jayakar B, Anandan R. Antitumor activity of Elephantos scaber Linn. against Daltons Ascitic Lymphoma. Indian J Pharm Sci. 2002; 64: 7173.
Ruby AJ, Kuttan G, Babu KD, Rajasekaran KN, Kuttan R. Antitumor and antioxidant activity of natural curcuminoids. Cancer Lett. 1995; 94: 78389.
Santhosh Kumar H, Senthil Kumar N, Reghu CH. Antitumor activity of methanolic extract of Hypericum hookerianum on EAC Cell line in Swiss albino mice. J Pharmacol Sci. 2007; 103: 354-59.
Sathiyanarayanan L, Shinnathambi A, Chidhambarnathan, N. Anticarcinogenic activity of Leptadenia reticulatal against Daltons ascitic lymphoma. Iranian J Pharmacol Toxicol. 2006; 6: 13336.
Sheu JH, Huang SY, Duh CY. Cytotoxic oxygenated desmosterols of the red alga Galaxaura marginate. J Nutr Prod. 1996; 59: 2326.
Sundaram M, Patra S, Maniarasu G. Antitumor activity of ethanol extract of Gracilaria edulis (Gmelin) Silva on Ehrlich ascites carcinoma bearing mice. J Chinise Integrative Med. 2012; 10: 430-35.
Unnikrishnan MC, Kuttan R. Tumor reducing and anti-carcinogenic activity of selected species. Cancer Lett. 1990; 51: 85-89.
Yamamoto I, Maruyama H, Moriguchi M. The effect of dietary seaweeds on 7, 12-dimethyl-benz[a]anthracene-induced mammary tumorigenesis in rats. Cancer Lett. 1987; 35: 10918.
Yashizawa Y, Ametani A, Tsunehiro J, Numura K, Itoh M, Fukui F, Kaminogawa S. Macrophage stimulation activity of the polysaccharide fraction from marine algae (Porphyra yezoensis). Biosci Biotechnol Biochem. 1995; 59: 186266.
Zahan R, Alam B, Islam S, Sarker G. Anticancer activity of Alangium salvifolium flower in Ehrlich Ascites carcinoma bearing mice. Int J Cancer Res. 2011; 19: 1-7.
Zhang C, Yang F, Zhang XW, Wang SC, Li MH, Lin LP, Ding J. Grateloupia longifolia polysaccharide inhibits angiogenesis by down regulating tissue factor expression in HMEC-1 endothelial cells. Bri J Pharmacol. 2006: 148; 74151.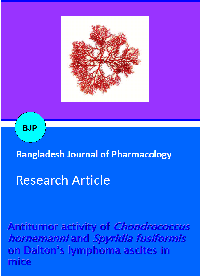 Additional Files
How to Cite
Subbiah, M., and B. Sundaresan. "Antitumor Activity of Chondrococcus Hornemanni and Spyridia Fusiformis on Dalton's Lymphoma Ascites in Mice". Bangladesh Journal of Pharmacology, vol. 7, no. 3, Sept. 2012, pp. 173-7, doi:10.3329/bjp.v7i3.11148.
Section
Research Articles
License
Authors who publish with this journal agree to the following terms:
Authors retain copyright and grant the journal right of first publication with the work simultaneously licensed under a

Creative Commons Attribution License

that allows others to share the work with an acknowledgement of the work's authorship and initial publication in this journal.
Authors are able to enter into separate, additional contractual arrangements for the non-exclusive distribution of the journal's published version of the work (e.g., post it to an institutional repository or publish it in a book), with an acknowledgement of its initial publication in this journal.
Authors are permitted and encouraged to post their work online (e.g., in institutional repositories or on their website) prior to and during the submission process, as it can lead to productive exchanges, as well as earlier and greater citation of published work (See

The Effect of Open Access

).