Cardiotonic effects of Terminalia arjuna extracts on guinea pig heart in vitro
Keywords:
Cardiotonic activity, Guinea pig heart, Terminalia arjuna
Abstract
We investigated the effects of fruit and bark extracts of Terminalia arjuna on the rate and contraction of guinea pig heart in vitro. Immediately after killing, the heart was connected to a perfusion apparatus containing oxygenated double-dextrose McWins solution with fresh arjun fruit and bark experimental extracts. The apex of the heart was then connected to a recording drum through a metallic hook and the rate and height (force) of contractions were recorded on a smoked drum. The heights of contraction for fruit extract and bark extract were significantly higher than that for normal saline (p<0.001), while they were significantly lower than that for adrenaline (p<0.01). Addition of verapamil caused a significant blockade in the heights of contraction produced by extracts of T. arjuna (p<0.01), while heart rate was not affected. The cardiotonic effect of T. arjuna was probably mediated through high concentration of Ca++ present in the plant.
Downloads
Download data is not yet available.
Abstract
1707
Download
621 Read
1156
References
Ali ME, Huq MN, Rahman AKMM. Chemical investigations on Terminalia Arjuna Bedd: Part I. Examination of fruit. Sci Res. 1966; 3: 157-62.
Ali ME, Huq MN, Rahman AKMM. Hasan AJMM. Chemical investigations on Terminalia Arjuna Bedd: Part II. Examination of the bark. Bangladesh J Scientific Industrial Res. 1979; 14: 237-39.
Bharani A, Ahirwar LK, Jain N. Terminalia arjuna reverses impaired endothelial function in chronic smokers. Indian Heart J. 2004; 56: 123-28.
Basu BD, Kirktikar KR (eds). Indian medicinal plants. Part-IV. Allahabad, The Indian Press, 1918 (reprinted 1987).
Biswas M, Biswas K, Karan TK, Bhattacharya S, Ghose AK, Halder PK. Evaluation of analgesic and anti-inflammatory activities of Terminalia arjuna leaf. J Phytol. 2011; 3: 33-38.
Chopra IC, Handa KL, Kapur LD. Terminalia arjuna W. & A. (Combretaceae). In: Indigenous drugs of India. Chopra IC, Handa KL, Kapur LD (eds). 2nd ed. Calcutta, Academic Publishers, 1958, pp 421-24.
Dastur JF. Terminalia arjuna W. & A. (249), Family: Combretaceae. In: Medicinal plants of India and Pakistan. Dastur JF (ed). New Delhi, DB Taraporevala Sons & Co Ltd, 1982, p 212.
Dwivedi S, Aggarwal A, Agarwal MP, Rajpal S. Role of Terminalia arjuna in ischaemic mitral regurgitation. Int J Cardiol. 2005; 100: 507-08.
Dwivedi S. Terminalia arjuna Wight & Arn. A useful drug for cardiovascular disorders. J Ethnopharmacol. 2007; 114: 114-29.
Gauthamana K, Banerjeea SK, Dindab AK, Ghosha CC, Maulika SK. Terminalia arjuna (Roxb.) protects rabbit heart against ischemic-reperfusion injury: Role of antioxidant enzymes and heat shock protein. J Ethnopharmacol. 2005; 96: 403-09.
Gupta R, Singhal S, Goyle A, Sharma VN. Antioxidant and hypocholesterolaemic effects of Terminalia arjuna tree-bark powder: A randomized placebo-controlled trail. J Assoc Physicians India 2001; 49: 231-35.
Karthikeyan K, Bai BR, Gauthaman K, Sathish KS, Devaraj SN. Cardioprotective effect of the alcoholic extract of Terminalia arjuna bark in an in vivo model of myocardial ischemic reperfusion injury. Life Sci. 2003; 73: 2727-39.
Malik N, Dhawan V, Bahl A, Kaul D. Inhibitory effects of Terminalia arjuna on platelet activation in vitro in healthy subjects and patients with coronary artery disease. Platelets 2009; 20: 183-90.
Ramachandran SK. T. Arjuna (Roxb). In: The useful plants of India. Ramachandran SK (ed). New Delhi, Publications & Information Directorate, CSIR, India, 1986 (reprinted 1992).
Sivalokanathan S, Vijayababu MR, Balasubramanian MP. Effects of Terminalia arjuna bark extract on apoptosis of human hepatoma cell line Hep G2. World J Gastroentrol. 2006; 12: 1018-24.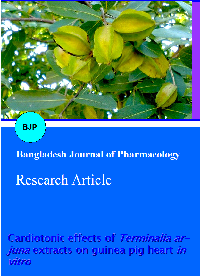 How to Cite
Haq, A. M. M., M. M. Huque, S. A. R. Chaudhury, and M. N. Haque. "Cardiotonic Effects of Terminalia Arjuna Extracts on Guinea Pig Heart in Vitro". Bangladesh Journal of Pharmacology, vol. 7, no. 3, Aug. 2012, pp. 164-8, doi:10.3329/bjp.v7i3.11034.
Section
Research Articles
License
Authors who publish with this journal agree to the following terms:
Authors retain copyright and grant the journal right of first publication with the work simultaneously licensed under a

Creative Commons Attribution License

that allows others to share the work with an acknowledgement of the work's authorship and initial publication in this journal.
Authors are able to enter into separate, additional contractual arrangements for the non-exclusive distribution of the journal's published version of the work (e.g., post it to an institutional repository or publish it in a book), with an acknowledgement of its initial publication in this journal.
Authors are permitted and encouraged to post their work online (e.g., in institutional repositories or on their website) prior to and during the submission process, as it can lead to productive exchanges, as well as earlier and greater citation of published work (See

The Effect of Open Access

).