Waste Tyre Pyrolysis Oil: Production, Sulfur Removal and Fractionation for Value Added Products
Keywords:
Scrap Tyre; Pyrolysis; Process Optimization; Fractionation; Sulphur removal.
Abstract
Scrap tyres, one of the most common solid wastes, are increasing with the increase of vehicles number all over the world. Gradual depletion of fossil fuel requires a rapid shift towards alternative fuel sources including wastes. Globally, a lot of pyrolysis oil is generated from the management of waste tyres. The product Tyre pyrolysis Oil (TPO) has a parametric effect on the temperature, feed size, and reaction or pyrolysis time. This study explores the conditions for optimum pyrolytic oil yield (42% wt.) which was 500 ºC for 50 minutes, with a sample size of 4 cm3. The obtained TPO were fractionated at various temperature ranges using a distillation column. The fuel characteristics of TPO, e.g., viscosity, flash point, pour point, calorific value, density, carbon residue are almost similar to that of the conventional oil standards but it cannot directly be used in the combustion process due to its higher sulfur content. For the removal of the sulfur compound, a various concentration ratio (10, 15, 20, 25, 30 percentages) of a mixture of H2O2 and HCOOH (2:1) solution (maintaining a pH of 4) were mixed with TPO. A maximum of 64.52% sulfur was removed from the TPO by using 25% of H2O2 + HCOOH solution and the pyrolysis gas was passed through the Ca(OH)2 solution for wet scrubbing of SO2, CO2 and water vapor. The fractionated TPO (based on temperature range) provides valuable products e.g., bio-gasoline, biodiesel and other desirable chemicals. The production and eco-friendly use of TPO and its fractionated products can mitigate the disposal problem of waste tyre and help the eco-system to attain a sustainable environment.
J. of Sci. and Tech. Res. 4(1): 59-70, 2022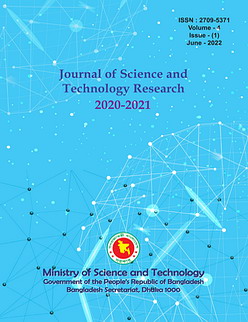 Downloads
How to Cite
Ismail, M., Mahmud, M. G., Ahmmed, H. R., Islam, M. S., & Kirtania, K. (2023). Waste Tyre Pyrolysis Oil: Production, Sulfur Removal and Fractionation for Value Added Products. Journal of Science and Technology Research, 4(1), 59–70. https://doi.org/10.3329/jscitr.v4i1.67369
License
Copyright (c) 2022 M Ismail, M G Mahmud, H R Ahmmed, M S Islam, K Kirtania
This work is licensed under a Creative Commons Attribution 4.0 International License.