Exogenous Testosterone Causes Delayed Postnatal Testicular Development and Disrupts Spermatogenesis
Keywords:
Spermatogenesis; Seminiferous Epithelium; Testosterone; Postnatal development; Black Bengal goat.
Abstract
Proper postnatal development of testis is prerequisite for acquisition of full functional potential of testis. The initiation and maintenance of spermatogenesis depend on testosterone, and the production of mature sperm is highly reliant on androgen activity in the testis. The goal of the study was to investigate the effect of exogenous testosterone on testicular biometry and histomorphometry, and seminiferous epithelium in Black Bengal goat during the postnatal development. A total of 42 Black Bengal goats were divided into two categories: control and testosterone-treated; and each group again subdivided into seven groups (n=3) according to age, viz. group-I (at birth or day 0; d0), group-II (1 week of age), group-III (2 weeks), group-IV (1 month), group-V (2 months), group-VI (4 months), and group-VII (6 months). Goat kids of testosterone-treated group were injected with testosterone hormone @ 125 mg/kid (0.5 ml of Testanon™ 250 Injection, IM, 250 mg/ml, Nuvista Pharma Ltd., Bangladesh) IM weekly until the sample collection. The testicular development was slow up to 2 weeks of age, and after that, in control goats, a quick growth of the testicles was seen. In contrast, a slow trend of testicular development was continuous throughout the study period (postnatal 6 months) in testosterone-treated goats. A continuous and gradual developmental process of testis was observed in control goats. Seminiferous tubules were shown to have a marked increase in diameter at 4 months indicates initiation of spermatogenesis at this age, and completion of the first wave of spermatogenesis, i.e. establishment of spermatogenesis was observed by 6 months of age as confirmed by the presence of all types of cells of spermatogenic lineage in the seminiferous epithelium including spermatozoa were found attached to the Sertoli cells at their ad luminal border, and in the lumen of the seminiferous tubules. Continuous administration of exogenous testosterone exerted a negative effect on the postnatal developmental process of testis of Black Bengal goats. The postnatal developmental process of testis was very slow, and the proliferation of spermatogonia and lumenization of the seminiferous tubules, also known as seminiferous epithelium stratification, were not seen in testosterone-treated goats until they were 6 months old indicates delayed postnatal testicular development and disrupts spermatogenesis.
J. of Sci. and Tech. Res. 4(1): 25-36, 2022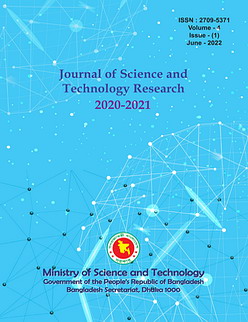 Downloads
How to Cite
Gofur, M. R., Khatun, A., Sadi, M. S., Aktar, S., & Alam, M. E. (2023). Exogenous Testosterone Causes Delayed Postnatal Testicular Development and Disrupts Spermatogenesis. Journal of Science and Technology Research, 4(1), 25–36. https://doi.org/10.3329/jscitr.v4i1.67366
License
Copyright (c) 2022 M R Gofur, A Khatun, M S Sadi, S Aktar, M E Alam
This work is licensed under a Creative Commons Attribution 4.0 International License.