Synthesis and DFT Studies of Glucopyranoside Dipentanoyl Esters
Keywords:
Regioselective acylation; 2,6-Di-O-pentanoyl-α- D-glucopyranoside; PASS predication; DFT calculation; Molecular docking; SARS-CoV-2 main protease
Abstract
Sugar esters (SEs) with potential antimicrobial activity were found to be a better choice to solve the multidrug resistant (MDR) pathogens due to their less side-effect. In this respect, regioselective dimolar pentanoylation of methyl α-D-glucopyranoside using direct method furnished the 2,6-di-O-pentanoate indicating more reactivity of C-6 and C-2 hydroxyl groups. To develop glucopyranoside based potential antimicrobial agents, the dipentanoate product was further converted into four newer 3,4-di-O-acyl esters reasonably in good yields. Prediction of activity spectra for substances (PASS) indicated them as better antifungals than antibacterials as well as more potent anticarcinogenic agents than the antioxidant agents. These observations were rationalized by DFT based thermodynamic and docking studies with fungal CYP51 (4UYL) and SARS-CoV-2 main protease (6LU7).
J. of Sci. and Tech. Res. 3(1): 11-22, 2021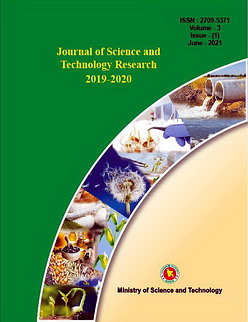 Downloads
How to Cite
Matin, M. (2022). Synthesis and DFT Studies of Glucopyranoside Dipentanoyl Esters. Journal of Science and Technology Research, 3(1), 11–22. https://doi.org/10.3329/jscitr.v3i1.62803
License
Copyright (c) 2021 MM Matin
This work is licensed under a Creative Commons Attribution 4.0 International License.