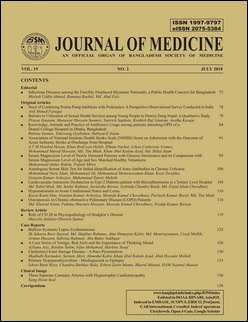 An official organ of Bangladesh Society of Medicine. Full text articles available.
Enlisted on DOAJ, HINARI, AsiaJOL.
Indexed in EMBASE, SCOPUS, EBSCO, ProQuest, CAB International, CrossRef, IndexCopernicus, Ulrichsweb, Open J-Gate, Google Scholar.
View current issue »
Announcements
Attention

Authors submitting a manuscript for Journal of Medicine are strongly urged to read the Author Guidelines and Section Policies very carefully before making any submission. Additionally, recently published articles should be consulted to get an idea about the style of the journal.
Posted: 2010-09-07
More...