Pattern of Antibiotic Use in Different Departments of Dhaka Medical College Hospital
Keywords:
Antibiotic, Pattern of antibiotic use
Abstract
Background: Antibiotics are available as non-prescription drugs in pharmacies and irrational use is not uncommon. Diagnosis and treatment of most of the bacterial diseases are empirical. Microbial sensitivity patterns of common infections like respiratory tract infection, urinary tract infection, enteric fever, wound infection are not routinely available for decision making in drug selection. Lack of hospital restrictions on antibiotic use and inappropriate usage for prophylaxis are the main reasons for inappropriate therapy.
Objective: To determine the pattern of antibiotic use in hospitalized patients of different departments of Dhaka Medical College Hospital.
Materials & Methods: In this observational study, hospital records of total 400 patients were surveyed on 2 separate days of December 2013. Patients of both sexes from different departments receiving antibiotics were included in the study. Data was collected in a predesigned data collection sheet.
Results: Of the total 400 patients 53.5% were male & 46.5% were female. 21% patients were of paediatric age group (upto 12 years) and 79% were adults. In maximum number of patients empirical antibiotic therapy was started. Culture and sensitivity tests were done before or during the course of treatment in only 48 patients (12%). Most commonly used antibiotic was ceftriaxone (49.75%) followed by metronidazole (17.5%) and ciprofloxacin (12.75%), while 7 patients (1.75%) received anti tubercular regimen. Combined antibiotics were used in 162 patients (40.5%).
Conclusion: Most of the patients received empirical antibiotic therapy. Culture and sensitivity tests should be more practiced and emphasized before starting treatment. Energetic measures to stop inappropriate use of antibiotics should be taken to slow down the emergence and spread of antimicrobial resistance.
DOI: http://dx.doi.org/10.3329/jom.v16i1.22399
J MEDICINE 2015; 16 : 35-38
Downloads
Download data is not yet available.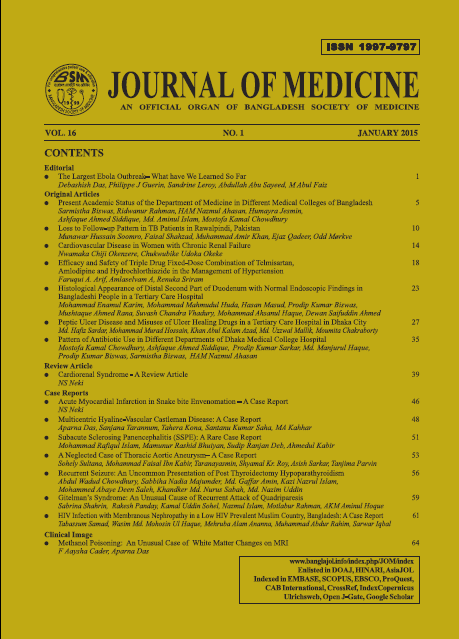 Downloads
How to Cite
Chowdhury, M. K., Siddique, A. A., Sarkar, P. K., Haque, M. M., Biswas, P. K., Biswas, S., & Ahasan, H. N. (2015). Pattern of Antibiotic Use in Different Departments of Dhaka Medical College Hospital. Journal of Medicine, 16(1), 35–38. https://doi.org/10.3329/jom.v16i1.22399
Section
Original Articles
License
Authors who publish with this journal agree to the following terms:
Authors retain copyright and grant the journal right of first publication with the work simultaneously licensed under a Creative Commons Attribution License that allows others to share the work with an acknowledgement of the work's authorship and initial publication in this journal.
Authors are able to enter into separate, additional contractual arrangements for the non-exclusive distribution of the journal's published version of the work (e.g., post it to an institutional repository or publish it in a book), with an acknowledgement of its initial publication in this journal.
Authors are permitted and encouraged to post their work online (e.g., in institutional repositories or on their website) prior to and during the submission process, as it can lead to productive exchanges, as well as earlier and greater citation of published work (See The Effect of Open Access).