Overview of Organo-phosphorus Compound Poisoning in Bangladesh and Medico-legal Aspects Related to Fatal Cases
Mushtaq Ahmad

Graded Specialist & Head, Forensic Medicine, AFMC

Farial Naima Rahman

Practicing Sonologist

Mohd Ashrafuzzaman

Head, Pharmacology, AFMC

Dipak Kumer Paul Chowdhury

Associate Professor, Pharmacology, AFMC

Mohammad Ali

Associate Professor, Community Medicine , AFMC
Keywords:
organophosphates
Abstract
The corresponding author Mushtaq Ahmed was added on 3/12/2009.
Introduction: Bangladesh is a developing country of South Asia. Rural population of this country is mostly dependant on agricultural cultivations. With the advance of times, pesticides are, now a days routinely used for modern cultivation method. These are readily available as over the counter (OTC) drugs in village shops and act as a common agent for suicidal purpose after trivial family problems. Currently pesticide self poisoning has become a major clinical problem of the developing countries  killing around 3,00,000 people each year. Industrialized countries are also affected by it, where a significant proportion of suicidal death are caused by Pesticide ingestion. Of course, such poisoning is seldom included as a priority for heath research in this country.  
doi: 10.3329/jafmc.v5i1.2851
JAFMC Bangladesh. Vol 5, No 1 (June) 2009 pp.41-45
Downloads
Download data is not yet available.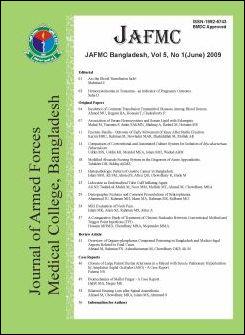 How to Cite
Ahmad, M., Rahman, F., Ashrafuzzaman, M., Chowdhury, D., & Ali, M. (1). Overview of Organo-phosphorus Compound Poisoning in Bangladesh and Medico-legal Aspects Related to Fatal Cases. Journal of Armed Forces Medical College, Bangladesh, 5(1), 41-45. https://doi.org/10.3329/jafmc.v5i1.2851
Submission of a manuscript for publication implies the transfer of the copyright from the author to the publisher upon acceptance. Accepted manuscripts become the permanent property of the Journal of Armed Forces Medical College and may not be reproduced by any means in whole or in part without the written consent of the publisher.