MRI Evaluation of Neck Pain
Md Khairul Islam

Specialist in Radiology and Imaging, CMH Bogra

Syed Zoherul Alam

Classified Specialist in Radiology and Imaging, CMH Dhaka

Md Sayedur Rahman

Classified Specialist in Radiology and Imaging, CMH Ghatail

Afroza Akhter

Specialist in Radiology and Imaging, CMH Dhaka
Keywords:
MRI evaluation, Neck pain
Abstract
Patients with neck pain both acute and chronic of various aetiologies are commonly found throughout the world for years. Magnetic Resonance Imaging (MRI) is an excellent imaging modality for demonstration of aetiology of neck pain. Degenerative changes, infective processes, neoplastic processes, mechanical injuries and congenital disorders of the spine can be detected by MRI without any hazards. This prospective study of neck pain was done in Radiology and Imaging department of Bangabandhu Sheikh Mujib Medical University and Combined Military Hospital, Dhaka on 60 cases of both sexes reported during the period, February 2006 to September 2006. The aim of the study was to find out the role of MRI in diagnosis and evaluation of chronic and acute neck pain. Out of 60 cases, 51 cases were with cervical spondylotic changes, 2 cases were with spinal trauma, 2 cases were space occupying lesion (SOL) in spinal cord, 1 case was SOL in vertebra, 1 case was soft tissue mass in neck. Only 2 cases showed normal MRI findings. The youngest patient was a fourteen year old male and oldest one was 75 years old male person. Highest incidence was in the 5th decade numbering 20 (33.3%). MRI is non-invasive, non hazardous method and have very few contraindications. Though MRI is relatively expensive and still then it is good considering the diagnostic accuracy and cost effectiveness.
Key Words: MRI evaluation, Neck pain.  
doi: 10.3329/jafmc.v5i1.2849
JAFMC Bangladesh. Vol 5, No 1 (June) 2009 pp.34-36
Downloads
Download data is not yet available.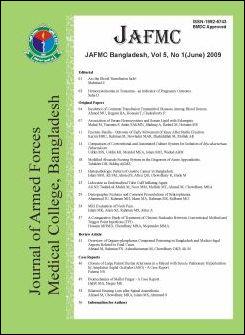 How to Cite
Islam, M., Alam, S., Rahman, M., & Akhter, A. (1). MRI Evaluation of Neck Pain. Journal of Armed Forces Medical College, Bangladesh, 5(1), 34-36. https://doi.org/10.3329/jafmc.v5i1.2849
Submission of a manuscript for publication implies the transfer of the copyright from the author to the publisher upon acceptance. Accepted manuscripts become the permanent property of the Journal of Armed Forces Medical College and may not be reproduced by any means in whole or in part without the written consent of the publisher.