Chemical characterization and mode of action of Ligustrum lucidum flower essential oil against food-borne pathogenic bacteria
Keywords:
Essential oil, Food-borne pathogenic bacteria, Ligustrum lucidum
Abstract
Current research analyzes the chemical composition of Ligustrum lucidum flower essential oil obtained by the hydrodistillation, and examines its anti-microbial mode of action against food-borne pathogenic bacteria. Gas chromatography-mass spectrometry analysis of the oil resulted in the determination of 44 different compounds, representing 85.2% of the total oil. The oil (1 mg/disc) showed significant antibacterial effect as diameters of inhibition zones (14.6 ± 0.2 19.7 ± 0.3 mm), as well as minimum inhibitory and minimum bactericidal concentrations values (2501000 and 2502000 µg/mL), respectively. Based on the susceptibility, L. lucidum flower oil revealed its mode of action on membrane integrity as confirmed by increased release of extracellular ATP (2.5 and 2.2 pg/mL), leakage of potassium ions (950 and 900 mM/L), loss of 260-nm absorbing materials (4.2 and 3.9 optical density), and increase in relative electrical conductivity (10.6 and 9.8%) against Staphylococcus aureus KCTC-1621 (Gram-positive) and Salmonella enterica ATCC-4731 (Gram-negative), respectively.
Video Clip of Methodology:
MIC determination: 10 min 32 sec   Full Screen   Alternate
Downloads
Download data is not yet available.
Abstract
1568
Download
778 Read
929
References
Aiyelaagbe OO, Adesoganm K, Ekundayo O, Gloer JB. Antibacterial diterpenoids from Jatropha podagrica Hook. Phytochemistry 2007; 68: 2420-25.
Al-Reza SM, Rahman A, Lee JH, Kang SC. Potential roles of essential oil and organic extracts of Zizyphus jujube in inhibiting food-borne pathogens. Food Chem. 2010; 119: 981-86.
Bajpai VK, Sharma A, Baek KH. Antibacterial mode of action of Ginkgo biloba leaf essential oil: Effect on morphology and membrane permeability. Bangladesh J Pharmacol. 2015; 10: 337-50.
Bajpai VK, Sharma A, Baek KH. Antibacterial mode of action of Cudrania tricuspidata fruit essential oil, affecting membrane permeability and surface characteristics of food-borne pathogens. Food Cont. 2013; 32: 582-90.
Bajpai VK, Baek KH, Kang SC. Control of Salmonella in foods by using essential oils: A review. Food Res Int. 2012; 45: 722-34.
Bezic N, Skocibusic M, Dinkic V, Radonic A. Composition and antimicrobial activity of Achillea clavennae L. essential oil. Phytother Res. 2003; 17: 1037-40.
Cakir A, Kordali S, Zengin H, Izumi S, Hirata T. Composition and antifungal activity of essential oils isolated from Hypericum hyssopifolium and Hypericum heterophyllum. Flav Frag J. 2004; 19: 62-68.
Chen J. Chinese medical herbology and pharmacology. City of Industry, CA, Art of Medicine Press, Inc., 2012, pp 96263.
Cox SD, Gustafson JE, Mann CM, Markhan JL, Liew YC, Hartlnd RP. Tea tree oil causes Kþ leakage and inhibits respiration in Escherichia coli. Lett Appl Microbiol. 1998; 26: 355-58.
Cox SD, Mann CM, Markhan JL, Gustafson JE, Warmington JR, Wyllie SG. Determining the antimicrobial action of tea tree oil. Molecules 2001; 6: 87-91.
da Silveira SM, Cunha A. Jr., Scheuermann GN, Secchi FL, Vieira CRW. Chemical composition and antimicrobial activity of essential oils from selected herbs cultivated in the South of Brazil against food spoilage and food-borne pathogens. Ciencia Rural Santa Maria. 2012; 42: 1300-06.
Denyer SP. Mechanisms of action of biocides. Int Biodeter. 1990; 26: 89-100.
Farag RS, Daw ZY, Hewedi FM, El-Baroty GSA. Antimicrobial activity of some Egyptian spice essential oil. J Food Prot. 1989; 52: 665-67.
Helander IM, Alakomi HL, Latva-Kala K, Mattila-Sandholm T, Pol I, Smid EJ. Characterization of the action of selected essential oil components on Gram-negative bacteria. J Agric Food Chem. 1998; 46: 3590-95.
Herranz C, Chen Y, Chung HJ, Cintas LM, Hernandez PE, Montville TJ, Chikindas ML. Enterocin P selectively dissipates the membrane potential of Enterococcus faecium T136. Appl Environ Microbiol. 2001; 67: 1689-92.
Oussalah M, Cailet S, Soucier L, Lacroix M. Inhibitory effect of selected plant essential oils on the growth of four pathogenic bacteria: E. coli O157:H7, Salmonella typhimurium, Staphylococcus aureus and Listeria monocytogenes. Food Control. 2007; 18: 414-20.
Patra JK, Hwang H, Choi JW, Baek KH. Bacterial mechanism of bio-oil obtained from fast pyrolysis of Pinus densiflora against two food-borne pathogens, Bacillus cereus and Listeria monocytogenes. Food-borne Pathogens Dis. 2015; 12: 529-35.
Runyoro D, Ngassapa O, Vagionas K, Aligiannis N, Graikou K, Chinou I. Chemical composition and antimicrobial activity of the essential oils of four Ocimum species growing in Tanzania. Food Chem. 2010; 119: 311-16.
Yoon JI, Bajpai VK, Kang SC. Synergistic effect of nisin and cone essential oil of Metasequoia glyptostroboides Miki ex Hu against Listeria monocytogenes in milk samples. Food Chem Toxicol. 2011; 49: 109-14.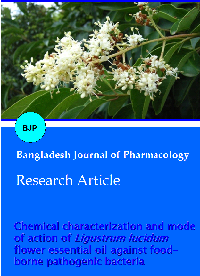 How to Cite
Bajpai, V. K., S. Singh, and A. Mehta. "Chemical Characterization and Mode of Action of Ligustrum Lucidum Flower Essential Oil Against Food-Borne Pathogenic Bacteria". Bangladesh Journal of Pharmacology, vol. 11, no. 1, Jan. 2016, pp. 269-80, doi:10.3329/bjp.v11i1.25487.
Section
Research Articles
License
Authors who publish with this journal agree to the following terms:
Authors retain copyright and grant the journal right of first publication with the work simultaneously licensed under a

Creative Commons Attribution License

that allows others to share the work with an acknowledgement of the work's authorship and initial publication in this journal.
Authors are able to enter into separate, additional contractual arrangements for the non-exclusive distribution of the journal's published version of the work (e.g., post it to an institutional repository or publish it in a book), with an acknowledgement of its initial publication in this journal.
Authors are permitted and encouraged to post their work online (e.g., in institutional repositories or on their website) prior to and during the submission process, as it can lead to productive exchanges, as well as earlier and greater citation of published work (See

The Effect of Open Access

).