miRNA-486 and miRNA-499 in human plasma evaluate the clinical stages of lung cancer and play a role as a tumor suppressor in lung tumorigeneisis not pathogenesis
Keywords:
Lung cancer, Lung tumorigeneisis, miRNA-486, miRNA-499, Tumor suppressor
Abstract
It was aimed to explore the expression level of miRNA-486 and miRNA-499 in the plasma of lung cancer patients and analysis their differences in expre-ssion. The expression level of both miRNA-486 and miRNA-499 in the plasma of non-small cell lung cancer (NSCLC) and small cell lung cancer (SCLC) were lower than that of the control group (p<0.05) and the decrease was more obvious in NSCLC. Compare with the miRNA-499?expression quantity in NSCLC patients plasma. There was statistical significance difference (p<0.05) between III??stage and I?II stage. The expression quantity of miRNA in plasma of patients with extensive-stage SCLC was lower than that of patients with limited-stage SCLC (p<0.05). The sensitivity and specificity of plasms miRNA-486 respectively were 88.5% and 83.3%. The expression of miRNA-499 and miRNA-486 in lung cancer patients were up-regulated, and might be closely related to the occurrence and prognosis of lung cancer, and might be used as potential screening and prognosis index for lung cancer.
Downloads
Download data is not yet available.
Abstract
1517
Download
781 Read
731
References
Chen X, Ba Y, Ma L, Cai X, Yin Y, Wang K, Guo J, Zhang Y, Chen J, Guo X, Li Q, Li X, Wang W, Zhang Y, Wang J, Jiang X, Xiang Y, Xu C, Zheng P, Zhang J, Li R,Zhang H, Shang X, Gong T, Ning G, Wang J, Zen K, Zhang J, Zhang CY. Characterization of microRNAs in serum: A novel class of biomarkers for diagnosis of cancer and other diseases. Cell Res. 2008; 18: 997-1006.
Donaldson A, Natanek SA, Lewis A, Man WD, Hopkinson NS, Polkey MI, Kemp PR. Increased skeletal muscle-specific microRNA in the blood of patients with COPD. Thorax 2013; 68: 1140-49.
Edge SB, Compton CC. The American Joint Committee on Cancer: The 7th edition of the AJCC cancer staging manual and the future of TNM. Ann Surg Oncol. 2010; 17: 1471-74.
Ho AS, Huang X, Cao H, Christman-Skieller C, Bennewith K, Le QT, Koong AC. Circulating miR-210 as a novel hypoxia marker in pancreatic cancer. Translational Oncol. 2010; 3: 109-13.
Huang Z, Huang D, Ni S, Peng Z, Sheng W, Du X. Plasma microRNAs are promising novel biomarkers for early detection of colorectal cancer. Int J Cancer. 2010; 127: 118-26.
Hu Z, Chen X, Zhao Y, Tian T, Jin G, Shu Y, Chen Y, Xu L, Zen K, Zhang C, Shen H. Serum MicroRNA signatures identified in a genome-wide serum MicroRNA expression profiling predict survival of nonsmall-cell lung cancer. J Clin Oncol. 2010; 28: 1721-26.
Mitchell PS, Parkin RK, Kroh EM, Fritz BR, Wyman SK, Pogosova-Agadjanyan EL, Peterson A, Noteboom J, O'Briant KC, Allen A, Lin DW, Urban N, Drescher CW, Knudsen BS, Stirewalt DL, Gentleman R, Vessella RL, Nelson PS, Martin DB, Tewari M. Circulating microRNAs as stable blood-based markers for cancer detection. Proc Natl Acad Sci USA. 2008; 105: 10513-18.
Peng Y, Dai Y, Hitchcock C, Yang X, Kassis ES, Liu L, Luo Z, Sun HL, Cui R, Wei H, Kim T, Lee TJ, Jeon YJ, Nuovo GJ, Volinia S, He Q, Yu J, Nana-Sinkam P, Croce CM. Insulin growth factor signaling is regulated by microRNA-486, an under-expressed microRNA in lung cancer. Proc Natl Acad Sci. 2013; 110: 15043-48.
Qiu F, Yang L, Ling X, Yang R, Yang X, Zhang L, Fang W, Xie C, Huang D, Zhou Y, Lu J. Sequence variation in mature microRNA-499 confers unfavorable prognosis of lung cancer patients treated with platinum-based chemotherapy. Clin Cancer Res. 2015; 21: 1602-13.
Stefani G, Slack FJ. Small non-coding RNAs in animal development. Nat Rev Mol Cell Biol. 2008; 9: 219-30.
Shen J, Todd N W, Zhang H, Yu L, Lingxiao X, Mei Y, Guarnera M, Liao J, Chou A, Lu CL, Jiang Z, Fang H, Katz RL, Jiang F. Plasma microRNAs as potential biomarkers for non-small-cell lung cancer. Lab Invest. 2011; 91: 579-87.
Shen J, Liu Z, Todd NW, Zhang H, Liao J, Yu L, Guarnera MA, Li R, Cai L, Zhan M, Jiang F. Diagnosis of lung cancer in individuals with solitary pulmonary nodules by plasma microRNA biomarkers. BMC Cancer. 2011; 11: 374.
Taylor DD, Gercel-Taylor C. MicroRNA signatures of tumor-derived exosomes as diagnostic biomarkers of ovarian cancer. Gynecol Oncol. 2008; 110: 13-21.
Vinci S, Gelmini S, Pratesi N, Conti S, Malentacchi F, Simi L, Pazzagli M, Orlando C. Genetic variants in miR-146a, miR-149, miR-196a2, miR-499 and their influence on relative expression in lung cancers. Clin Chem Lab Med. 2011; 49: 2073-80.
Wang J, Tian X, Han R, Zhang X, Wang X, Shen H1, Xue L, Liu Y, Yan X, Shen J, Mannoor K, Deepak J, Donahue JM, Stass SA, Xing L, Jiang F. Down-regulation of miR-486-5p contributes to tumor progression and metastasis by targeting protumorigenic ARHGAP5 in lung cancer. Oncogene 2014; 33: 1181-89.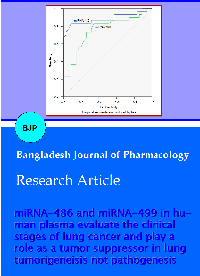 How to Cite
Jia, Y., A. Zang, Y. Feng, X.-F. Li, K. Zhang, H. Li, R. Wang, Y. Wei, and R. Huo. "MiRNA-486 and MiRNA-499 in Human Plasma Evaluate the Clinical Stages of Lung Cancer and Play a Role As a Tumor Suppressor in Lung Tumorigeneisis Not Pathogenesis". Bangladesh Journal of Pharmacology, vol. 11, no. 1, Jan. 2016, pp. 264-8, doi:10.3329/bjp.v11i1.25318.
Section
Research Articles
License
Authors who publish with this journal agree to the following terms:
Authors retain copyright and grant the journal right of first publication with the work simultaneously licensed under a

Creative Commons Attribution License

that allows others to share the work with an acknowledgement of the work's authorship and initial publication in this journal.
Authors are able to enter into separate, additional contractual arrangements for the non-exclusive distribution of the journal's published version of the work (e.g., post it to an institutional repository or publish it in a book), with an acknowledgement of its initial publication in this journal.
Authors are permitted and encouraged to post their work online (e.g., in institutional repositories or on their website) prior to and during the submission process, as it can lead to productive exchanges, as well as earlier and greater citation of published work (See

The Effect of Open Access

).